Sigma Standout Eyes Gel Eye Liner in Wicked and E06 Winged Liner Brush - Review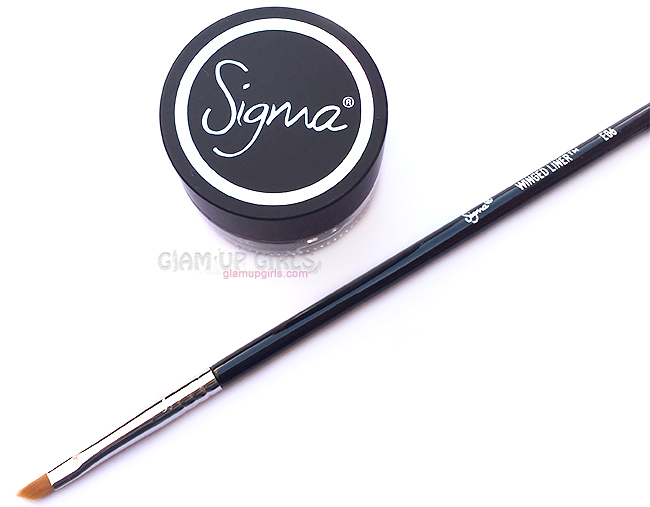 Perfectly applied eyeliner is enough to give you completely different look and you can even skip the rest of eye makeup. You can find different type of eyeliners and gel liners are one of the most loved and raved by MUA's. Sigma Beauty Standout Eyes Gel Liner range have six liners in different colors and today i am going to share my thoughts on one of them called Wicked and winged eye liner brush by Sigma E06.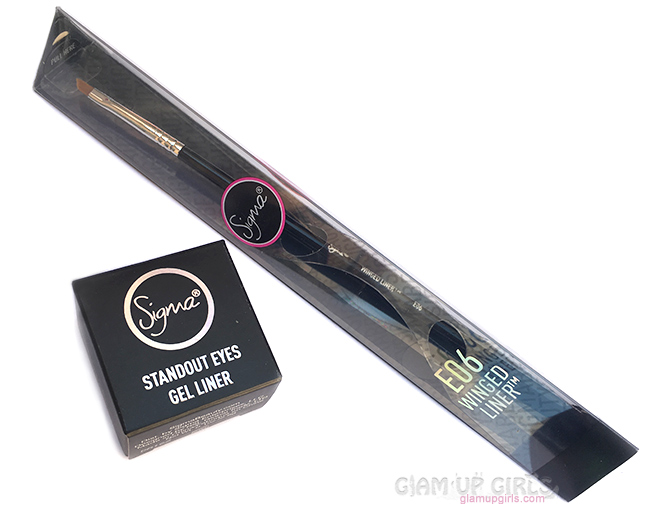 Product description for Gel Liner

The Gel Eye Liner features an array of long-wearing, opaque and saturated colors. All gel liners are versatile, yet unique and unexpected with intense pigmentation and a smooth, fluid-like finish.

Product description for E06 Brush

The E06 Winger Liner™ features a small, steeply angled brush head great for creating a winged liner look with precise control for all eye shapes.

Unique Feature: Small, angled shape
Function: Precise control for winged liner
Recommended Use: Use with gel or liquid liners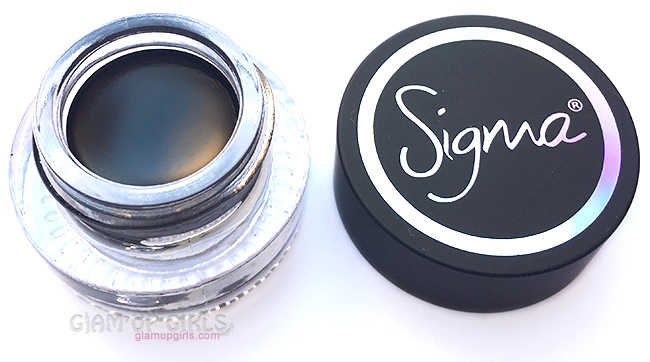 Sigma Beauty Standout Eyes Gel Liner in Wicked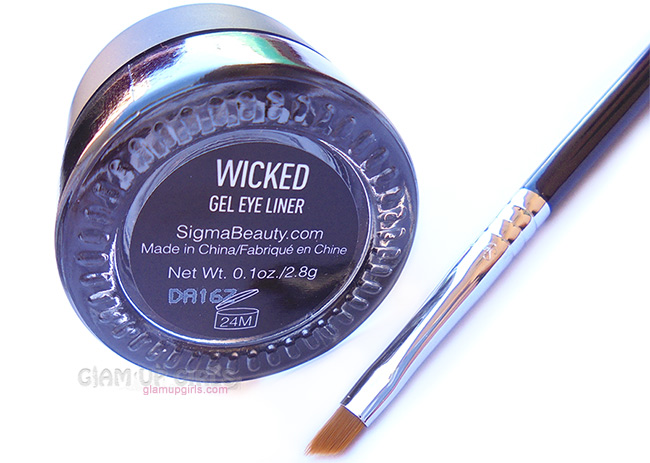 Sigma Beauty Standout Eyes Gel Liner in Wicked and E06 Winged Liner Brush

My Thoughts
Sigma gel liner comes in heavy glass jar with black screw cap. The texture of this liner is very creamy and easy to apply. There is no tugging or flaking while drawing the line. The shade wicked is explained as black and it is quite dark black once applied. The pigmentation is good and with 2 to 3 swipes you can achieve perfect line.

When you apply this liner it doesn't dry instantly but takes some time to become matte. This feature gives you the time to correct and draw your desired line. For the same reason if you made any mistake while applying, you can easily remove it with cotton swab. After application it takes a minute or half to completely dry but still it is better to not touch to prevent smudging for little more time. It is not completely water proof so you will smudge it if rubbed intensely but it doesn't smear on its own. It lasts pretty long and after wearing for whole day, you might notice only minor smear which is not bad at all.

The E06 winged liner brush is totally amazing and i think it is the best angled liner brush i have tried so far. The bristles are packed and angled perfectly to draw a line easily compared to any other brush. It picks right amount of product to work with. I had my favorite eye make brushes by Sigma but this is my first angled liner brush from Sigma and i am totally in love with. If you are looking for a good liner brush, i would highly recommend it to every one.

Overall this is perfect pair to create easy and neat winged or even other type of eye liner look. The liner is very smooth, creamy and easy to handle with minimum smearing and very long lasting while E06 can easily be your dream liner brush.

Sigma Beauty Standout Eyes Gel Liner is priced $14
Sigma Beauty E06 Winged Liner Brush is priced $15
comments powered by

Disqus