Minimal nail art is a popular trend that focuses on simplicity and clean lines, allowing your nails to make a subtle yet stylish statement. This style is perfect for those who prefer understated elegance or have a professional setting to maintain. There are some very beautiful designs which you would want to have now on your nails. I am sharing few of these nail designs and how you can achieve that home. Yes, you can create these minimal nail art styles easily at home with few tools and nail colors you love.
If you have been painting your nails, then they are very very easy. However if you are not pro at application of nail colors, then may be this is the time you try, learn, experiment and create unique nail designs on your nails. Before starting, it is better to do a little
manicure
to get soft and clean hands, so your nails look best after nail art.
So let's get started to achieve minimal nail art designs step by step.
1. Start with a Clean Canvas

As i said earlier, before you begin, make sure your nails are clean and well-manicured. Trim and shape them as desired, and push back your cuticles. A clean canvas is essential for any nail art design. Also do hand massage to make them soften, so after nail art, you are ready to flaunt your creativity.
2. Choose Your Color Palette

Minimal nail art typically features a limited color palette. Neutral tones like nude, white, black, gray, or soft pastels work exceptionally well for this style. Select a base color that complements your skin tone and any accent colors you might want to incorporate. However there is no rule, you can experiment, mix and match colors available with you, if buying new shades is not possible currently.
3. The Basic Minimalist Nails

The first step in creation of art is to apply solid color on nails. Apply a single, even coat of your chosen base color to all your nails. This simple monochromatic look is elegant and timeless. Ensure the polish is completely dry before moving on to the next steps.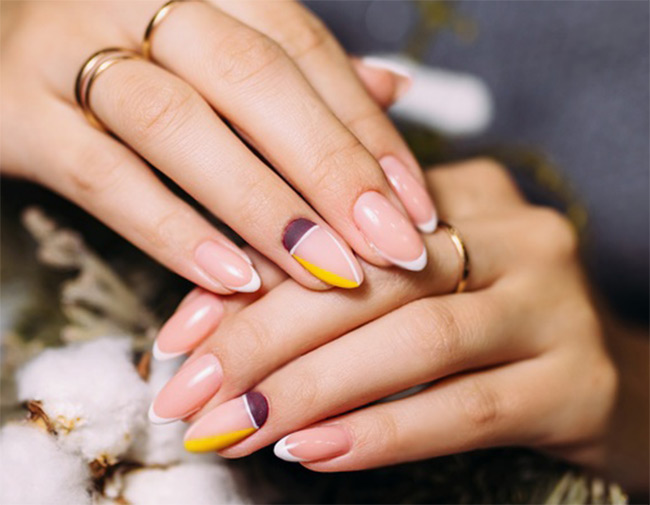 Geometric Accents Minimal Nair Art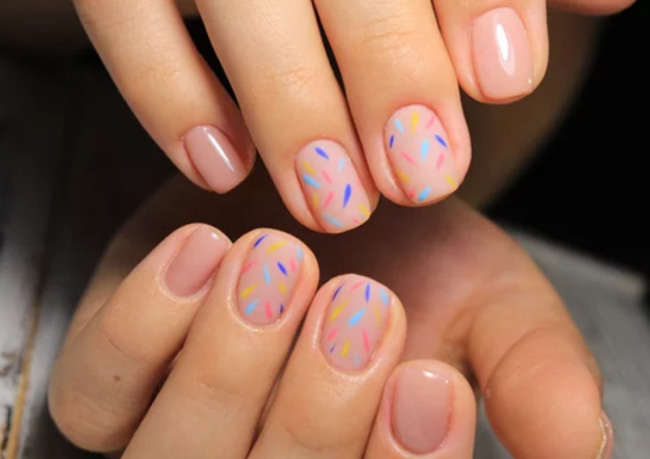 4. Geometric Accents

Geometric shapes are a staple of minimal nail art. You can use striping tape or a thin brush to create clean lines and shapes. For instance, try painting a thin diagonal line across one or two nails using a contrasting color. Alternatively, create a simple triangle, square, or half-moon design on a single nail. Keep the lines precise and clean for that minimalist effect.
5. Negative Space Nail Art

Embrace the negative space trend by leaving some of your natural nail exposed. This can be achieved by using nail stickers, stencils, or freehand painting. Leave a section of your nail unpolished or apply a transparent topcoat with a small window of color.
6. Minimalist French Tips

Instead of traditional white tips, consider using a soft, complementary color to create a minimalist French tip. This adds a touch of color and style while maintaining simplicity. You can get creative and little bit of slanted look at one side, underline with white line or make add some flower patterns in this french manicure.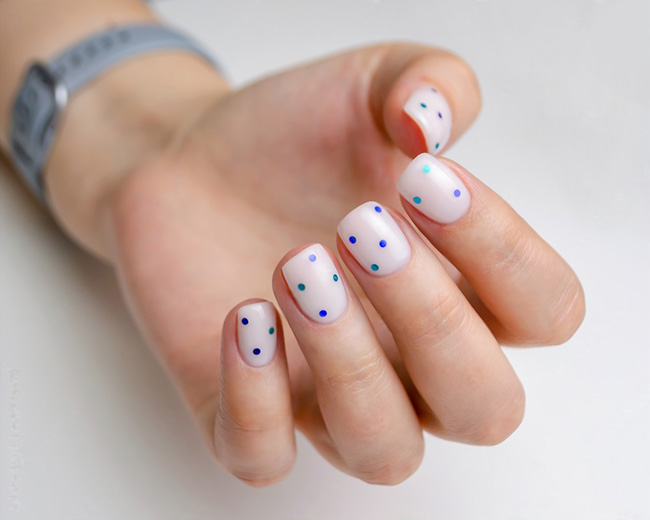 Dots and Lines Minimal Nail Art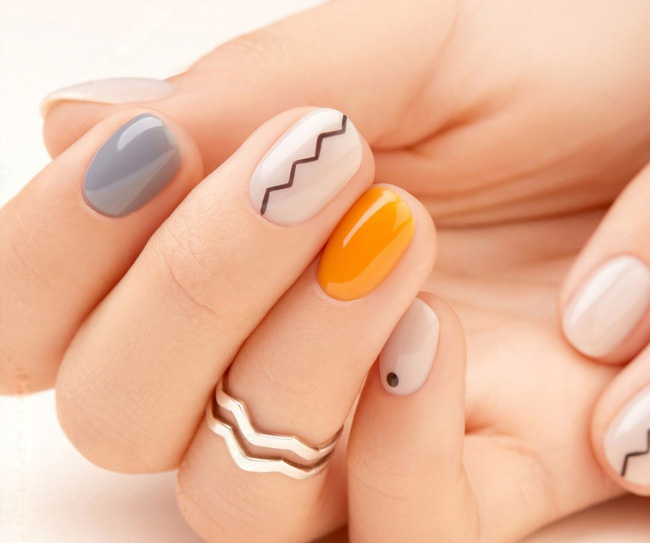 7. Dots and Lines

Tiny dots and lines can add an intriguing detail to your minimal nail art. Use a dotting tool or a fine nail art brush to create these delicate accents. You can arrange dots in various patterns or create subtle stripes. You can also add different colors on different nails and add dots on some and add lines on others. Leave other nails without any dots and lines.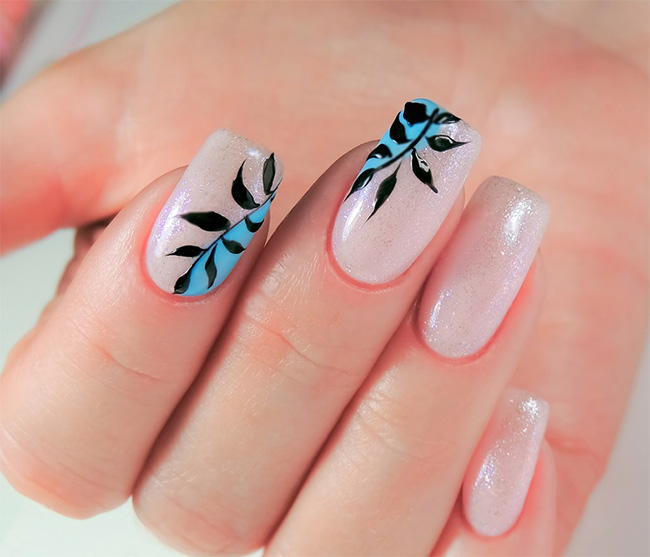 Creative Flower Patterns Minimal Nail Art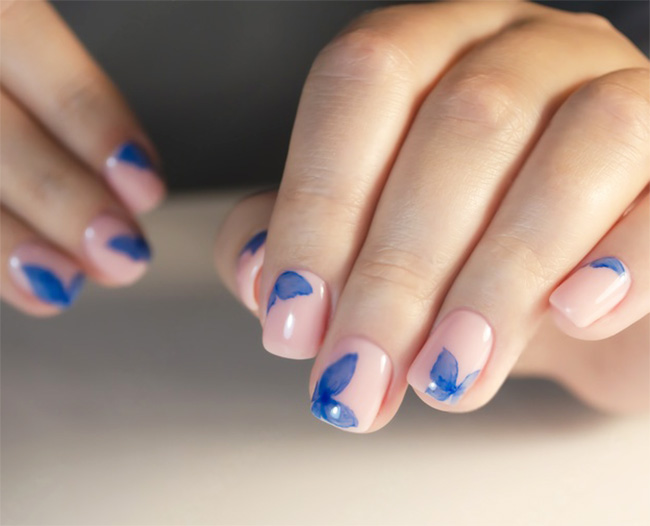 8. Creative Flower Patterns

To give a little bit of flowery touch to your minimal nail, add small petals bunch on one or two aligning nails and add a bright color to emphasis that design. You can also create small petals on all nails with free hand and with different designs or can use stencils.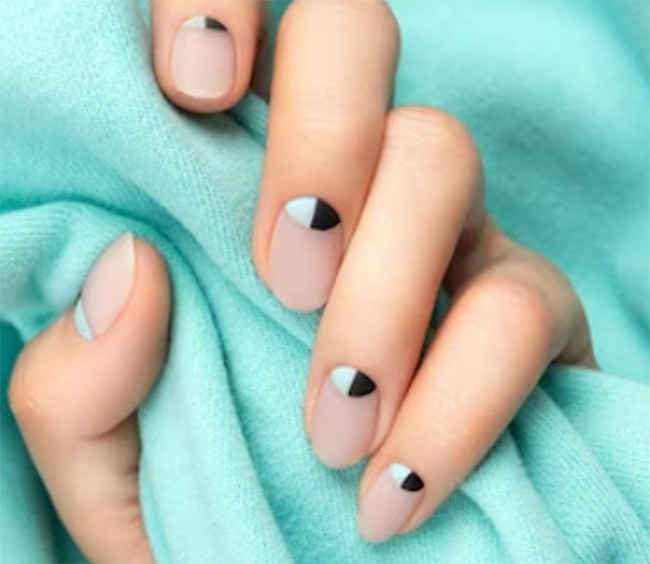 9. Reverse French Tip
One more beautiful and my favorite minimal nail art trend is reverse French tip. There are so many possibilities how you can create the design. It is very easy and looks elegant and chic. Add two color on the bottom of nails in small half circle. You can add more colors depending on your choice.
10. Matte Finish

For an extra touch of sophistication, apply a matte topcoat to your minimal nail art. This gives your nails a velvety, non-reflective finish that's both chic and modern.
11. Clean Up

After completing your design, clean up any stray polish or imperfections around your nails with a nail polish remover and a small brush or cotton swab.
12. Seal the Deal

Finish off your minimal nail art with a high-quality topcoat to protect your design and ensure longevity. This also gives your nails a glossy finish if you prefer that over matte.
Minimal nail art is all about subtlety and precision. The key is to keep it simple, clean, and elegant while experimenting with different shapes, colors, and negative space. With some practice and creativity, you can achieve stunning minimal nail art designs that suit any occasion or setting. Enjoy your stylish, understated manicure! 💅✨