Today i am going to share my thoughts on NYX Soft Matte Lip Cream in Budapest, Cannes and Ibiza. These lip creams have been raved around the globe where some loved them and other don't much. As i have now three shades and found that there are some hit and miss points about them, i have decided to review them. Let me tell you in detail about my opinion.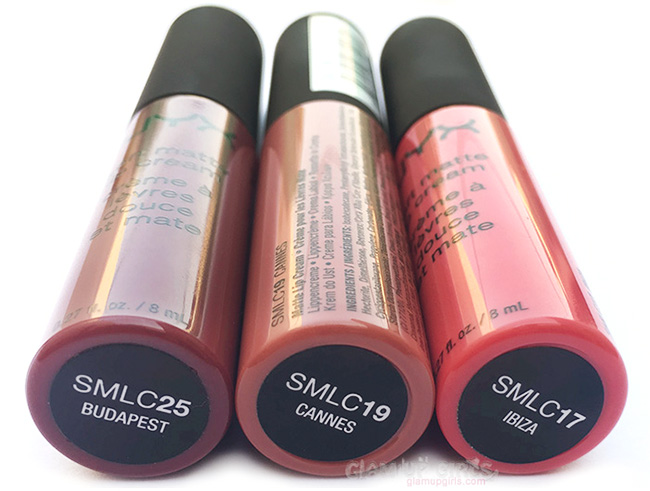 Product description
This is hybrid between lipstick and gloss with creamy texture which looks matte but doesn't dry lips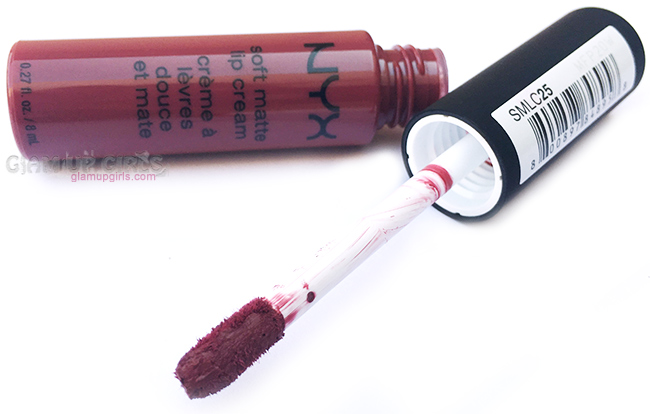 NYX Soft Matte Lip Cream in Budapest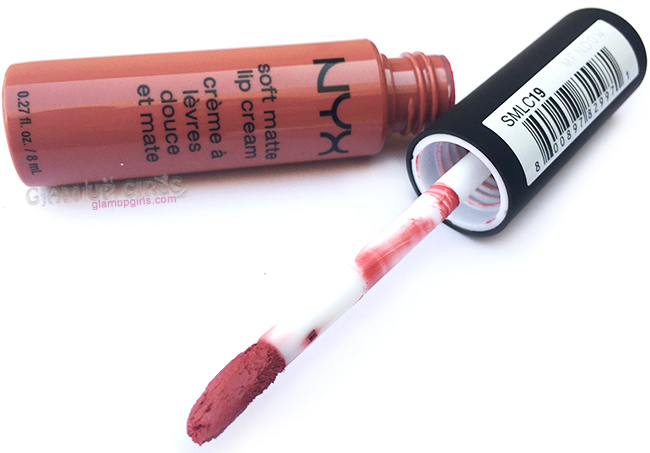 NYX Soft Matte Lip Cream in Cannes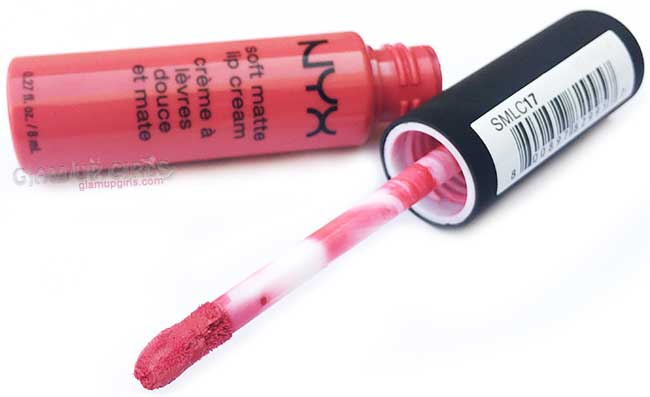 NYX Soft Matte Lip Cream in Ibiza
My Thoughts
These lip creams come in plastic tube with velvety black cap which have slanted doe foot applicator. The applicator is quite good and you can achieve precise application easily. The tubes have color similar to the product inside. The first thing i noticed is that their formula have typical vanilla smell which can be found in many lip products like
Essence long lasting matte effect lip gloss
and
Makeup revolution ultra velour creams
. The formula have velvety smooth feel to it which glides effortlessly and all three shades have very good pigmentation. The application and finish however is different for each color.
Budapest is a dark burgundy shade with very good pigmentation and even application. It's texture is best among three and it doesn't stuck in lip lines and works good on dry lips as well. The lasting power of this shade is also good and it will last more then 5 hours without drinking or eating greasy food. At the end it leaves a slight berry tint behind and fades evenly.
Cannes is dusky pink shade which leans towards brown. It is perfect neutral tone shade which will suit almost all skin tone. It is the reason it is most selling shade and is almost out of stock on beauty joint. The texture is smooth creamy but have some uneven finish at first application. In 2 to 3 swipes however you can get even, streak free application. The lasting power is really good and It lasts more then 5 hours with drinking and eating greasy food. It fades evenly and doesn't leave any tint behind.
Ibiza is a lovely medium coral pink shade with more pink hues. Its texture is worst among three and gives very uneven finish. If you watch closely my lip swatches you can see the uneven color effect and it stuck in dry patches. It is not worst or useless however as it looks great on moisturized and scrubbed lips which i missed in above swatches. The lasting power is good for this shade as well and it lasts 5 hours without drinking or eating. It leaves a slight pink tint behind after fading.
I like the idea of lip creams and no amount of uneven finish will stop me wearing them. They are easy to apply, light weight, stay long and the satin finish is perfect for every day. In my opinion the light shades have bit struggling formula but darker shades are really good. If you are tired of matte liquid lipsticks then these creams are great for you. Just make sure to select shades properly and prep your lips before application.
In Favor
Creamy, easy to apply formula
Highly pigmented
Satin finish
Dark shades have even application
Long lasting
Not in Favor
Light shade have uneven application
You doesn't like smell
My Rating

4/5
NYX Soft Matte Lip Cream is priced $6 each