Enchanteur
fragrances are one of my most favorite for many years, be it powders or
shower gel
, they have impressed me without any doubt. Today i am going to share their body mists in three variants which claim to stay for 24 hours and includes Romantic, Alluring and Gorgeous. They are not antiperspirant and i prefer my fragrances that way. As deodorants i prefer medicated ones to avoid any side effects. Lets dig in the details of these scents.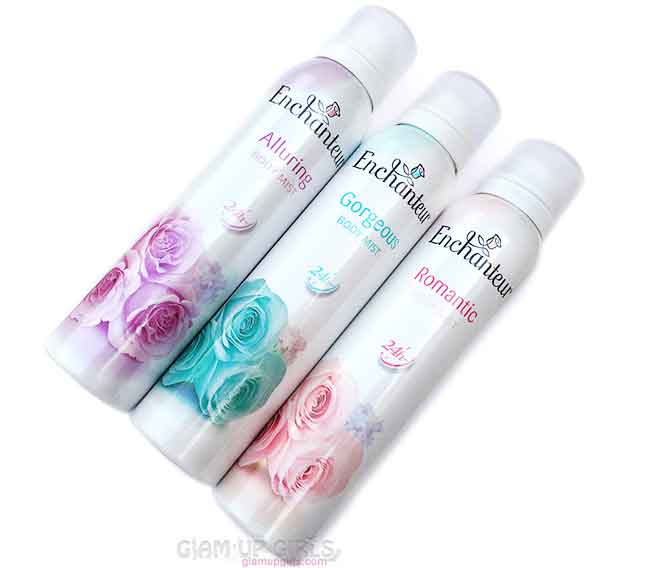 Enchanteur Body Mist in Alluring, Gorgeous and Romantic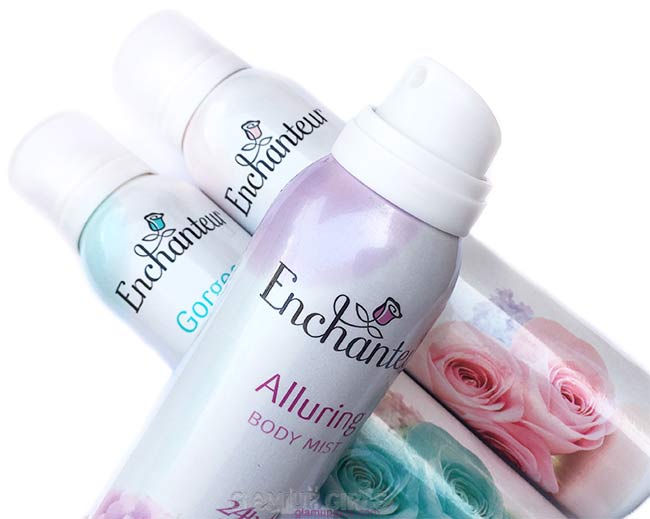 My Thoughts
The packaging is beautiful and comes in white spray bottles with flower designed on them with different colors to represent different scents. They are large bottles then others with 150ml of product. The scents of all the mists are similar to their scents in powders, shower gels and other products in similar range. So if you have tried any product from Enchenteur in any particular smell then you are going to get the same in these mists.
Alluring Body Mist
, get wrapped in a seductive floral fragrance that exudes mystery and true sensuality! This scent have seductive fragrance of Rose and Iris enhanced with creamy Vanilla to give your skin tender loving care.
This fragrance is floral but not sweet with strong vanilla and mild rose notes. It is very refreshing and give kind of wake up feel with its sharp top notes. If you like your fragrance, floral but not very feminine then this is for you. It has no fruity or sweet touch to it and is perfect for everyday morning to start for study or work.
Romantic Body Mist
wraps you in its soft floral fragrances. Get carried away in the luxury of its irresistible scent and reveal your true romanticism! With its uplifting fragrance of sweet Bulgarian Roses and White Jasmine, let the luscious touch of Romantic fragrance pamper you to perfection.
It is more floral and have sweet touch to its scent which gives the spring vibes. The notes of jasmine and rose is very feminine with a light touch of vanilla. It is clean and refreshing making you comfortable in your skin. It is perfect for fresh day and suitable for evening as well.
Gorgeous Body Mist
is an unforgettable fragrance which opens up with a sensual plum and peach around a glamorous bouquet of Tuberose, Gardenia & Jasmine. Let your gorgeous personality shine.
This has a floral and fruity smell and is my most favorite. It is feminine, sweet and make you feel close to nature. It is perfect spring summer scent with its cooling and relaxing notes. You can use it for a day out to relax and enjoy the environment.
All the scents are light and not bothering for sensitive nose. Even if they do not stay for 24 hours but still manage to put for 5 to 6 hours leaving a light trail of floral scent. These floral scents are perfect for spring summer and depending on their variants you can definitely get one suitable for you. For the price i totally love them and will be adding more to my collection.
Enchanteur Body Mist are priced PKR230