Since Masarrat Misbah Makeup has been launched this year i have been eyeing their Silk foundation to try and finally few days ago i got my hands on this foundation at DCC workshop. Lucky for me i got the matching shade for my skin with the help of Depilex professional beautician Isma. I have been using this foundation for some time and today i am going to share my thoughts on it.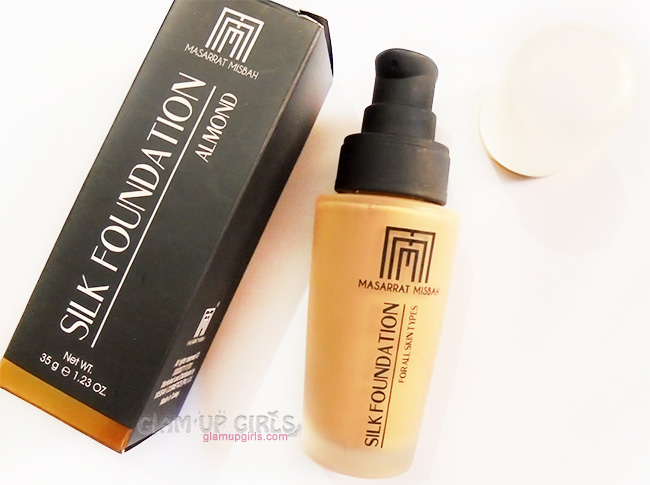 Product description
Brand describes that this is a weightless formula which control oil but also moisturize the skin.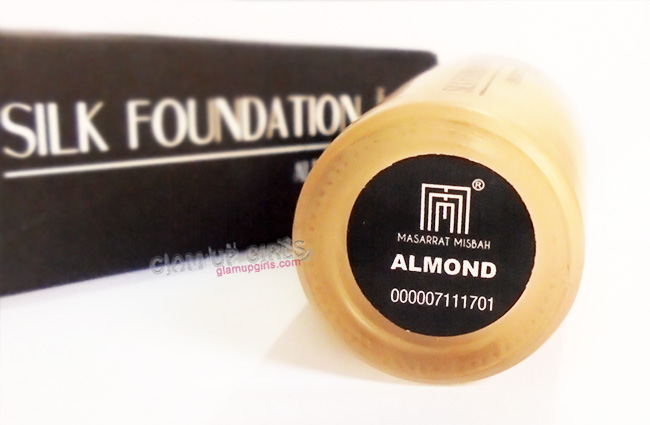 Masarrat Misbah Makeup Silk foundation in Almond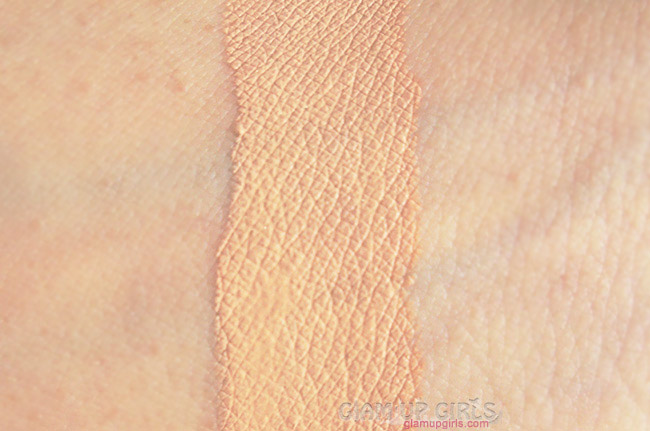 Masarrat Misbah Makeup Silk foundation in Almond swatched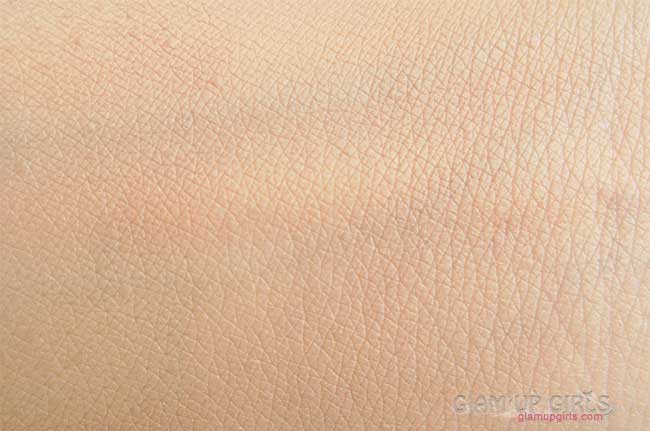 My Thoughts
This foundation comes in bulky matte glass bottle with pump dispenser and transparent matte plastic cap. The texture of this foundation is not runny nor too thick. The formula is dense enough that you only need very little amount to spread on whole face so i suggest do not dispense too much product or it will be wasted. It is easily to blend but dries fast on the skin so you need to blend it quickly for flawless look. It has very light smell which is not bothering at all.
The shade Almond looks dark in a bottle and for my skin which falls in between NC25 to NC30, i thought it was too dark but after application i liked it on my face. This shade Almond have orange undertones which i noticed when the swatch of this foundation dried on my hand. I guess this is the reason it covers minor spots and discoloration perfectly on my face. Although i had to correct my dark circles with orange corrector to avoid ashy look but this foundation provided full coverage that i could skip the neutralizing concealer under my eyes.
Providing full coverage it still does not feel heavy on skin and is light weight. The formula is claimed to be oil controlling which seems to be true. Even though summer is the best season to judge how well it will control the oil on face but i still can feel that the formula is oily skin friendly. I have very dry skin and i cannot imagine it wearing without moisturizer not because it dries the skin but it can also crease after few minutes. The good thing is that it doesn't transfer or oxidize too much. The lasting power is amazing as well. It lasted without fading for more then 6 to 7 hours which is amazing.
Overall I highly recommend this foundation who needs medium to full coverage. It is light weight, lasts long without transferring, covering minor imperfections and discoloration. I am wearing this foundation
here
.
In Favor
Medium to full coverage
Less amount is needed
Semi matte finish
Easy to blend
Light weight
Very long lasting
Halal, cruelty free and Parben free
Not in Favor
Dry skin need moisturizing or it accentuate lines and dry patches
Dries fast, so quick blending is needed
My Rating

4/5
Masarrat Misbah Makeup Silk foundation is priced
1450PKR