Luscious Lip Couture Matte Melted Lipstick in A La Mode - Review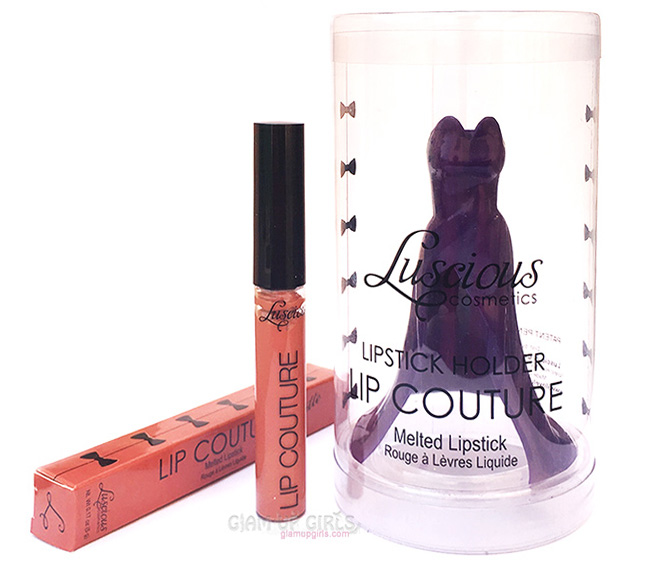 Today i am going to share one more makeup product from Luscious cosmetics which i bought during their recent sale called Lip Couture Matte Melted Lipstick in shade A La Mode. With every purchase of these lip couture, Luscious also offer a dark purple gown shaped lipstick holder for free. Matte liquid lipsticks are trending and every other brand has included them in their range. I liked the idea of melted lipsticks and was hoping that it would be different then regular matte liquid lipsticks.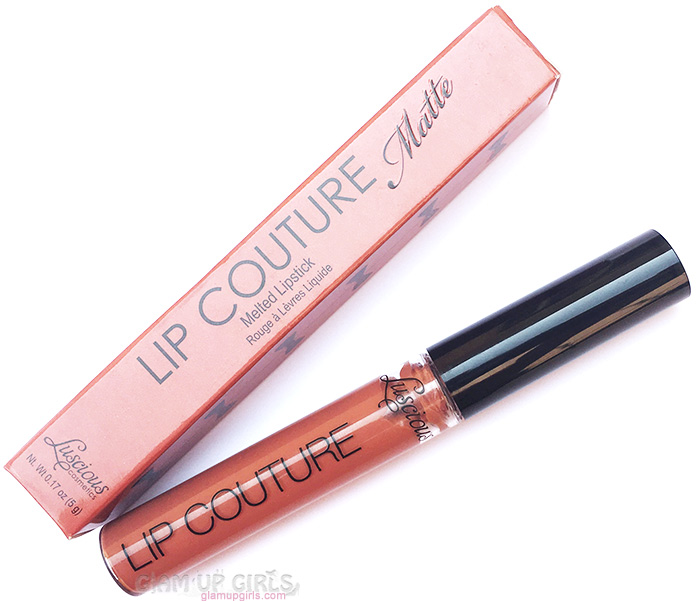 Product description

An ultra-pigmented, full coverage, liquid lipstick formula that adorns your lips in gorgeous, saturated color. Lightweight and comfortable, designed for long wearing results, with the flatteringly soft finish of a lip stain. Never flakes, feathers or dries out your lips. Presented in an array of on-trend modern 10 matte shades. Inspired by the world of high fashion, it's couture for your lips!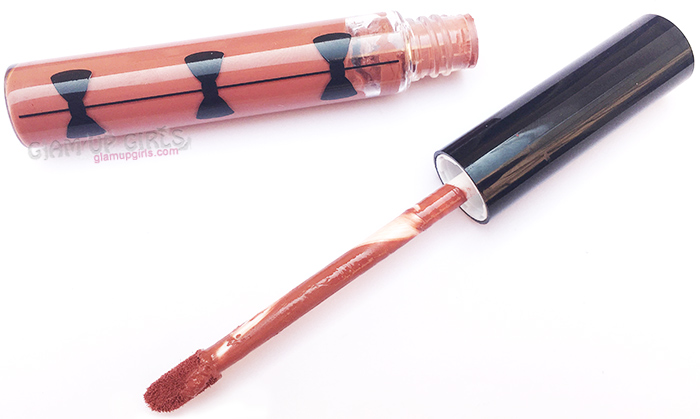 Luscious Lip Couture Matte Melted Lipstick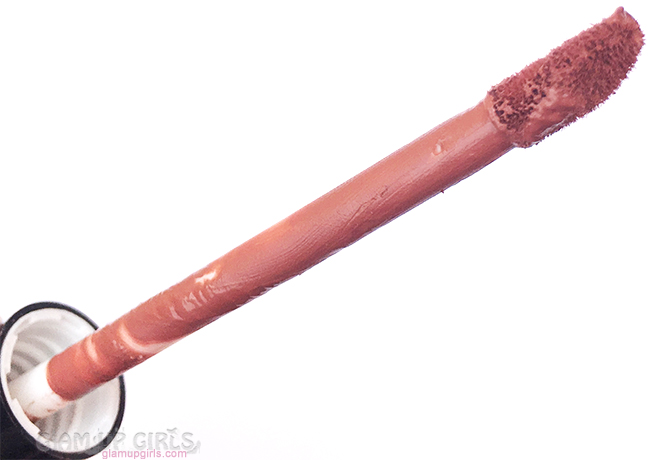 Luscious Lip Couture Matte Melted Lipstick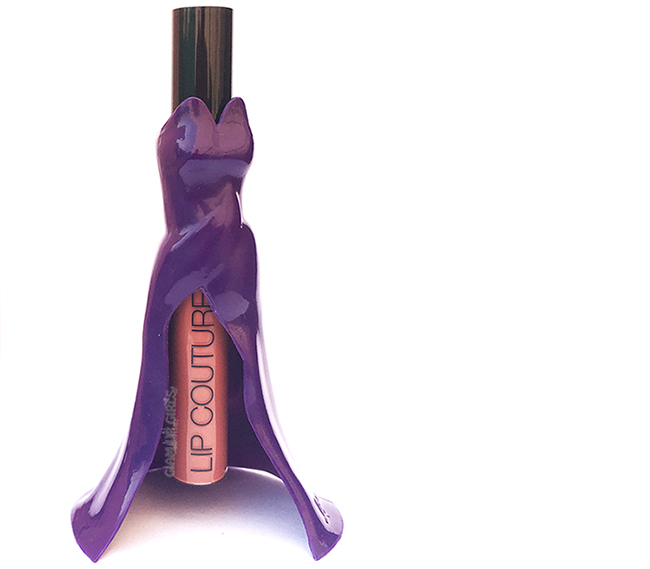 Luscious Lip Couture Matte Melted Lipstick and Holder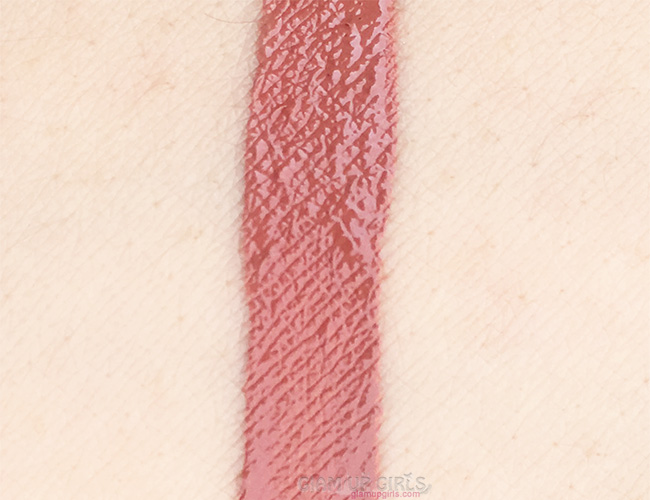 Swatch of Luscious Lip Couture Matte Melted Lipstick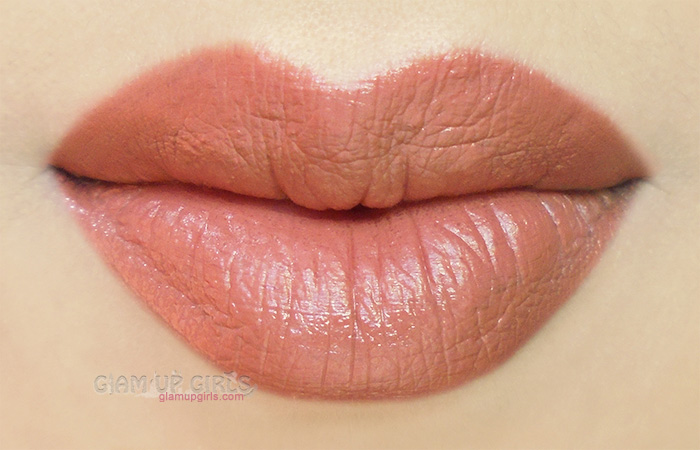 My Thoughts

This products comes in transparent tube with black cap and doe foot applicator. The tube shows the usage of product which is quite good. There is no noticeable smell or taste in this lip product. The texture is thick creamy which applies smoothly and gives streak free application. The pigmentation is intense and in single swipe you get fully opaque color.

The shade A La Mode is lovely medium brown shade with peach hues. It is the most stunning brown i have in my collection which in my opinion will suit all skin tones. Coming back to the texture, the formula is similar to ColorPop matte and satin liquid lipsticks which is easy to apply and doesn't look patchy. It is not exactly matte formula and the finish is more similar to ColourPop ultra satin which gives satin finish instead of matte and i love these type of formulas. It doesn't feel sticky after application and is light weight. As it is not completely matte, it does transfer little but not like lipsticks or lip gloss.

Comparing it to ColorPop Ultra satin, i think i love this formula more as it is non sticky and gives streak free application while some ColourPop lipsticks have not good formula. It is long lasting and doesn't feather or feel patchy while fading. the lasting power is more then 5 to 6 hours without eating any greasy food and still it doesn't look as bad as any other liquid lipsticks i have tried. It is safe to say that this melted lipstick has become my most favorite liquid lipstick i have ever tried. As you can see in above swatches i have natural lines in my lips and dry matte formulas give me hard time but this one looks absolutely perfect with its satin finish and smooth formula.

Overall i absolutely loved this melted lipstick for its amazing texture, flawless finish and long lasting power. On top of that it is non drying and works well on dry lips. I would highly recommend it to ones who are tired of matte drying liquid lipsticks, in fact i am kicking my self for not getting more shades during my haul.

In Favor

Great creamy texture
Provide even, streak free finish
Satin finish
Intense pigmentation
Very long lasting
No feathering formula
Fades evenly
Non drying
Not in Favor
Transfers slightly, similar to ColouPop Ultra satin
My Rating

4.5/5

Luscious Lip Couture Matte Melted Lipstick in A La Mode is priced PKR820
comments powered by

Disqus