I have been a big fan of lip gloss since very long time even when i was not into bold makeup. The main reason for my liking is that they give you fresh look while keeping your makeup look at minimum and your lips hydrated. I have bought these two Sleek Makeup Glossed Lip Gloss in Blase and Packs a Punch a while back and today i am going to share my thoughts and swatches on them.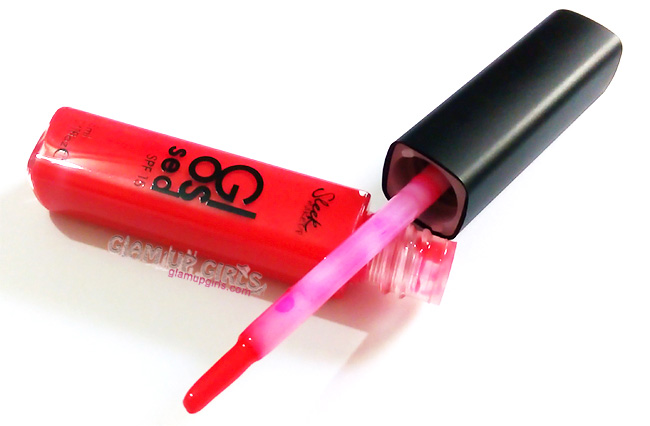 Sleek Makeup Glossed Lip Gloss in Packs a Punch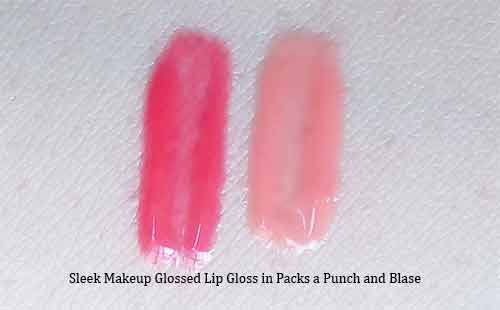 Sleek Makeup Glossed Lip Gloss in Blase and Packs a Punch

My Thoughts
The packaging is very good and sleek. The tube is made of hard transparent plastic and the cap is of matte black plastic. The applicator brush look little slim but still it applies the product comfortably. The texture of this lip gloss is little thick and is very moisturizing but still doesn't feel heavy or sticky on the lips. Both shades are not very opaque and gives subtle hint of color to lips. They have very noticeable kind of vanilla smell which feels not bad and fades after few minutes.
The first shade is Blase which is a beautiful light coral shade. It gives light nude peach tint to lips which is not very opaque. It can be wore alone or on any matte lipstick to give glossy touch. The other shade Packs a Punch is bright color shade which is more opaque then Blase but still not very pigmented. It is beautiful summer shade. As i tend to face dry lips most of the time so i found these lip gloss very moisturizing and can be perfectly paired with any lipstick. It does look thick but still feels light weight and is non sticky. The good thing is that it does last for more then two hours which is good for such moisturizing lip gloss. These lip gloss also comes with SPF 15 so you get sun protection with some pretty shade.
Overall i loved both shades and wearing them a lot. They are moisturizing, light weight and comes with SPF.
In Favor
Moisturizing
Light weight
Non sticky
Comes with SPF 15
Nice smell
Not in Favor
Not very pigmented
Applicator is not very good
You don't like scented products
My Rating

3.5/5
Sleek Makeup Glossed Lip Gloss is priced
$5.99
and currently on discount
$2.99