Using scrub is one of the important part of skin care routine and i love using them. Scrubs by St.Ives has been my most favorite as they have different variants for different skin and issues from which i have used 3 different ones and have reviewed
St.Ives Oatmeal scrub + mask
which i have used in winters and loved it. Today i am going to review St.Ives Pink Lemon & Orange Mandarin Orange and Apricot Scrub. Lets see what type of skin and issue these scrubs cover.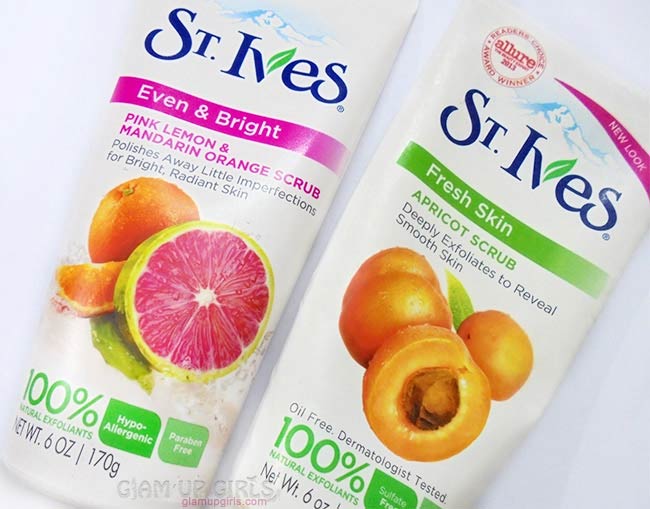 St.Ives Pink Lemon, Mandarin Orange
This scrub is described to gently polishes away little imperfections leaving the skin brighter and even-toned.
St.Ives Apricot Scrub
This scrub is described to deep clean while leaving the skin smooth and glowing.
My Thoughts
All the scrubs by St.Ives comes in squeezable tube with flip cap. Both scrubs have thick creamy texture and little amount is all you required to exfoliate your face. They have quite noticeable smell of their relative ingredient which is not overpowering or bothering. The apricot one have lovely apricot smell while Pink lemon & orange have fresh citrus y smell to it.
Apricot scrub have large brown exfoliating grains while the other one have very small pink exfoliating particles. The texture is bit different as well where apricot scrub have more smooth creamy feel while the pink lemon & mandarin range have mild scrub y texture and depending on my requirement i am currently using both.
The Apricot scrub having large particles is perfect when you need bit hard scrubbing which must be used only 3 times a week. The particles do dissolve while scrubbing but they are not very harsh against the skin. It instantly bright up the dull skin and leave the skin soft and smooth. I have been using it for couple of years and have noted that it helps removing black heads if used regularly.
Pink Lemon & Mandarin Orange having very small particles can be used regularly and it will not peel the skin. The instant effect is not as remarkable as the apricot one but the regular usage keeps the skin smooth and bright. Having dry skin i do need some thing which keeps the skin smooth against dryness for every day and this scrub is perfect for this purpose. It cleans the skin fine so i don have to use extra face wash.
Overall if you have sensitive skin and need some thing mild to exfoliate then Pink Lemon & Mandarin Orange scrub is one you need while on the other hand Apricot scrub having bit hard grains gives the instant results and is perfect for all skin who love bit strong exfoliation.
St.Ives Pink Lemon, Mandarin Orange and Apricot Scrub is priced
PKR390
.