I needed foundation for dry skin specially in winter so when i located this Color Studio Pro Luminous foundation i thought to give it a try. I have been using this foundation for couple of weeks and thought it is the time i share my views on this foundation whether it did or not what it claims.
Color Studio Professional Pro Luminous Foundation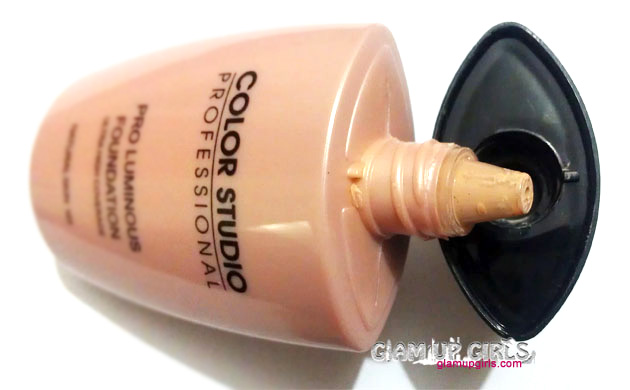 Color Studio Professional Pro Luminous Foundation

My Review
Starting with packaging it comes in squeezable bottle with small nozzle with black screw cap. The texture is thin and runny and product can be easily dispense out of a bottle. I suggest you should shake a little before using this foundation as it is water based so might get little separated without mixing. The scent is little strange and will remain for little while. If you like your foundations to be scent free you might not like it but i don't feel it too bothersome. This foundation comes in four shades and i have picked it in natural skin even though i wanted it in ivory but it was short from many stores and even online so i decided to pick this up.
As the foundation has thin texture it spreads and blends into skin effortlessly and will not require a lot of product. It would be preferable to use your fingers or your favorite foundation brush to spread and blend this foundation and not use sponge as it will waste more product. It claims to provide medium to heavy coverage. In my hand swatches you can see i applied the foundation on the dark spot and it did lighten it but not fully concealed so i would say it provide light to medium coverage. With layering this foundation you can achieve medium coverage. This foundation is suitable for everyday usage as it comes with SPF.
The finish of this foundation is dewy and look shiny at first application but after few minutes it absorbed into the skin leaving light luminous finish. As i have very dry skin i needed the moisturizer before its application because my face felt dry around my mouth and on cheeks without moisturizer. However the lasting power is good, it does stay on me for 5 to 6 hours.
Overall in such reasonable price this foundation is very good for normal to combination skins and dry skin will need moisturizing before its application. It gives little glowy and radiant finish, giving light to medium coverage and stays put for 5 to 6 hours.
In Favor
Provides light to medium coverage
Dewy finish
For normal, combination and dry skin
Last for 5 to 6 hours
Comes with SPF
Easy blending
Very affordable
Not in Favor
For too oily skin
you can't find your match
My Rating

4/5

Color Studio Professional Pro Luminous Foundation is priced
PKR 750