Sigma Beauty Lip Base in Go Dutch and Lip vex in Skinny Dip - Review and Swatches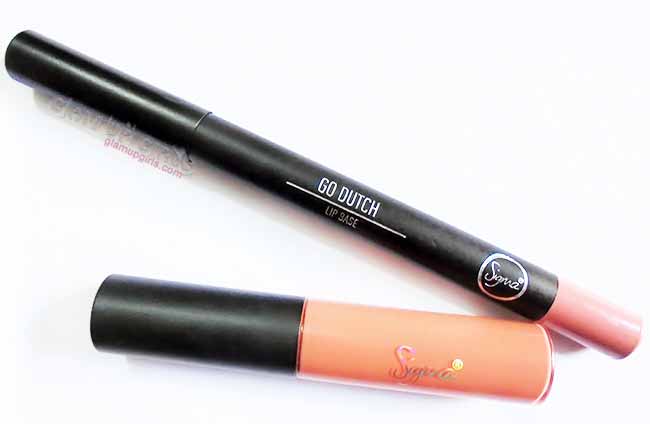 Makeup lovers cannot have enough of lip products be it lipstick, lip gloss, lip pencil or matte lipstick and today it is going to be two lip products in this post. Sigma Beauty have some really amazing shades in their makeup range whether it be lipsticks, lip pencils or lip gloss. I have their Lip Base in Go Dutch and Lip vex in Skinny Dip. Both falls in neutral shade range which are my most favorite. So lets talk about these beauties.


Sigma Beauty Lip Base in Go Dutch and Lip vex in Skinny Dip

Sigma Beauty Lip vex in Skinny Dip

Sigma Beauty Lip vex in Skinny Dip and Lip Base in Go Dutch

Sigma Beauty Lip Base in Go Dutch and Lip vex in Skinny Dip

My Thoughts
Lip Base is of sharp able wood pencil which is chubby but not jumbo size. Painted in black and black metallic cap, the bottom of pencil is painted in same color as their shade. The texture of this pencil is very creamy and applies very smoothly without tugging. Go Dutch is defined as Salmon light pink on their website. It is s warm baby pink shade with slight mauve hint. This shade perfectly falls in neutral shade range and is very pigmented. With just one swipe you get fully opaque color.

This formula doesn't dry out the lips but before application make sure to prep your lips if they are dry to get even application. It is not much transfer proof and lasts pretty long. It lasts 4 to 5 hours and doesn't fade unevenly. Because of its creamy formula you have to be careful while application or else it will break easily.

Lip vex comes in a transparent glass round tube with black metallic cap. It has brush applicator to apply the product which is easy to handle. The texture of this lip gloss is thick and little sticky, however it applies smoothly. Skinny Dip is defined as Papaya Smoothie on their website. It is a beautiful warm light peach shade. It is very moisturizing and gives the feel of fuller lips because of its shinny and creamy formula.

This shade is very well pigmented and becomes opaque on one swipe. It lasts for 2 hours on lips without eating and drinking. The moisture in this lip gloss lats for very long. It can be an amazing product in winters when you get dry lips easily.

Overall both products are really good and if you like neutral shade you definitely will like them. They have really amazing other shades as well which you can check on their website.

Sigma Beauty Lip Base in Go Dutch is Priced $12. Sigma Beauty Lip Vex in Skinny Dip is Priced $10.
comments powered by

Disqus