I have been intrigued by pen eyeliner recently because of less mess and more ease of use. I have recently bought BH cosmetics Liquid eyeliner pen during their sale and you know what there is always an attractive deal or sale going on at BH Cosmetics. Today i am going to share my thoughts on this eyeliner pen.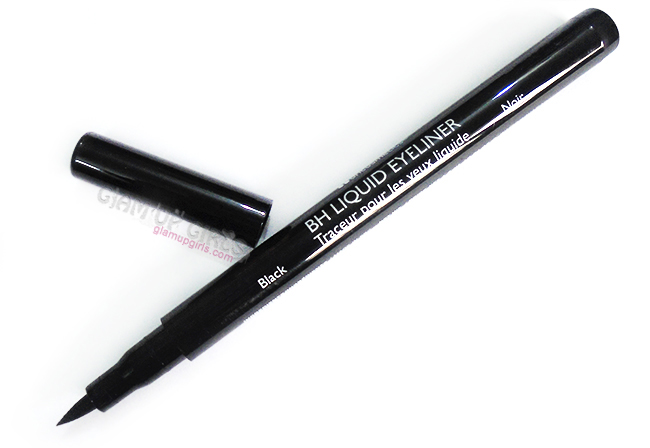 Product description
Defined as quick drying and easy to use liner with highly pigmented formula which help in applying thin and dramatic line in just one stroke.
My thoughts
This eyeliner pen comes in simple black packaging with felt tip applicator which is not very thin or very thick. However if you want very thin line you have to apply it very carefully which you can do after little practice. The formula is thin and easy to apply without tugging. The color of this liner is pure black which dries quickly. It dries into semi matte finish so it is not very shiny or dead matte.
As i said it has very black color which is highly pigmented so in one stroke you will achieve fully opaque line. I love the fact that it dries quickly so there is no worry of ruining your makeup look when in hurry but at the same time if you have made any mistake it will be hard to remove it. It has smudge proof formula as it claims and is really long lasting. It will not move from your eyes until you do. As i do not have oily eyelids so i cannot say how it will stay on them but on my eyelids it stays whole day and i have to remove it with makeup remover.
I never found it irritating my eyes or causing any trouble but still i prefer it only on upper eye lids. The formula is little runny so there is no need to put this pen upside down like it is suggested for this type of eyeliners. I have been using it for few weeks and still the formula is as good as its first day so i hope it will not dry soon like other pen liners i have tried.
Overall i am loving this liquid liner and would highly recommend it. I think it will be my go to liner in summers.
In Favor
Highly pigmented
Very black shade
Semi matte finish
Smudge proof
Very long lasting
Budget friendly
Not in favor
My Rating

4.5/5
BH Cosmetics Liquid Eyeliner Pen in Black Noir
is priced
$7