A makeup lover cannot have enough lip products and today again i am going to share my thoughts on lip products called Up and Away Lip Bundle by ColourPop. I got this bundle in my recent makeup haul form ColourPop and have already shared my thoughts on
Hot To Trot Lippie To Go
. This bundle contains two ultra matte and one ultra satin liquid lippies, so let us dig in details.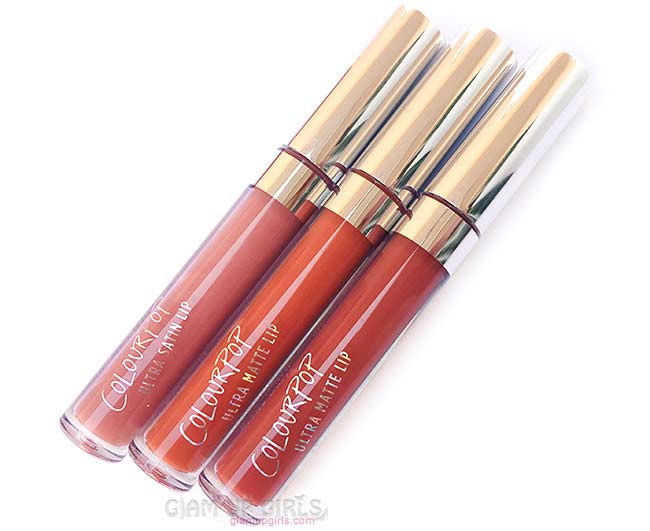 ColourPop Up and Away Lip Bundle, Love Bug, Mama, Calypso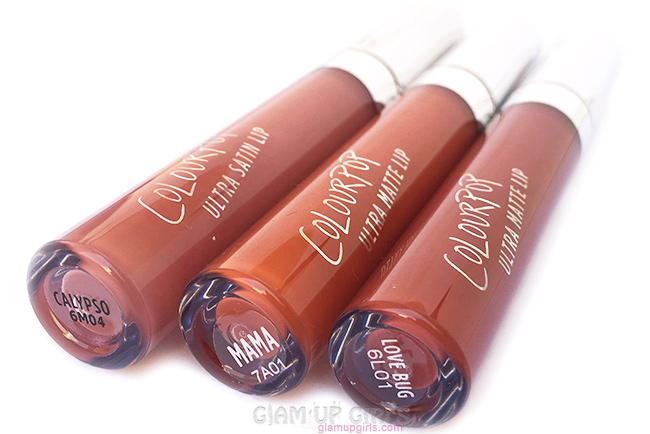 ColourPop Calypso, Mama and Love Bug
My Thoughts
As i said this bundle contains 2 ultra matte and 1 ultra satin lip products and shades falls in the category of browns. Ultra matte lip is liquid lipstick which gives long lasting matte finish while ultra satin gives long lasting satin finish. All products comes in transparent glass jar and silver cap with usual doe foot applicator. The applicator is long and easy to handle and you can get good application with it. Lets talk about each product separately.
Mama
: This is defined as a burnt orange shade which is part of fall 2016 edition and is one of my favorite color which i try to find in every brand. It is not a very bright shade but warm medium copper color which suits all skin tones beautifully. The pigmentation is really good and with one swipe it gives even coverage. The finish is very matte and the lasting power is more then 5 hours. It doesn't feel very dry on lips and have better formula.
Love Bug
: Defined is rich mahogany shade. It is kind of deep brown shade with hint of plum and warm undertones. The pigmentation is intense and application is smooth and even while layering. It gives matte finish and have some how more drying and heavy formula then Mama. The lasting power is more then 4 hours and tends to flake a bit after few hours.
Calypso
: Defined as mid-tone pink shade. It is medium rosy pink shade with warm undertones. The shade is light but looks flattering on Asian skin tone. It is extremely pigmented and gives full coverage in one swipe. It is light weight and non drying then matte formula and gives satin finish. Even it is not transfer proof like matte but still it barely transfers and lasts more then 5 hours.
Overall this bundle have shades perfect for our Asian skin tones consisting of light to dark ones. The satin formula is amazing and i love it more then matte one. However matte formula is complete transfer proof, long lasting but bit of drying while satin formula is comfortable to wear very little transferring with not drying or not hydrating factor. You can also save $3 while buying this bundle comparing to buying individually.
ColourPop Up and Away Lip Bundle is priced $15.