St. Ives scrubs are most favorite among many beauty gurus. They have different type of scrubs to offer like Apricot Scrub, Lemon and Mandarin Orange Scrub and Oatmeal Scrub. Recently i have tried Oatmeal scrub which is described to nourish and smooths the skin. Today i will review this scrub to let you know how much this scrub impressed me.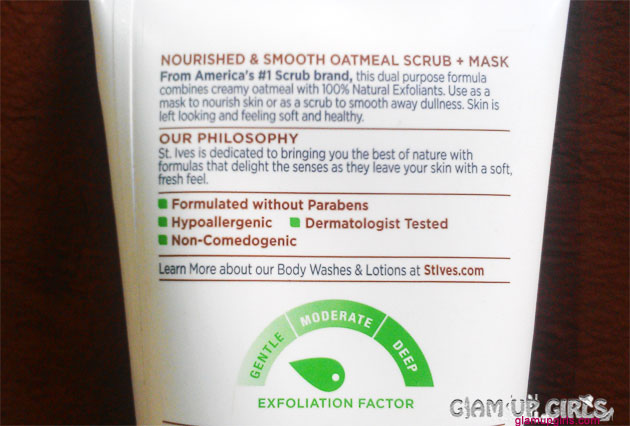 St. Ives Oatmeal Scrub + Mask

My Thoughts
This scrub have same packaging as their other scrubs, a soft tube containing 170 gm of product. The product texture is creamy in white color containing very small grains of mostly orange color. The product mentions it has gentle formula of exfoliation which describes why the grain are so small. The smell is very nice mixture of oatmeal and cocoa butter.
This product is meant to use both as scrub and mask. I apply it on wet face massage it thoroughly and then leave it few minutes and then wash my face. As it takes too long to dry so just wash it after 2 or 3 minutes. I have combination skin and noticed that it did not make my skin dry and left it soft and smooth. It has a gentle exfoliation formula so doesn't feel very harsh on skin and can be used twice or three times a week when your skin is getting dryer. It did make my skin brighten up instantly and leaves it soft and smooth. Apart from using it as mask i love using it to only scrub my face on alternate days. It is perfect in winters when skin get more dry to nourish the skin.
Overall this is great mild exfoliator for combination to dry skin, which makes skin soft and silky without making it dry while having an amazing smell.
In Favor
For combination, normal and dry skin
Creamy texture with gentle exfoliation
Makes skin smooth and soft
Does not dry skin
No harsh ingredients
Not in Favor
My Rating

4.5/5
St. Ives Nourished & smooth Oatmeal Scrub + Mask
is priced
PKR390