Sigma Beauty
always comes up with unique and innovative makeup tools which are developed mainly keeping in mind the easy use for users, durability and hygiene. They are keeping their competition with high end brands with good quality and new designs. Their
ultimate copper eye brush set
was love at first side and recently they have introduced four new kabuki face brushes including 4DHD Kabuki, F87 Edge Kabuki, 3DHD Max Kabuki and F83 Curved Kabuki. I have reviewed
4DHD Kabuki and F87 Edge Kabuki
which are perfect for concealer and setting powder. Today i will talk about 3DHD Max and F83 Curved Kabuki which are designed for multipurpose and help create the trendy looks. Let me tell you how unique these brushes and their uses are.
Product description of F83 Curved Kabuki
This soft and dense brush reaches to the curves of your face when applying foundation or contour products.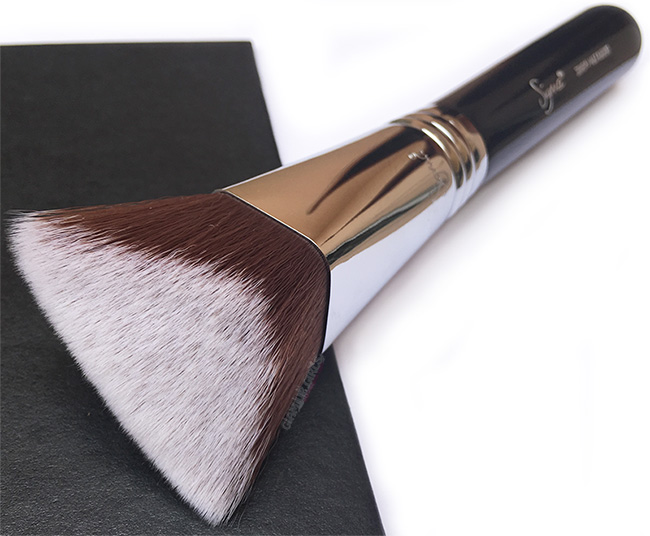 Sigma Beauty 3DHD Max Kabuki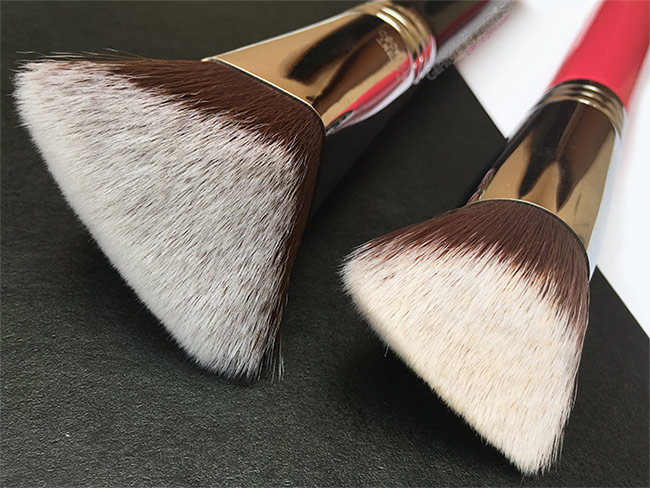 Comparison of Sigma Beauty 3DHD Max Kabuki and 3DHD original Kabuki
Sigma Beauty F83 Curved Kabuki
My Thoughts
Both brushes have large size then their usual kabuki brushes considering the more bristles packed in them and they are not going to fit in my
Sigma Dry-n-shape spa gadget
. As you can see in above picture of comparison between original 3DHD Kabuki and new 3DHD max kabuki that there is a lot of difference in size and the handle of max kabuki has dimension to adjust the 3D look and feel of bristles. The bristles are adjusted in slanted shape at both sides then old 3DHD which is better to reach face contours and the application of foundation is very good with flat ends.
This brush is recommended for all types of foundation application but it can also be used to apply contouring products in better way with its top and slanted sides can be used to apply powder for baking under eyes and at jawline. This fully packed brush doesn't leave streaks and blend the foundation effortlessly where it is equally good for powder and liquid foundation. The size looks bulky but it is not heavy and give the comfortable grip while application.
F83 curved kabuki is really unique design which can be used equally for applying foundation, blush and contouring products. The curved top is perfect to apply products in hollows of cheeks and along jawline. The handle of this brush also have bit of dimension to keep the bristles in place. The curve of this brush will help applying blush on cheek bones while lower side will help blending contour cream or powder. You can be creative with these brushes and can use them in different ways to suit your requirement.
These brushes have two year warranty but let me tell you they are going to last more then that. In above picture my old 3DHD kabuki is more then 2 years old and it still is perfect to use and the shading while washing is little to none.
Sigma Beauty
3DHD Max Kabuki
is priced $27 and
F83 Curved Kabuki
is priced $25