The eye creams must be the important product for you if you have to use electronic gadgets so often, have lake of sleep, hectic job or stress. Almost all of us will fall at least for one of this issues which can cause eye bags, wrinkles, puffiness and fine lines. In my opinion it is better for one to start using eye creams in early twenties which can provide you protection from these elements and keep those early wrinkles at bay. I have never used any eye cream before even though i have some serious dark circles. Recently i spotted Saeed Ghani dark circles eye cream on Just4girls and thought to give it a try.
Product description
Brand claims that it is developed for serious dark circles.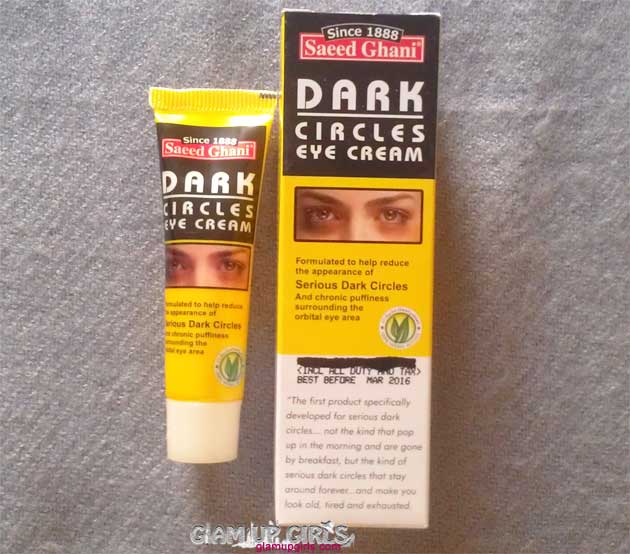 Saeed Ghani Dark Circles Eye Cream
My Thoughts
Saeed Ghani Dark Circles Eye Cream comes in a soft plastic tube which is quite convenient to push out the product. This white color product is soft textured, thick and creamy. The smell, Oh my God the smell is really bad, i can't explain what sort of this smell is but it is really sharp and feels bad to nose but it will fade slowly. Because of it's creamy texture little goes all the way. Just take pea size or even less and it will be sufficient for both eyes so i think this tube is going to last for quite a long time.
I take a little amount of product and dot under eye area and little bit on eye lid and then slowly massage the cream with ring finger. It will take little time to absorb in the skin. I did not find it irritating, itching or burning even though i have little sensitive eyes but be careful not to let it make contact with your eyes.
Now if we come to the results after first application i noticed that it did brighten up the under eye area where i applied it. I have very dry skin and after applying this cream i have noticed it hydrated my skin which looked little lightened then before. As i used it at night, in morning my eyes felt little relaxed and brighten but after washing it felt normal like before. I have been using this cream for more then two weeks and there are not any drastic changes in my dark circles but to be honest there is some improvement. For the claim that it will rescue the chronic puffiness i think this claim is fulfilled for some extent. It does calm and relax your eyes and reduce puffiness around your eyes. Still i did not find any side effects of this cream and will continue to use it as long as i find some thing better then this.
Overall this product is good to brighten up the under eye area, reduce puffiness and in long term may be reduce dark circles if used regularly.
In Favor
Brighten up under eye area
Reduce Puffiness
Lighten the dark circles if used regularly
Budget friendly
Organic
Not in Favor
Strong smell
Will not reduce dark circles miraculously
My Rating

2.5/5
Saeed Ghani Dark Circles Eye Cream is priced
PKR220