Rare Beauty, founded by Selena Gomez, is known for its inclusive approach to beauty and creating products that celebrate individuality. Their eyeshadow palettes feature versatile shades suitable for various eye looks, catering to a wide range of skin tones and preferences. The beautiful packaging is what attracted me more. It is sleek, travel friendly and beautiful. Let's talk about the discovery eyshadow palette called True to myself.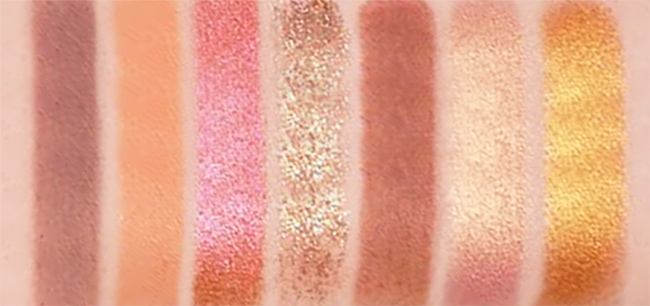 This compact eyeshadow palette comes in long beige color packaging with mirror inside. It is perfect to place in your purse and use it around the day. The palette contains 3 mattes and three shimmery shades along with 1 pressed glitter.
The shades are very pigmented and blends easily. The color combination is very good and is perfect to create amazing looks from day to night glamorous looks. It is warm shade palette mostly except the first brown shade which has neutral undertones. In my opinion this palette can suit almost all of the skin tones.
First shade is neutral, matte medium brown.
Second one is medium mustard yellow matte shade.
Third is shimmery medium copper shade.
Fourth is pressed gold glitter that sticks to the eyelids by itself and does not flake off easily.
Fifth one is medium dark matte warm brown shade.
Sixth is champagne shimmery shade.
Seventh is bright metallic yellow gold shade.
Overall i love this palette, it is perfect for everyday to glamorous looks. It is minimal, sleek and i tend to reach to it more when nothing else is helping.
Rare Beauty Discovery Eyeshadow Palette True To Myself
is priced $29