It has been asked many times for a review on Kryolan's Tv paint sticks and how to choose colors because it is one foundation which is widely used around us. I have known this stick as long as i have known any makeup. This stick is mostly used for party makeup where you want heavy coverage. Many wanted to know the proper method to use paint stick as it gives heavy coverage so mostly we get cakey and patchy look while applying it. I am not pro but have been using this stick for quite some time and by this time i have learnt the proper method to use it. So in today's post i will be sharing my thoughts with some tips on how to use this foundation stick and few shade selections.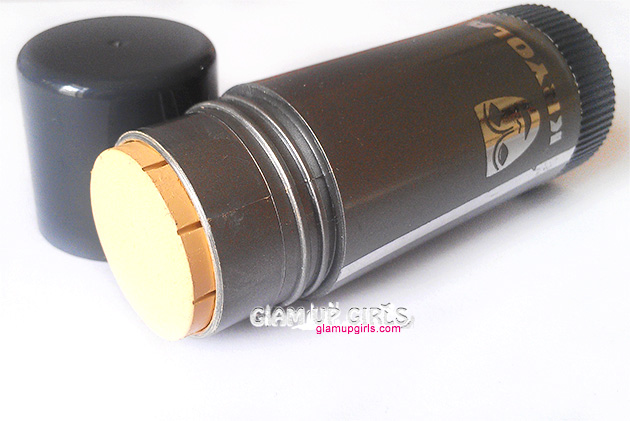 Product description
Brand describes it as cream makeup in stick form which effectively provide high coverage.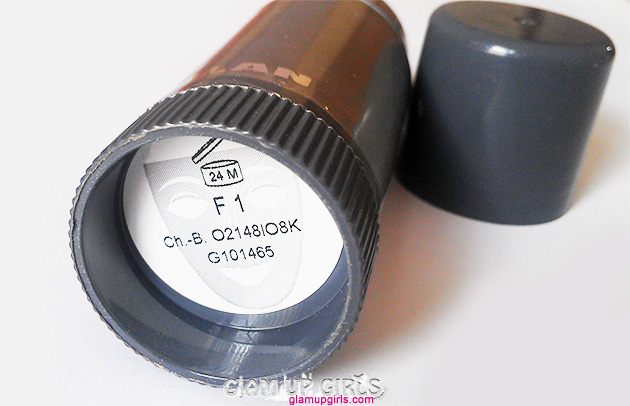 Which Kryolan Shade are you
Kryolan offers 250 shades for TV paint stick to choose from. This vast shade selection can be helpful to find right color for you but at same time it can be too confusing because they do not have proper names with proper skin tones. You might have noticed that mostly pro in makeup combine 2 or more shades to get perfect match. If you are unable to find your perfect match you can also pick lighter and one darker shade and combine them which will need little experience but once you get used to it you will love the result. There are also some shades for contouring, highlighting and color correction. Here are some mainly used shade chart, you can get rough idea from this.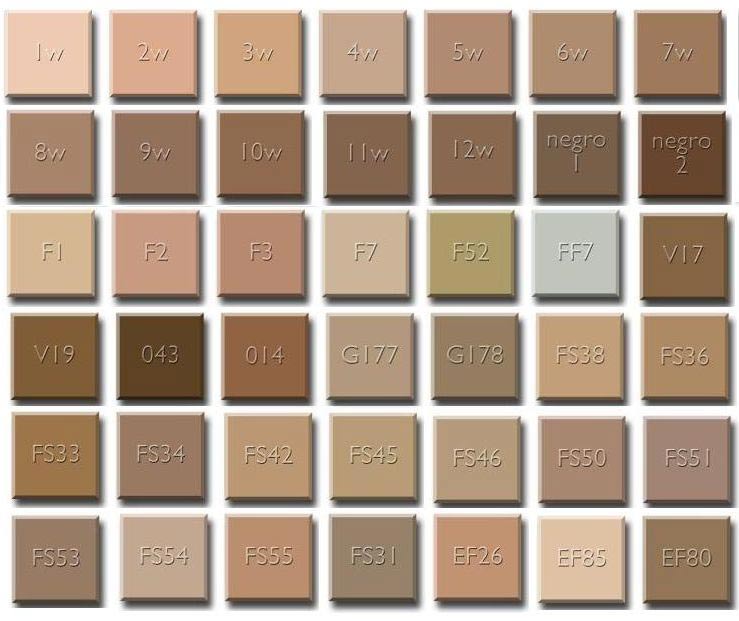 Image courtesy Google
Their range includes cool and warm undertones. Mainly W series is for pink undertones and as their number increases their shade get darker and F series is for yellow undertones and as their number increases their shade gets lighter. If you don't know your undertones, you can read
How to find your skin undertone here
Kryolan TV Paint Stick for Pink undertones (Cool)
1W too pale skin
2W/3W is for fair skin
3W/4W is for fair to medium skin
5W for medium pigmented skin
6W for tanned/darker skin tones
Kryolan TV Paint Stick for Yellow undertones (Asian skin)
Ivory for too fair/pale skin
Nb/F1 is for fair skin
Fs45/Fs54 for fair to medium skin
Fs38 for Medium skin
Fs36/Fs33 for tanned/dark skin
Here are some shade looks which i mentioned above
How to use Kryolan TV Paint Stick
Scrub and cleanse your skin to get rid of dirt and dead skin
Moisturize your face according to your skin type and leave few minutes to get it absorbed
Apply primer to get flawless and long lasting application
Now apply stick directly on your face at different areas
Now blend it with damp sponge starting from center and moving outwards of the face, you can use your fingers as well but damp sponge will give you more even application
Lastly dust your face lightly with translucent/setting powder to avoid creasing. My most favorite one is Kryolan yellow loose powder

My Thoughts
The packaging is quite simple plastic twist up stick. The formula is thick creamy which is hard to blend without moisturizer specially for dry skin. I have always used it on special occasions as it gives medium to high coverage which is not suitable for daily use at least for me but it is perfect concealer for dark circles, red spot and blemishes etc for daily use with your regular liquid foundation. The one more reason to not use it daily is that it require oil based makeup remover and proper cleansing or it can cause breakout specially if you have oily skin which can be hectic for lazy persons.
This stick can be used for every skin type with some proper method. If you have dry skin use it with heavy moisturizer and if you have oily skin you can use light moisturizer and mattifying primer or
setting spray
and it will last almost whole day. The one more good thing about it is that it will not oxidize and the color will remain same whole day. I found that best way to apply this foundation is with damp sponge because it glides and spread very smoothly. Some prefer to use fingers which is good option as well but i feel using brushes are not very helpful. With this foundation you will not need any other concealer to hide dark circles, red spots or blemishes. As it has creamy texture it can crease so you need to set it with setting powder or translucent powder. I love using
Kryolan translucent powder
to prevent creasing. You can also use it for daily purpose with very light coverage, just use very little and blend evenly. You can use
Dermacol makeup cover foundation
which have more creamy formula but with equally intense pigmentation and coverage.
Best Setting powder for Kryolan TV Paint Stick :
Kryolan translucent powder
Overall this Kryolan TV Paint Stick is perfect for medium to heavy coverage for special occasions hiding all the flaws on your skin.
Budget friendly and creamier options
ColourPop No Filter Foundation Stix
Makeup Revolution Fast Base Stick Foundation
In favor
Medium to heavy coverage
Very long lasting
Doesn't oxidize
Wide range of shades
Multi purpose
Product lasts very long
Not in Favor
Need effort to get flawless finish
Getting perfect shade is difficult
Proper removing is must to avoid breakouts
My rating

4.5/5
Kryolav TV Paint Stick
is priced around
$24.45
and can be found on leading stores.