Recently i picked Petal Fresh Botanicals Multi Action Cleanser which claims to wash, scrub and mask. It is my first pick from this brand which is quite reasonable and have some good reviews. Having dry skin i love to try exfoliators and scrubs to remove dull and dry skin. Having
St.Ives apricot scrub
still out of stock and bad experience with
Freeman apricot scrub
, this products sounds good to try. Lets see how much it worked for me.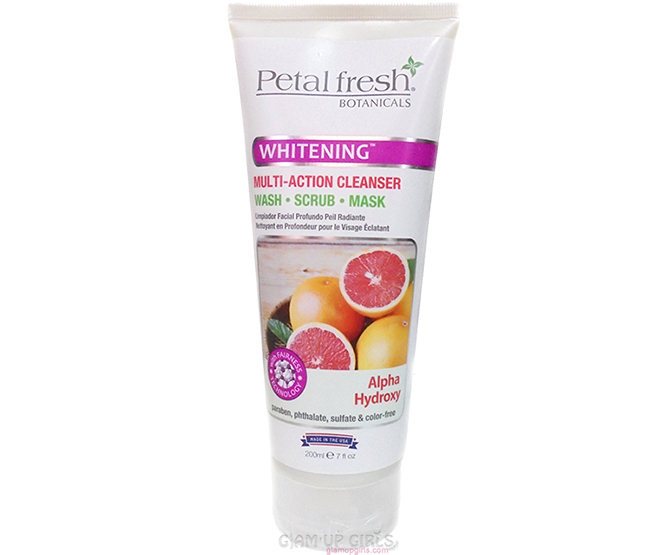 Product description
This wash contains AHA which cleans the skin deeply and clarify while leaving it clean, smooth and refreshed.
My Thoughts
The packaging is simple squeezable tube with flip cape which is common for most beauty products. The texture of product is yellow colored thick gel like and have very tiny white and brown grains for exfoliation. This product have amazing light citrus y smell like its ingredients lemon and orange which is very pleasant and refreshing.
I apply it on wet face and as it is 3 in 1 product i do not use any face wash or cleanser before. Only small amount is needed of this gel like formula for whole face. It doesn't leather into foam and have creamy feel on skin. The small particles feel very good on skin and are not harsh or large like St.Ives apricot scrub but little similar to their
lemon, mandarin orange scrub
so it will be more suitable to call it polishing then scrubbing. While you massage it on skin the smell and feel of product is very good and i love massaging it for some time. Though it starts drying on skin if used for longer then few minutes without water.
After washing the product off from skin, it feels super clean, soft and firm. I am happy to announce that i liked it more then any scrub or polish i have tried. I have been using it for more then over a month and because of its mild formula i use it almost every other day. There is no side effects of this product on dry, combination or on oily skin. I have used it very rarely as mask and the effects are similar. It doesn't dry out skin and nor leave any greasy feel behind.
Overall we are loving this product and i highly recommend it to every one. It leaves the skin super clean, soft and glowing. It definitely replaced my other exfoliators for good and i would love to try other products from this brand as well.
In Favor
Refreshing and lovely citrus y smell
Multi action, cleanse, scrub and mask
Nice formula with tiny exfoliation grains
Suitable to almost all skin
Not harsh and can be used every day
Leave skin clean, soft and glowing
Not drying or leave any greasy feel
Budget friendly
Not in Favor
My Rating

5/5
Petal Fresh Botanicals Multi Action Cleanser is priced less then PKR350