Primer is one important thing if you want your makeup flawless and last long. There are many options available when are to buy face primer but elf primer has been so raved as most effective budget friendly that i have to give it a try. e.l.f offers this primer in four shades but in my opinion the clear one was the best option so i opted for it. In today's post i will share my thoughts on it.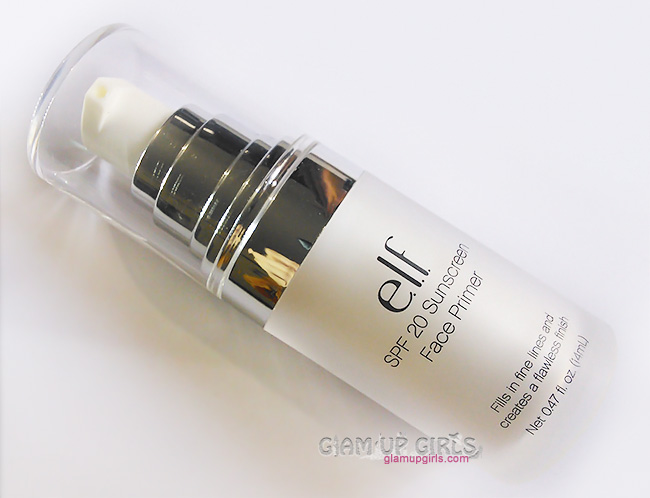 Product description
Brand claims that this primer fills in fine lines and prevent sunburn while giving you flawless and smooth canvas.
My Thoughts
The packaging is of sleek matte glass with pump dispenser and have plastic cap. The glass packaging gives it luxury look but at same time it is quite bulky compared to the product it contains. The product does not easily dispense out from pump and you have to press it few time to get it out. It can be because of silicon based formula which is difficult to come out. I think primers are better in soft plastic squeezable tubes.
The formula is in semi white gel form which is transparent on application. The texture is very nice and spread very easily on the skin. I was amazed to see that only pea size amount is enough to cover the face. I dot it across the face and spread it with my fingers and just during application i can feel how smooth it makes my skin and provide me perfect canvas for further makeup. I do not have large pores but in hot humid weather i can see little pores around the nose and this primer was good enough to blur them but i cannot comment on how good it will work for large pores. Having dry skin it did not make my skin patchy or flaky but still i would prefer applying light moisturizer specially in winters. I can clearly see and feel the difference while applying foundation on this primer which looks flawless however i do not think it add any extra ordinary lasting power to your makeup. It does help keeping skin shine free for some time and you can add an extra time with setting powder if you have super oily skin.
I have not noticed any strong smell but a very light ignore able silicon smell which fades very soon as well. I found this primer to be very light weight and having SPF makes it perfect to use while you are out in the sun for some time.
Overall i loved this primer, it is easy to apply, makes skin super smooth and keep your skin shine free for some time.
In Favor
Very nice formula
Easy to spread
Only pea size amount is needed
Makes skin very smooth
Blur small open pores
Keep your makeup shine free for little long
Doesn't make dry skin patchy or flaky
Comes with SPF
Not in Favor
If your allergic to silica based products
Not make your makeup last too long
My Rating

4/5
e.l.f. Studio SPF 20 Face Primer
is priced
$6
and is available for
PKR1150
at e.l.f Pakistan