Well groomed and perfectly shaped eye brows are one of the most important things for your perfect makeover. There are many options available to fill and shape your eyebrows like Eye brow powder, pomade, gel and pencils. Eyebrow pencils are one of the oldest and most budget friendly options. If you have found perfect color which is easy to work with, pencils will lasts for months. Today i am going to share my thoughts on Essence eyebrow designer in brown.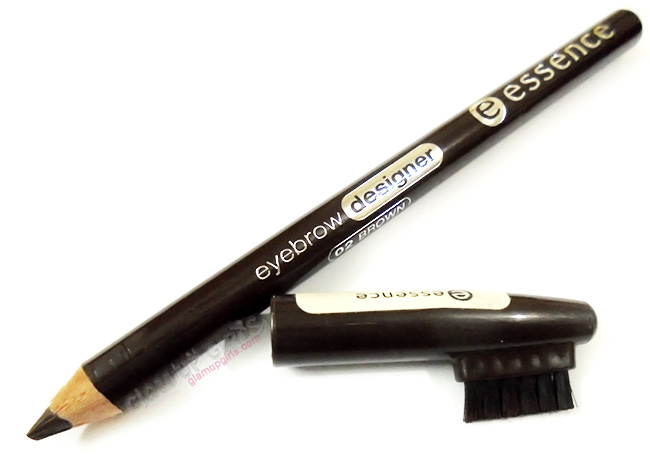 Essence Eyebrow Designer in Brown
My Thoughts
Essence eyebrow designer comes in 5 shades and the shade i got is brown which is the second darkest shade in the range after black. This wood pencil is coated in same color as their shade and have similar plastic cap. The good thing about it that the cap include a eyebrow brush which is practically very useful.
The shade is perfect for my eye brows and i think will suit most of the Asians. It is a dark brown shade. Formula of this pencil is creamy and applies smoothly on eyebrows. I would say that keep your hand light at first and analyze how much intense shade do you need. Never go overboard with your eye brows as it will look unnatural and ruin your look, specially for your every day look. However if you are wearing full makeup with high coverage for any event particularly at evenings you can keep it little intense to make them stand out. Well the good thing about this pencil is it does start from light color payoff to intense and you can watch closely and build the color accordingly.
The formula is creamy so it doesn't flake and you can blend it easily with the brush it has. It dries into matte finish after few seconds so be sure to blend it before it sets to avoid the lines peaking through your eyebrows. It is long lasting and lasts longer then any eyebrow powder. I have faced some issues with some creamy pencils in summers as they melt easily but that's not the case with this pencil. It has nice texture which is not hard and not too creamy to melt easily.
In Favor
Comes with 5 different shades
Nice creamy texture
Easy to blend
Comes with brush which is very useful
Doesn't melt easily
Budget friendly
Not in Favor
My Rating

5/5

Essence Eyebrow Designer
is priced
PKR280