Having dry skin can be quite problematic because you get fine lines and your makeup creases and looks cakey. You cannot powder much to set the base as your face looks like a plastic. The best solution to moisturize and hydrate both from with in and from outside. You have to be very careful about choosing products and cannot jump on all the trend wagons which scream matte, shine free etc. Good hydrating products not only keep the skin fresh and glowing but also shouldn't make you sweat in summers because that is also a problem. Hot and humid weather don't spare any one. Coming back to today's post i have picked this
elf
glow primer stick because it contains coconut and Shea butter, well what more do i need, a primer with moisturizing ingredients.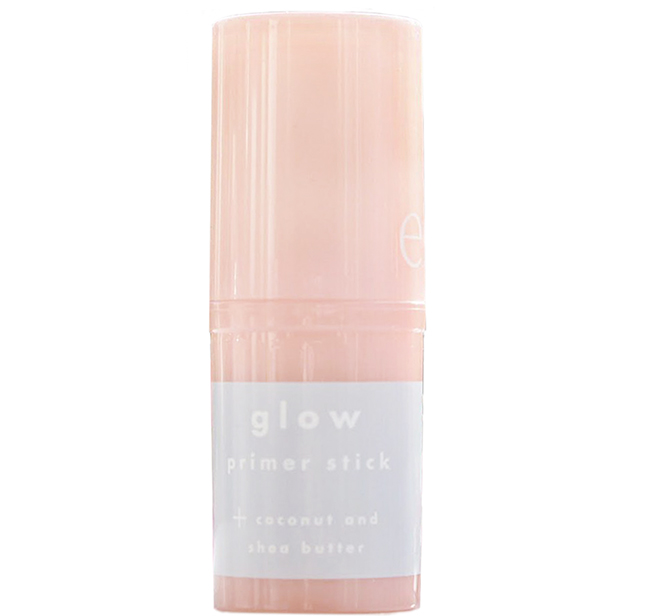 Product description
This Coconut and Shea Butter infused primer stick hydrates and preps your skin for a smooth, lit-from-within effect. The hint of golden shimmer gives skin an instant radiant glow.
Coconut & Shea Butter to help hydrate and nourish the skin.
My Thoughts
This primer stick have simple light pink packaging and rotatable stick product. You can push out the stick with rotating the bottom and apply it all over your face or may be you need to apply it only on few areas. Having shea butter and coconut oil might make you think that it is totally for dry skin and others cannot use it. It is like a light moisturizer along with primer qualities.
The amount of glow it provides is not oily or sticky but a natural shine to your face which after application of foundation also disappear. However it leaves the skin soft and smooth while also does keep your foundation from being cakey or too shiny. As it also contains silicon, the basic ingredient for primers, it do keep your makeup last longer then without it. The application of foundation become very good and easy to blend.
Being decently moisturizing, it helps your skin stay soft and keep the foundation from creasing. If you have dry skin, i would highly recommend it but in coming season i think it will be perfect for all skins. As it is not too oily and keep the skin fresh, soft and glowing. making your makeup look more natural.
Having stick, it also is very easy to use and that too with minimum waste. It is two in one product with light moisturizer and have the qualities of primer. Keep the skin fresh for long and is suitable for all skin. For the price i will surely recommend it.
e.l.f Glow Primer Stick
is priced $8 on their
website