Hourglass is renowned for its luxurious and innovative beauty products, and the Ambient Lighting Edit Unlocked palette is no exception. This limited-edition palette offers a selection of universally flattering powders that promise to create a flawless, radiant complexion. Let me tell you about overall impression of the Hourglass Ambient Lighting Edit Unlocked palette.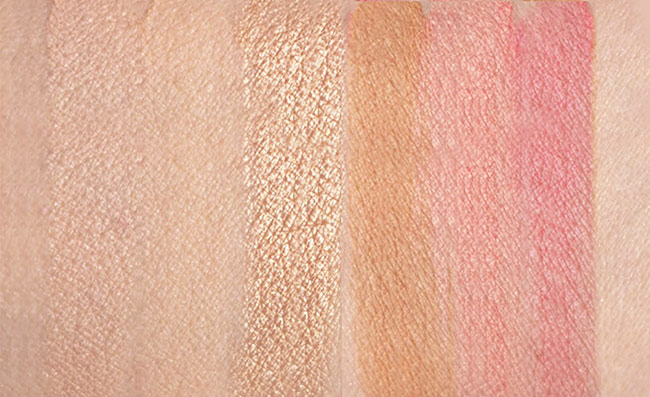 The Ambient Lighting Edit Unlocked comes in a sleek and travel-friendly compact adorned with a metallic gold finish. The palette opens to reveal six luxurious powders beautifully arranged in a mesmerizing marble pattern. The inclusion of a large mirror inside the palette is an added convenience for on-the-go touch-ups.
The palette contains six different shades, including three Ambient Lighting Powders, two Ambient Lighting Blushes, and one Ambient Strobe Lighting Powder. The shades are thoughtfully curated to cater to a wide range of skin tones, making it highly inclusive.
Dim Light - illuminating light powder.
Soft Light - illuminating powder.
Beaming Strobe Light - metallic illuminating powder.
Lustrous Bronze Light - bronzing powder.
Iridescent Coral - illuminating light pink.
Radiant Rose - illuminating dark pink.
The Ambient Lighting Powders offer a soft-focus effect that blurs imperfections and creates a luminous, lit-from-within glow. The Ambient Lighting Blushes add a natural flush to the cheeks, combining color and illumination for a healthy and radiant look. The Ambient Strobe Lighting Powder delivers a captivating highlight that is neither too intense nor too subtle, giving the skin a refined radiance.
The powders in the Ambient Lighting Edit Unlocked palette have a finely milled texture that blends seamlessly into the skin. They are buildable, allowing you to customize the intensity of the glow and color payoff to suit your preferences.
The powders have impressive longevity, staying put throughout the day without fading or becoming patchy. The luminous finish retains its radiance, maintaining a fresh and glowing complexion even after hours of wear.
What sets this palette apart is its multi-functional nature. The powders can be used not only on the cheeks but also as eyeshadows, highlighters, or setting powders, making it a versatile addition to any makeup collection.
The Hourglass Ambient Lighting Edit Unlocked palette is a luxurious and versatile offering that delivers a beautiful, radiant complexion. From the finely milled powders to the thoughtfully curated shades, this palette embodies the essence of timeless elegance. Whether you're a makeup enthusiast or a beauty minimalist, this palette is a valuable investment that enhances your natural beauty with a luminous and radiant glow.

Hourglass AMBIENT Lighting Edit Unlocked Elephant
is priced $85