With the starting of new year, i wanted to share our local makeup brand products which i have been loving currently. Although i am not huge fan of eyeshadow from our local Pakistani makeup brands and have only
Glamorous Face Makhmaly + Matte Touch eyeshadow palette
in my makeup stash and even that has a lot of dud shades but for such less price in 96 shades some bad can be ignored. Right? Well coming back to our today's topic i literally found Stila liquid glitters dupe in Rivaj UK Dazzling Shimmer Liquid Eyeshadows. I will share Stila liquid glitters later this week but first lets talk about these beauties.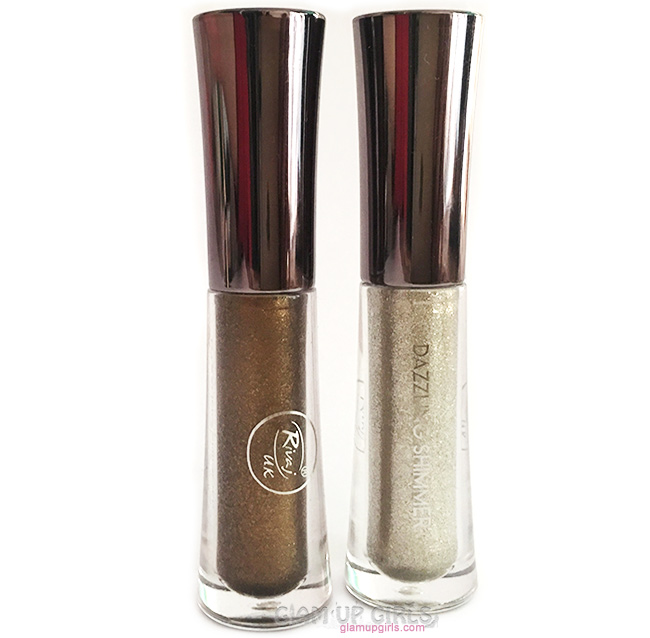 Product description
The brand describes these eyeshadow as having incredible luster and shimmer to perfect any look of pearl and glitter.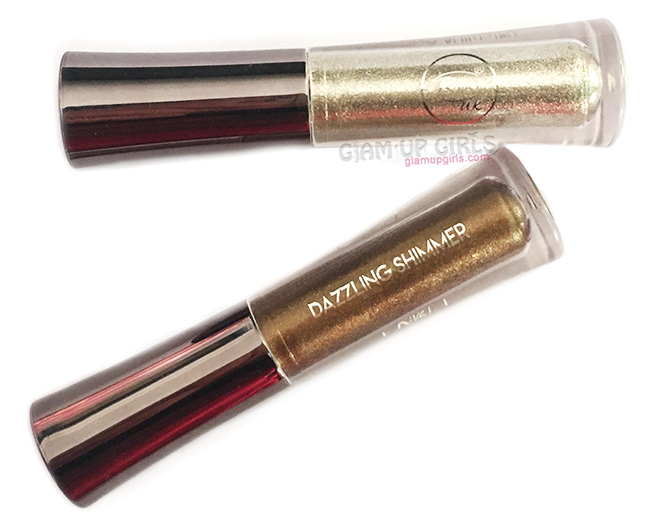 Rivaj UK Dazzling Shimmer Liquid Glitter in shade 19 and 1
6
My Thoughts
Starting from the packaging, they come in transparent plastic tubes with metallic brown screw cap attached with doe foot applicator. They were sealed when i got them but i have seen they do have outer cardboard packaging which i didn't get. However as they were sealed with plastic, i am satisfied. The applicator is good enough to apply product easily and comfortably. These shimmers have mousse like texture which applies smoothly and in fact have better application then
ColourPop Super Nova Liquid shadows
.
I bought two shades from this range which have numbers 16 and 19. 16 is a white gold shade with silver metallic finish. I have applied it on my eyes in above EOTD. Second shade 19 is a bronze metallic shade. Both shades are highly pigmented and have intense shimmer in them, perfect for glittery look. I love their texture as they apply very smoothly and evenly as i said earlier. With the applicator i can easily apply a layer for intense look or blend a little for little faded look with blending brush. There is no tugging and if you want second layer, let the first layer dry.
These shadows dry quickly and in 20 to 30 seconds after application, they fully dry down. Once they dry down, they doesn't smear or smudge. You can rub all you want and they will remain in their place. The good thing about it is that you won't find glitter on your cheeks whole day but the down side is they need effort to remove at the end of the day. They do rub off with any cleansing water but will leave a little chunks of glitter here and there which is very common issue in any glitter products. Because of their strong hold they last very long and you won't have to worry about them fading unless you want to remove them.
Overall these liquid shades are amazing for their price, they have amazing mousse texture which applies evenly, are highly pigmented and doesn't smudge or smear. I would highly recommend them, if you are looking for liquid glitter eyeshadows.
In Favor
Nice packaging
Nice smooth mousse texture
Highly pigmented
Even application
Doesn't smudge or smear
Can be layered once dries
Completely dries in 20 to 30 seconds
Budget friendly
Not in Favor
My Rating

5/5
Rivaj UK Dazzling Shimmer Liquid Eyeshadows are priced around PKR250 to PKR300 (I forgot :p)