I have been a huge fan of Enchanteur talcum powders for many years and still own some of them. I love their floral smell they make me feel fresh and very lively. I have mainly used talcum powders because i feel they are best in summers specially in our hot and humid weather and the other reason is that i mostly get allergic to strong scents of perfumes. Enchanteur however have lovely floral smell which are reasonably strong to my taste. Few days back i spotted their shower gel and i knew i have to pick this one and today here i am with its review.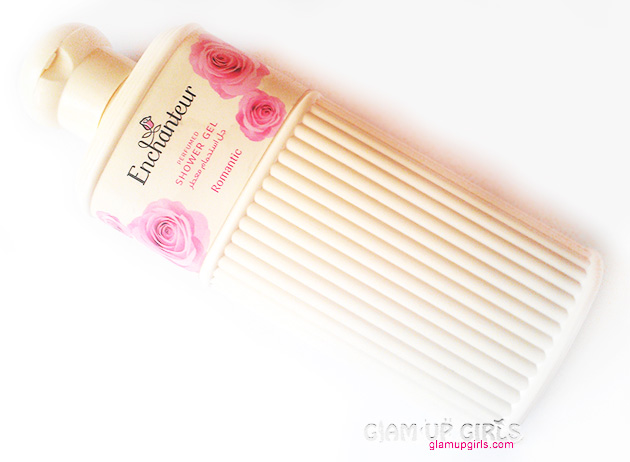 Product description
Defined to have rich, foamy shower gel with moisturizing properties which softens skin while cleansing gently.
My Thoughts
The packaging is simple off white hard plastic with flip cap. The ones who hate soft tube bottles which create mess in caps will find it convenient and neat. The cap closes very tightly and hence can be very travel friendly. Enchanteur have some lovely scents to choose from like Charming, Intriguing, Alluring, Enticing, Beautiful and Romantic. I have this shower gel in romantic.
The formula have consistency of gel as it is shower gel having light pink color. You need only little more then pea size in your loofah and it will create enough lathers to clean your whole body. The smell is strong floral scent of rose and jasmine. Even though the scent is quite noticeable but it is not overpowering but very nice and feel refreshing while lathering. It cleans very well without making your skin dry. It is not very moisturizing but not too drying like usual soaps. I think it will be best is summers when you avoid using body butters or moisturizing lotion. The best thing is after taking shower the scent lingers for quite long time with you even when you moisturize your skin.
Overall i love this shower gel for it's lovely floral smell which cleanse very well without making your skin dry and the lovely smell lingers for quite long time.
In favor
Small amount is enough
Cleanse very well
Budget friendly
Amazing floral smell which lingers for quite some time
Travel friendly
Not in favor
Packaging could be better
My Rating

4/5
Enchanteur Perfumed Shower Gel in Romantic is priced
PKR250
to
PKR300
and is available at leading stores