Today i will be talking about Clazona Beauty 24 Hours Matte Lip Gloss in four shades. I did haul of this brand some time ago and it really surprised me with its very good quality and reasonable price and i almost used the makeup i bought back then. I had this lip gloss which shouldn't be called lip gloss in shade 507 and using it for very long time. Recently when their matte lip gloss got raved by our lovely fellow bloggers, i bought few more shades to review and swatch them for you.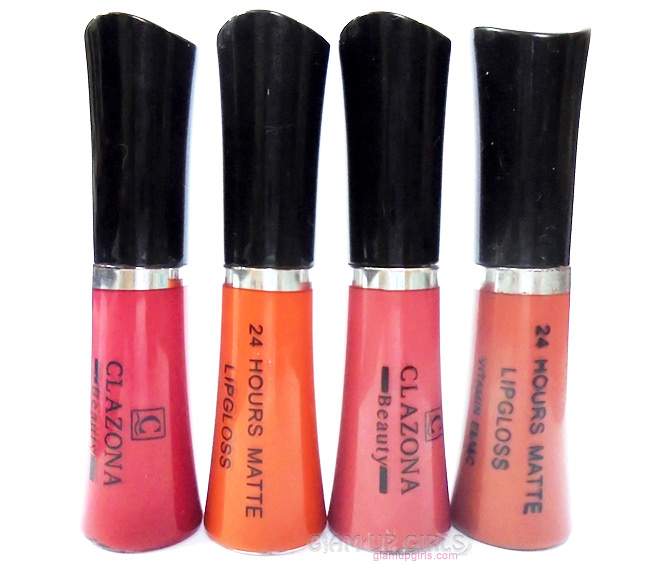 Clazona Beauty 24 Hours Matte Lip Gloss 512, 535, 524 and 507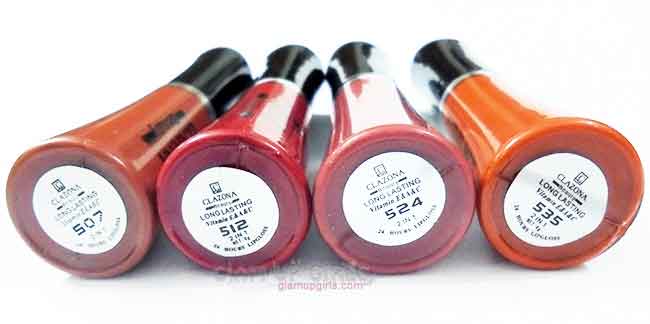 Clazona Beauty 24 Hours Matte Lip Gloss in shades 507, 512, 524 and 535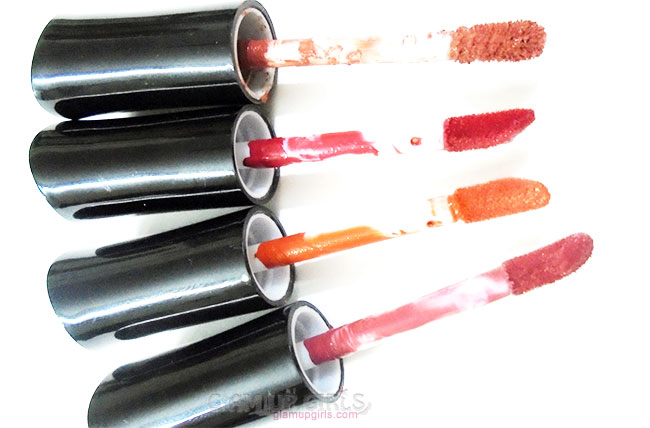 Product description
Clazona Beauty is Pakistani local brand but there is no sufficient information available about there products yet. These lip gloss are claimed to last 24 hours and have matte finish.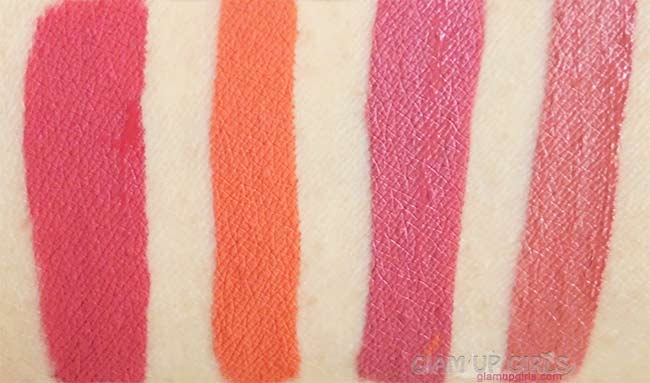 Clazona Beauty 24 Hours Matte Lip Gloss swatches in shade 512, 535, 524 and 507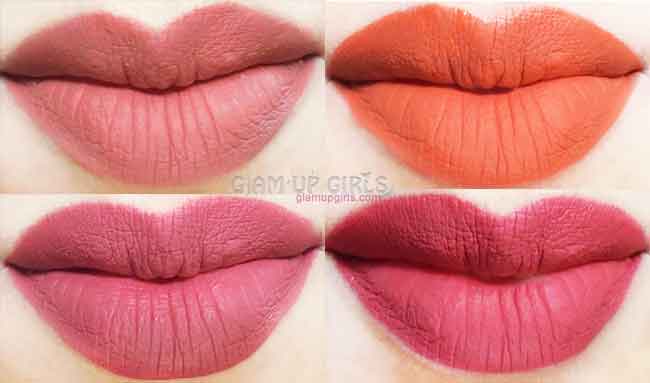 Clazona Beauty 24 Hours Matte Lip Gloss swatches in shade at top 507 and 535 at bottom 512 and 524
My Thoughts
These lip gloss comes in wide bottom round glass tubes which can stand easily and have doe foot applicator which applies the product perfectly. The shades do not have name instead they are distinguished by numbers. The shades i got are 507, 512, 524 and 535. The formula of these lip glosses is creamy not thin or too thick. The application for all shades is very smooth and applies evenly unlike some other matte lipsticks i have tried.
The shades are highly pigmented and only one coat is enough for full coverage. These lip glosses dries completely into matte finish and are true to their claims. Though they doesn't dry instantly so you get enough time to apply easily and even out the streaks but better be fast. The best way to apply the matte lipsticks is first define the lip lines with any nude pencil so there is less chance that you spread the product out of them. Now start from one side of lips and spread equally towards the other side with small strokes. Swiping your applicator again and again will cause the uneven coverage. It dries with in few seconds into complete matte finish and doesn't feel heavy on lips. The best thing it doesn't dry the lips which you expect from matte liquid lipsticks which is amazing for such budget friendly brand.
Shade 507 is a light brown neutral shade. It is a perfect every day neutral shade and will suit every skin tone. It is complete matte shade with no shine to it.
Shade 212 is a deep pink shade with slight shimmer which is not very noticeable but gives the subtle shine to lips. This bold shade is perfect for any event.
Shade 524 a mauve pink shade with warm undertones. It is complete matte shade and is one perfect mauve shade for every skin tone.
Shade 535 is a medium orange shade with warm undertones. I was looking for rusty orange shade like Ofra Miami fever but every other brand comes with neon orange. So far this one is not kind of deep rusty shade but i am glad it is not neon as well and will suit our Asian skin tones.
All the shades have similar formula with long lasting power. It starts to fade from inside the lips because of eating or drinking but doesn't flake until the end of day that still is not frightening. To remove it completely i would suggest use few drops of olive oil or any other oil on cotton pad and wipe the residues of product. Overall i loved these matte lip gloss, they are perfect for their price and quality.
In Favor
Smooth application for all shades
Light weight
Highly pigmented
Long lasting
Doesn't feel too dry on lips
Budget friendly
Wide verity of shades (almost 24)
Not in Favor
My Rating

4/5
Clazona Beauty 24 Hours Matte Lip Gloss are priced different in different areas. I got it around
PKR250
each