Do you love to wear nail polish but have to remove it again and again for ablution or just leave it wearing altogether? If yes then don't worry anymore, A few brands have come up with the idea of breathable, wudu-friendly nail enamels and today I am going to share one such brand called 786 Cosmetics. 786 produces cruelty-free halal nail enamels claiming them to be made of only halal ingredients from which water can penetrate and so acceptable as wudu friendly. Let's talk about the shades I got and their quality.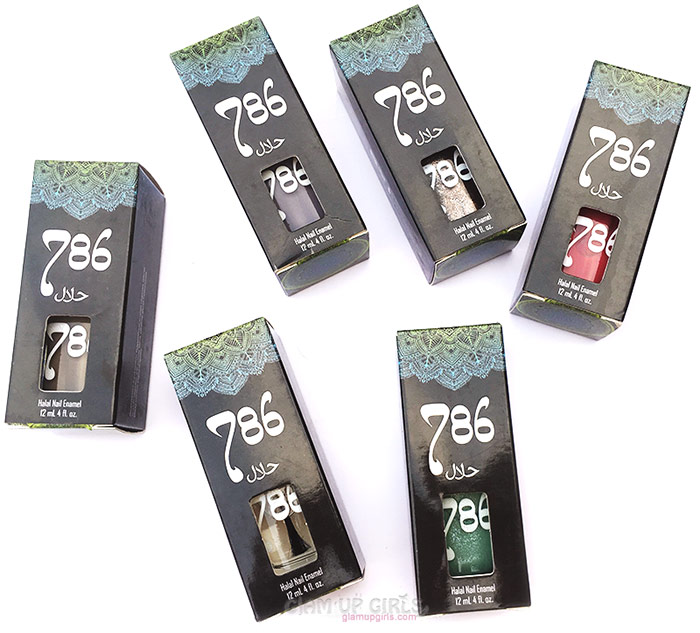 Product description
These wudu friendly nail polishes have formula which is non-peelable and allows water-permeability.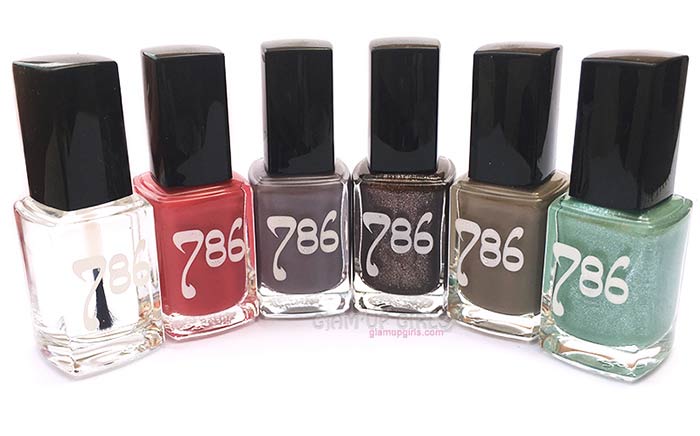 786 Cosmetics Halal Nail Enamel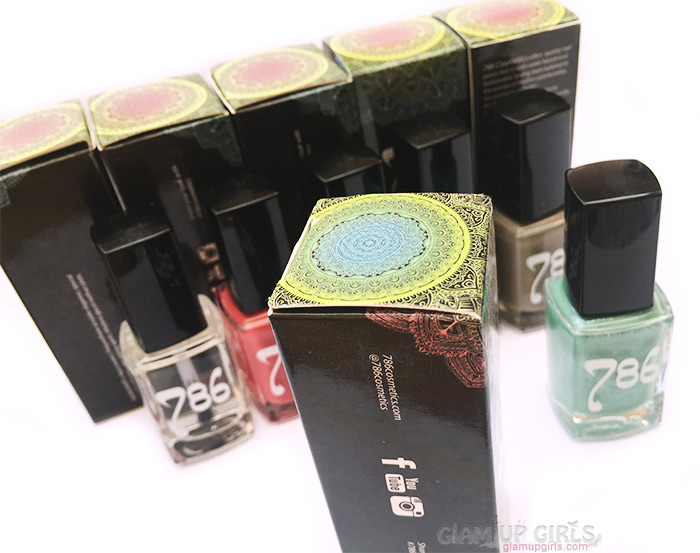 786 Cosmetics Halal Nail Enamel packaging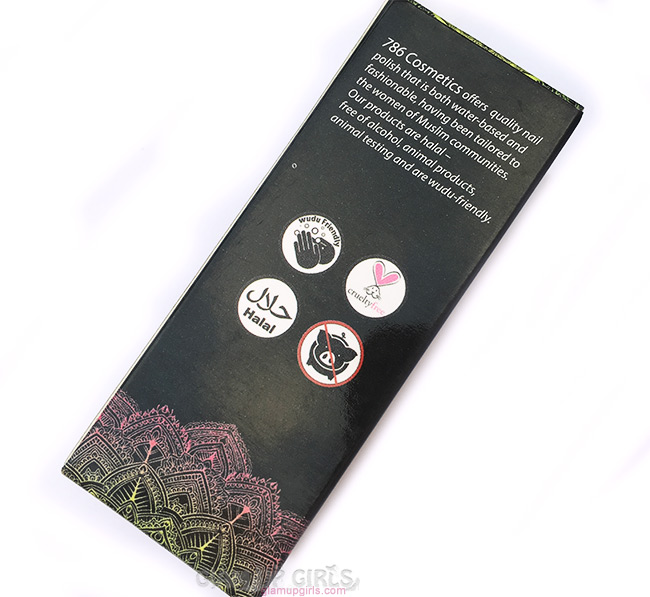 786 Cosmetics Halal Nail Enamel ingredients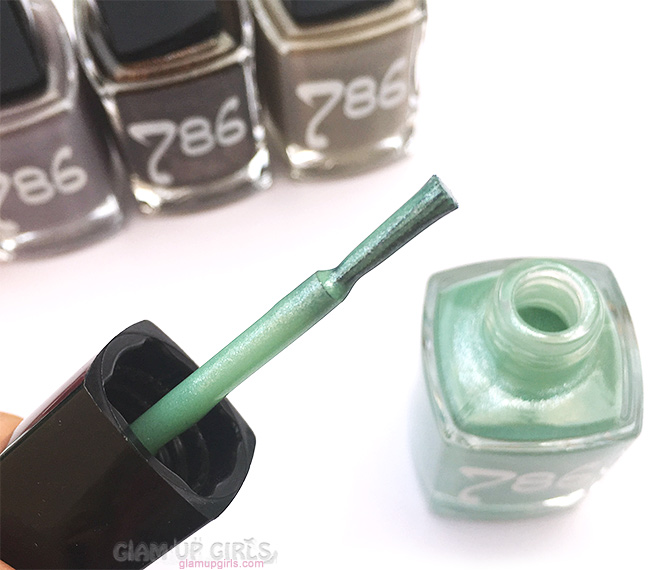 786 Cosmetics Halal Nail Enamel Brush and Texture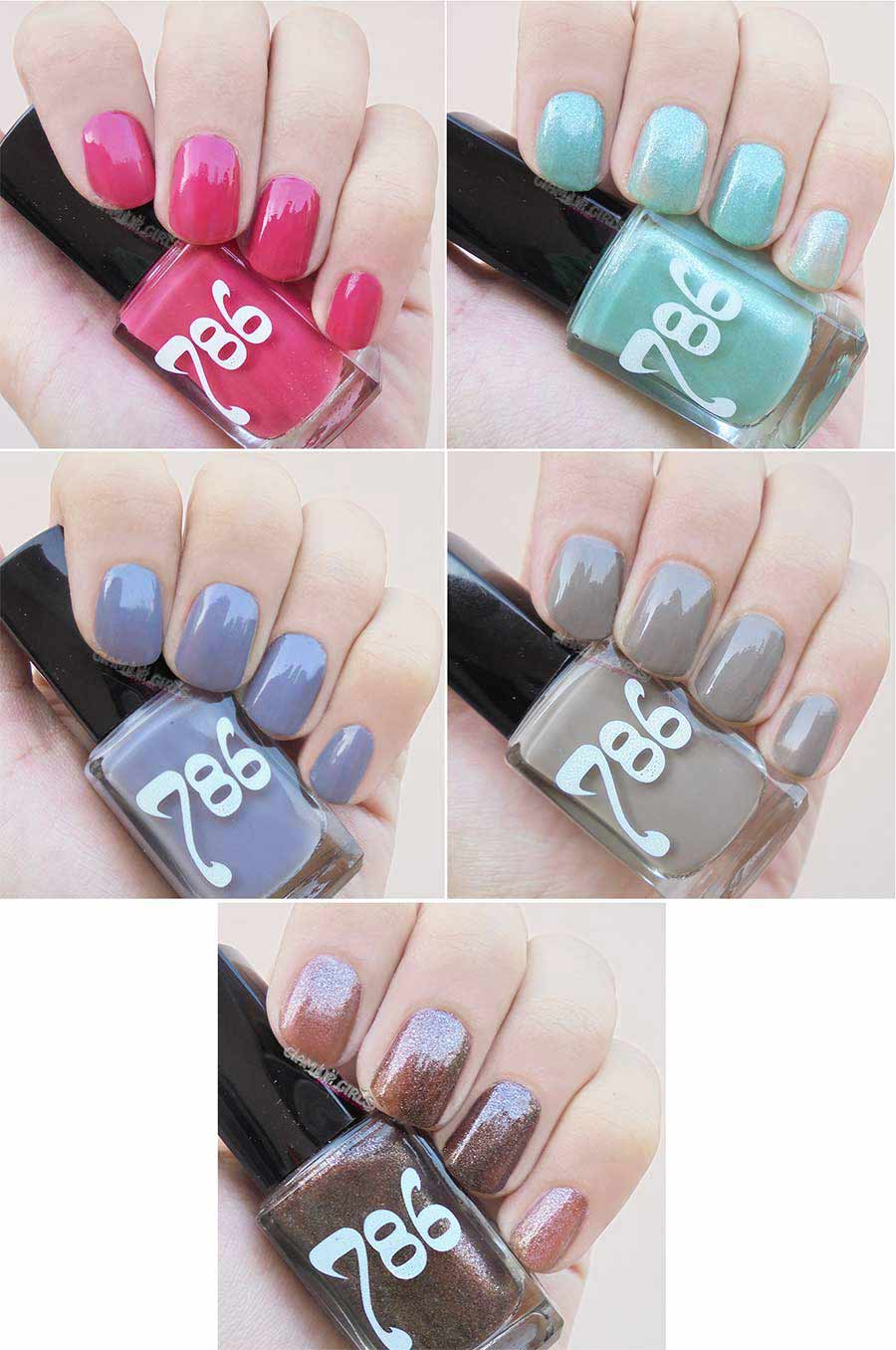 786 Cosmetics Halal Nail Enamel from left to right, top to bottom: Jaipur, Fez, Granada, Doha, and Cairo

Thoughts
First of all, I love the packaging of these nail polish boxes which are made of black cardboard boxes and have lovely Moroccan-style flowers printed on top and bottom which give them a traditional touch. You can find ingredient details and descriptions on the box as well. Nail enamels are housed in a square glass jar and a black cap with a brush applicator. The brush applicator is slim and is perfect for applying nail color properly.
The texture is the same for all nail colors with slight differences in different shades. It is not very thick or runny and you can apply them easily. Apart from five nail colors I also got the top coat for the protective layout of nail colors. Let's talk about each shade separately.
Fez
is described as a sparkly light turquoise and is inspired by the stunning blue, mint, and turquoise tile work you'll find in Fez, Morocco. It is a beautiful minty shade with silver sparkles. I have applied 1 coat on the pinky finger, 2 coats on the index and middle finger, and 3 coats on the ring finger. You can see that in the first coat, it gives little sheer coverage and then can be built further however I loved it in the first coat as well. The texture is very moderate and perfect to apply smoothly. The glitter is not chunky and even without a topcoat, it gives a smooth surface instead of grainy which some glittery nail polishes give.
Cairo
is described as a glamorous bronze metallic color and is inspired by the sands and pyramids of Cairo, Egypt. The shade is a stunning bronze shade with red hues and silver sparkles. I applied 1 coat on the pinky finger and on the index finger, 2 coats on the middle finger, and three on the ring finger. Similar to Fez it is sheer in the first coat and then is buildable and it looks beautiful in sheer and fully opaque. The texture of this shade is also very good and is easy to apply evenly
Granada
is described as a grey-toned lavender, perfect for any season, and is inspired by Alhambra Palace in Granada, Spain which has gorgeous gardens coated with lavender. I loved this beautiful shade and it is perfect to pair with one of my favorite
ColourPop ultra matte in Cheap Thrills
. It gives opaque coverage in the first coat and you can still build it further with more coats. The texture is a little thicker than Fez and Cairo but still applies evenly.
Doha
is described as a warm and neutral taupe color perfect for any occasion or any outfit. This gorgeous color is inspired by the "Jewel" of Qatar, Doha. It is the perfect neutral color for every day and I can see myself reaching it more often, especially in winter. Its texture is similar to Granada and is very easy to apply. It is also opaque in the first coat and can be built further.
Jaipur
is described as a perfect blush pink. Inspired by the beautiful Indian "Pink City," the color represents the terracotta pink walls of the buildings. It is a lovely shade of bright medium pink and will look really good on all skin. Its texture is similar to Doha which is easy to apply and spread evenly.
All shades with good texture are quite long-lasting and without top coat can stay for two to three days without chipping if handled carefully. With a top coat, it can stay for longer. It gives a streak-free finish and it takes a few minutes to dry the first coat then you can apply further coats. Following is the water permeability test of these nail colors.
Overall I loved the quality of these nail enamels, the colors are absolutely gorgeous with a good finish and lasting power. The other fact for these nail enamel is that being breathable they also protect your nails from discoloring as they let pass oxygen as well while other nail paints can cause the nail color to turn yellow if worn for longer.
786 Cosmetics Halal Nail Enamel
is priced at $12.95