Huda Beauty New Nude Eyeshadow Palette - Review and Swatches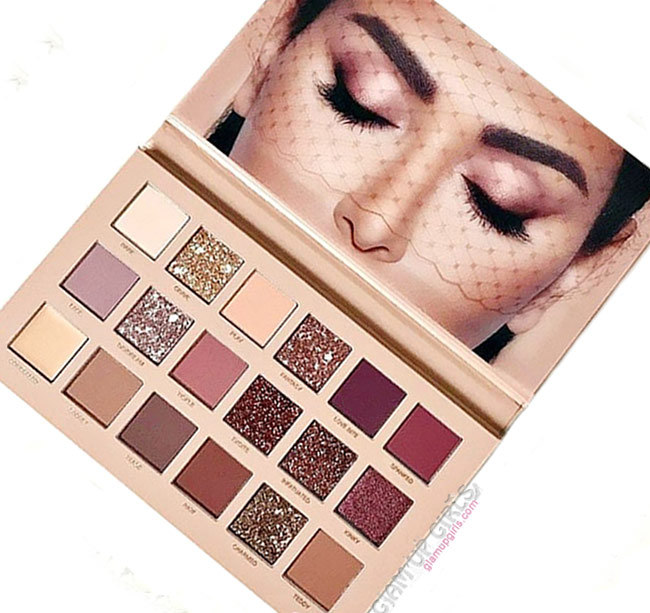 Huda Beauty New Nude Eyeshadow Palette has some new nude shades, meaning the shades are not usually the ones you find in other nude palettes. It is not entirely warm and doesn't just focus on browns and peaches. On top of that, this palette have come up with some new textures which were not introduced in any palette before. Lets dig into the details of this palette.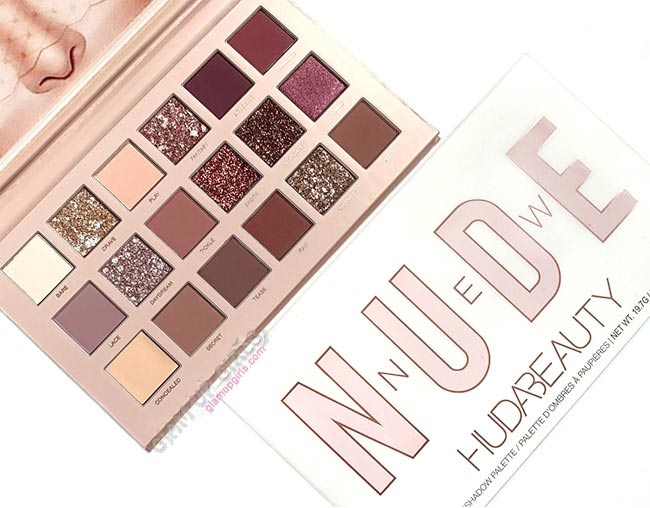 Product description

Brand claims that this is all-in-one eyeshadow palette which have highly pigmented shades, ranging from flattering mattes to shimmer-drenched hues.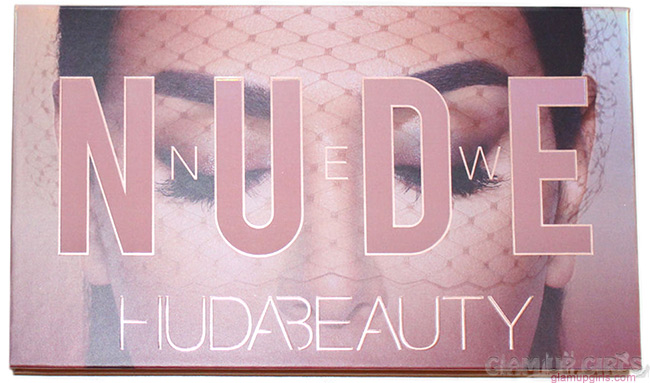 Huda Beauty New Nude Eyeshadow Palette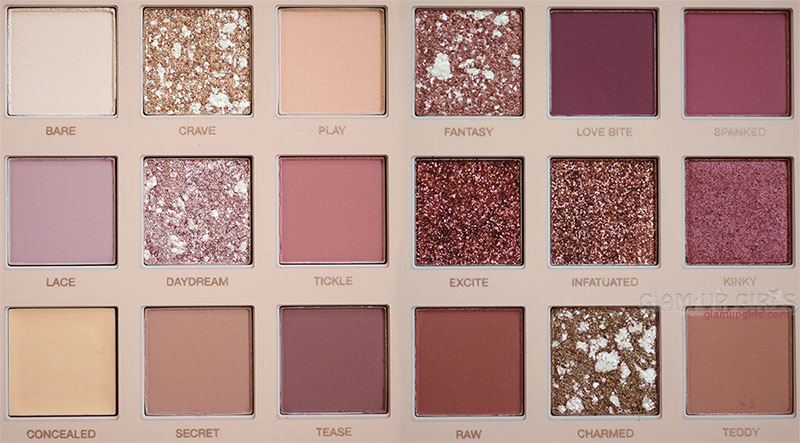 Huda Beauty New Nude Eyeshadows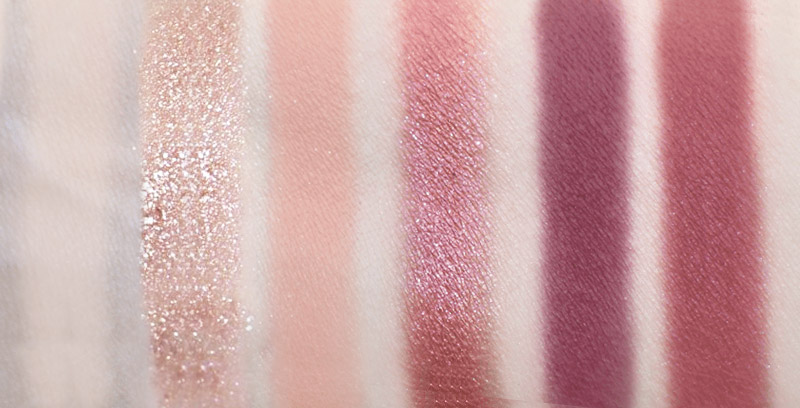 Huda Beauty New Nude Eyeshadow swatches in Bare, Crave, Play, Fantasy, Love Bite, Spanked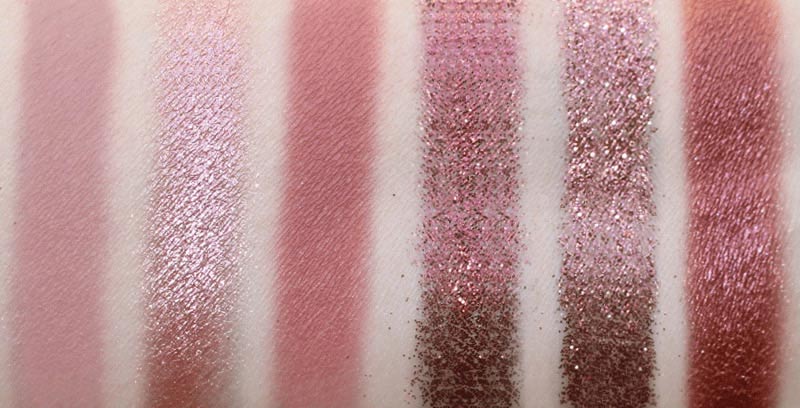 Huda Beauty New Nude Eyeshadow swatches in Lace, Daydream, Tickle, Excite, Infatuated, Kinky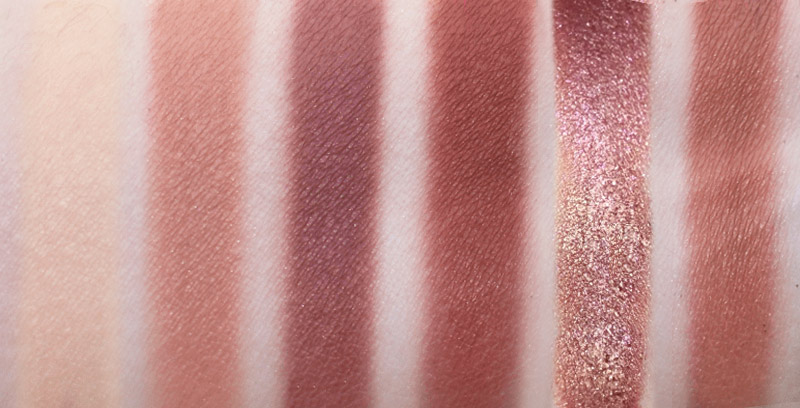 Huda Beauty New Nude Eyeshadow swatches in Concealed, Seacret, Tease, Raw, Charmed, Teddy

My Thoughts
Starting from the packaging, it comes in cardboard beige packaging with Huda Kattan's picture on it. The palette includes a large mirror in it as well which is obviously very handy. The palette contains total 18 shades with 10 mattes, 1 shimmery, 4 reflective shades with pearl flecks and 2 pressed glitter shades while there is also one concealer base present in this palette. As shades have different textures so the performance is also not similar and depend on each shade and it's formula.

The shade range is quite unique and beautiful. You will find good amount of warm and cool tones in it which is why it is a good palette for every skin tone. The mauve, berries, pinks and browns are very nicely mixed and placed in shape of different textures. It is not an entirely nude palette with all those shimmers and pearls but as it is said earlier, it is supposed to be a new nude.

Bare is very light peach color with matte finish. It has good pigmentation with nice texture.
Crave is a light copper metallic shade with pink and golden shimmer flecks. It has creamy formula and is highly pigmented without damp brush.
Play is warm medium peach shade with matte finish. The texture and pigmentation of this shade is very good.
Fantasy is a medium plum metallic shade with warm undertones. It is also creamy and highly pigmented which applies beautifully.
Love Bite is dark cool berry shade with matte finish. The pigmentation is good but have little dry texture.
Spanked is a dark pink shade with matte finish. The pigmentation and texture of this shade is very good.
Lace is a light mauve shade with matte finish. The pigmentation and texture of this shade is very good.
Day Dream is a medium rosy pink shade with metallic finish. The texture is creamy and have intense pigmentation.
Tickle is a dark rosy pink shade with matte finish. This shade have good pigmentation and smooth texture.
Excite is a dark red pressed glitter shade. There is light adherence and worked better with glitter glue or base.
Infatuated is a dark plum pressed glitter. It also doesn't have much adhesive so better use glitter glue beneath it to avoid fallout.
Kinky is a shimmery plum shade with red undertones. It is highly pigmented with good texture.
Concealed is a medium beige concealer base which is not very pigmented but can be used as eyeshadow base.
Secret is dark peach shade with matte finish. It is highly pigmented with very good texture.
Tease is dark mauve shade with matte finish. It is highly pigmented with very good texture.
Raw is a brownish brick red color with matte finish. It has good pigmentation with little powdery texture.
Charmed is a reddish brown metallic shade with very intense pigmentation and creamy formula.
Teddy is a peachy brown shade with matte finish. It is highly pigmented with very good texture.

The idea of adding concealer base is good but it is not very much up to the mark. It can be used as sheer base but not for cut crease or high camouflage. Matte shades are overall good textured and pigmented. Few although have bit dry formula which have little fallout but nothing is too bad. Shimmery shade is very good with high coverage and soft texture. Two pressed glitter though claimed to have their own adhesive but you still need a glitter glue or base for it. Other wise they will not be pressed on lids how you would like them to.

Four reflective shades however are very very good. They have very creamy texture which works perfectly on their own. They work great with pressing brush or even fingers. You do not need to damp your brush to get high coverage from them. There is not fallout of their pearl flecks and they last pretty long as well.

Overall this palette has good combination of shades and textures. The performance is not bad at all but does it justify the price? It depends on how big makeup freak you are. Not all the shades have formula, what you want from high priced palette. Although the reflective shades are different and very good but glitters are just plain old glitter which can be found in dry form or pressed form from other brands in far less price. The concealer is also not too good to be included in this palette and any additional darker shade would have been a plus. Apart from its some cons, it can definitely be a different and unique palette in your makeup collection



My Rating

4/5
Huda Beauty New Nude Eyeshadow Palette is priced $65
comments powered by

Disqus