My love for orange and peach shades is not hidden and when i got Sigma blush in Heavenly i was very excited. Sigma Blushes range included beautiful matte to shimmery shades where you can always find a perfect shade for you. In today's post i will share my thoughts and swatches on this pretty blush.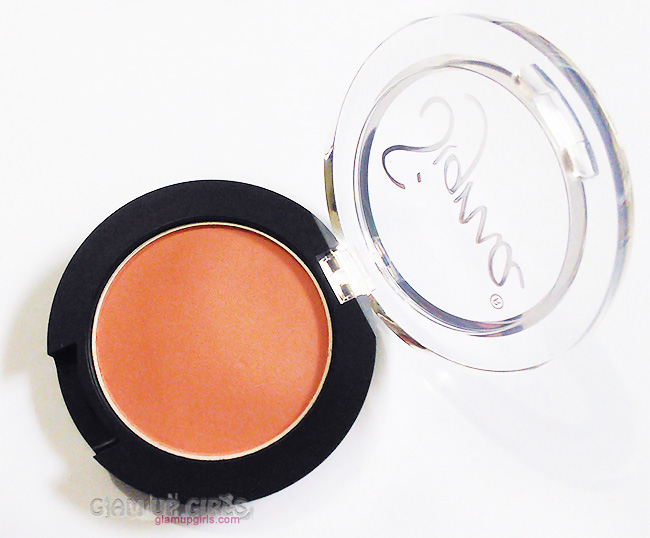 Sigma Beauty Blush in Heavenly
My Thoughts
Sigma Blushes comes in compact black round container with transparent lid containing 3.4g of product. The packaging is strong and travel friendly but transparent lid is prone to scratches if put carelessly. The texture of this blush is very soft and smooth. It is a pure matte shade but not at all chalky or powdery. Upon application it blend effortlessly.
The shade heavenly is coral peach shade and have good pigmentation. It brings a natural coral peachy flush to cheeks. It is not very opaque at first application but is build able. I love this fact in blush that you can start with sheer application and build it slowly, this way you will not become over blushed. You can keep your look natural for day and turn it to glamorous for night or evening events by building it. In my opinion this shade will suit almost all skin types in all season from light to dusky and dark skins just make sure to keep build accordingly. The most amazing thing about this shade is, it is pure matte shade without being chalky which is unique in most brands. I found its texture is similar to MAC peaches with more pink undertones.
I have not experienced too much fall out in the pan. The lasting power is good as well. It does stay for more then 5 hours on the skin and doesn't fade completely, however i do lock my makeup with makeup mist in summers to make it last longer.
Overall i think this is best matte blush without being chalky and having no fallout.
In Favor
Sturdy packaging
Matte finish
Build able from light to intense
No fallout
Suitable for almost all skin color
Not in Favor
My Rating

5/5
Sigma Blush in Heavenly is Priced
$12