Tints are some thing really amazing to try as they are very long lasting and are very light weight. I had not tried liquid tints so far and when i saw NYC is launching their new range called Lovatics by Demi, consisting of eyeshadow palette, lip and cheek tints, mascara and pencils, i knew i had to buy lip and cheek tint. They have 4 shades in this range and the one i bought is called Cheeky Berry. Today i am going to share my thoughts on this little beauty.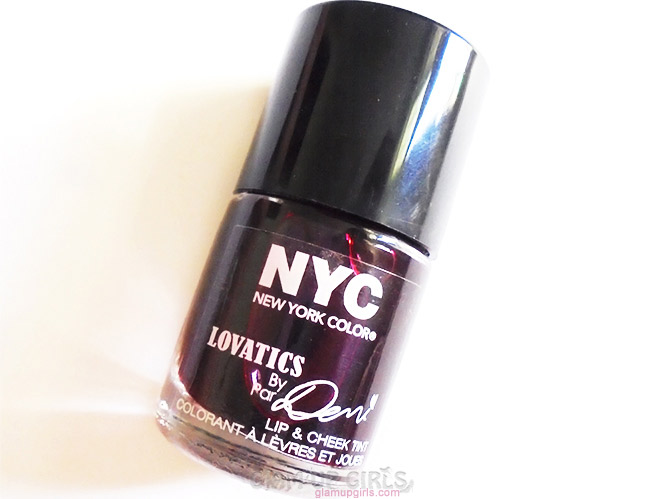 NYC Lovatics by Demi Lip and Cheek Tint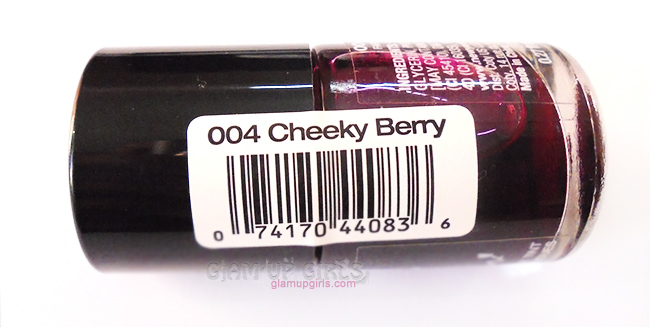 NYC Lovatics by Demi Lip and Cheek Tint in Cheeky Berry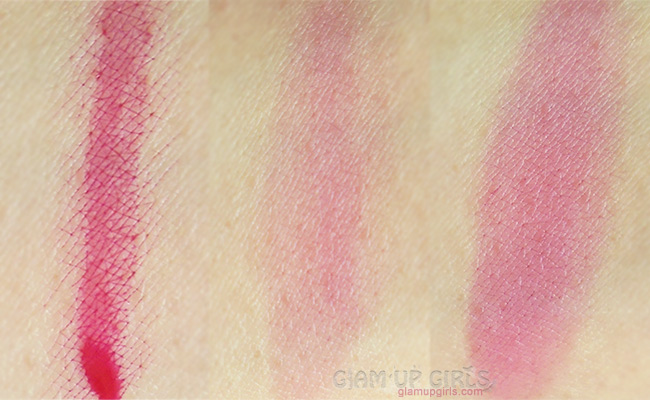 NYC Lovatics by Demi Lip and Cheek Tint in Cheeky Berry swatch, one coat and two coats
My Thoughts
This liquid lip tint comes in glass jar with brush applicator. The packaging and applicator look like a nail polish. The texture is very thin like water and spreads quickly. The pigmentation at first seems sheer but is build able to intense with extremely long lasting power. It stays for whole day on your lips and at the end of the day you have to remove it by makeup remover which makes it perfect for hot summers as it is very light weight and stays on the skin for longer which become lighter but doesn't fades completely. It has no particular scent which at least i could smell.
This range have 4 shades but the one striked me was Cheek Berry. It is a deep berry shade which on application is not as deep but a leaves a medium berry tint with pink hues. It gives subtle natural flush to cheeks but you can build it further. On lips it looks great as well and stays equally. You can go for light coverage to intense and enjoy the light wight, long lasting transfer proof formula. It can also be applied beneath powder blush or cream lipsticks to get lasting makeup. The tricky part is the application at first but once you get used to, it can be your go to product. Just be careful to not stain where you do not want and blend quickly as once it dries it will cause a head ache to remove it.
How to apply lip and cheek stain
Dot liquid tint on cheeks and blend it with fingers or stippling brush quickly as it dries fast. You can build it further if you want intense look or lighten up with liquid foundation if you have put too much. On lips dot the stain and spread with your finger or lip brush carefully so you don't apply outside the lip lines. You can follow up with lip balm which will not lighten the stain.
The brush applicator is good enough to dot and apply the product as it cannot be used for blending. The little amount is needed to have good coverage so this bottle is going to last quite long. In my opinion this shade will look good on every skin tone. According to your skin tone you can apply less or more. So far i have not encountered any skin issue with it. It doesn't make skin dry or oily and have not broke me out.
Overall this lip and cheek tint is great product for its price. The light weight, long lasting formula makes it worth to wear every day.
In Favor
Lovely berry shade
Spread and blends easily
Build able
Extremely long lasting
Fades evenly
Little amount is needed for good coverage
Budget friendly
Not in Favor
Tricky to apply at first
Dries very fast, so be quick to blend
Can only be removed by oil based remover
Dry lips will get uneven coverage
My Rating

4.5/5
NYC Lovatics by Demi Lip and Cheek Tint is priced
$3.99