Glamlite Barbie Eye shadow Palette is totally packed with colors. 24 bright colors with different finishes is what every makeup hoarder dreams of. The palette is barbie themed and if you are fan of barbie or even not, you can appreciate the quality and aesthetics of palette. Let's talk about it in details.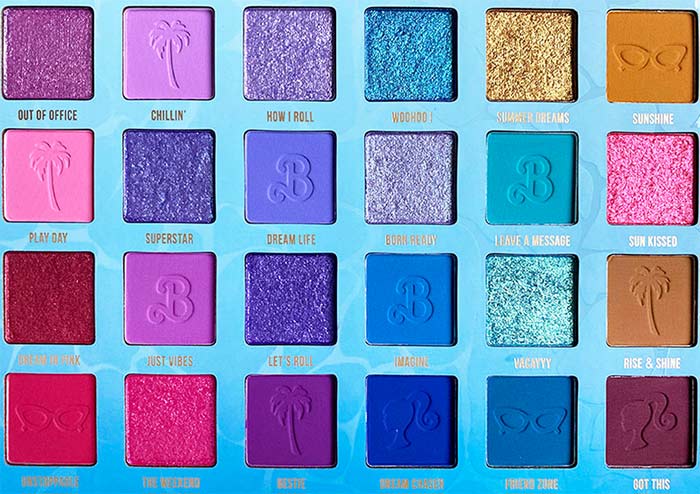 Glamlite Barbie Eyeshadow Palette

This is a large palette with mirror inside not making it very travel friendly. It contains 24 colors which leans towards more vibrant shades but you can find few nude shades for casual or more muted look. The palette color scheme is based on both cool and warm tone shades to compliment different skin tones.
The quality of shades is overall very good. they are all highly pigmented and blends easily. There are few pressed shadows so you have to be careful while applying them on eyelids closer to eyes.
Out Of Office:
Shimmery warm light-medium pink shade
Chillin
: Matte warm tone medium lilac shade
How i Roll:
Shimmery cool tone light lavender shade
Woohoo!:
Medium shimmery blue shade
Summer Dreams:
Shimmery bronze gold shade
Sunshine:
Medium-dark mustard yellow
Play Day:
Matte barbie pink shade
Superstar:
Shimmery medium purple shade
Dream Life:
Matte light-medium purple shade
Born Ready:
Shimmery light-medium lavender shade
Leave A Message:
Light-medium matte turquoise shade
Sun Kissed:
Rosy Pink shimmery shade
Dream In Pink:
Dark pink shimmery shade
Just Vibes:
Matte Medium-dark lilac shade
Let's Roll:
Dark purple shimmery shade
Imagine:
Medium-dark turquoise blue matte shade
Vacayyy
: Bright turquoise shimmery shade
Rise & Shine:
Medium-dark brown mustard brown shade
Unstoppable:
Bright reddish pink matte shade
The Weekend:
Bright shimmery pink shade
Bestie:
Dark matte purple shade
Dream Chaser:
Dark blue matte shade
Friend Zone:
Dark teal matte shade
Got This:
Dark reddish brown matte shade
I liked the fact that all shimmery shades have complimenting matte shade. So you can create of tons of eye look with just two shades which is quite trending nowadays. Like if you want lilac look, first apply chillin all over the lid and pat out of office on top. Similarly you can create blue, teal, pink, bronze and other looks. On top of that the shades can be used for all skin tones from light to dark ones.
Overall i love this palette, it is versatile. If you love creating looks and wear bright shades then this is perfect for you.
Glamlite Barbie Eyeshadow Palette
is priced $40
<img src="data:image/png;base64,iVBORw0KGgoAAAANSUhEUgAAA+gAAAK8CAYAAAB8y5WxAAAgAElEQVR4XoS9Waxv7X3ftfZ8hnew/XogtkM8xI4dx2kY2jQp0PSqF9yAUOEilBBEqeoGlcIld1xQITFURQziFoUAqoS46FVB6R1ISMR2YhvUpAE1dTM0tROf9wz77IHf5zs8a+3jSvzPe96z9/qv9Qy/4fsbnt/zrJP//Zf++/vf+I2/s33zW9/Y/vZv/Pr26MnF9sEPvb2dnJ5vt7fn2x9+9w+3V++/v51sN9vNzfW23W/6e3J2sp0/ebLdnFxsr29ebfcvX87F0+3Ro8vt8vLRdnZ+tr1+fbM9e//Z9vLFi3lo207Pzrb721v9e3F1uZ3N/bd3t7rG5+TkZNqde+7vt7PTk+3i/HS7me/4u93dz3en2/n5+XZxdrmdz31zu56ZK9vt6zv19+r6pe5vmwz35u5uu71+raGfnF1M+/Ng+js926avaWv+0OD9/dw7Y5rRbefzwM3N9D3jOZnxnM+c+P7m5n76e73dTbvb6el2+vhiOzs7n7+naof+b29vZjwzjrmHcZ/NfZcXF9vF/J0mtrv5s53wN/Oe0TEf0Wn+nJxebTevt+165nM3D5zNfOmDD23fqY/b+e6eIUy70H1GPX1BX/o6OWG8N9Pf7fw8N027zJ2fodvp/B2yTs/8b8YKX+e7+/n55va12j2dNuZ/M8yZA8/Nz/2InidDixnfPfyZ3+EPvOdnaHc3fTOek6Hx6+ERc28L8Hlms/o9m754FkK8njHcDj9v5nn4cznzu9B3lr+O+2zkkLnwYQzTvOTHzDZtz5ir5OV8u5sx3Qz9NN6Zi3jP/OYv1/h7cWFeSkZ0fcaNDNAWc4NG8H7aPx2aq2++nz/Mn8/NMO/1yNzdLSPatqurq+3p6Ib4MER4PfJzPfSgl7Nzj+MuPLi8eLJdnLrdzk03ekqWtemHIdy8mjbm2fPhN/LJd+cIdT7i7fw9HWE+vzDfb2+m/+tr8Rhan5+O/F4wL8YxfB6Nev1qxj5zok3mxDzgJfSAlhD6dPTwbHACPTAv1ZznGDmR/M/Fi6sn0gPfB52hmWmDjJmu+3w9btP/dMaE/Bxlj+8uR5fFH/F7nqgsq03Plb/i60wVHTodeeH+m9uRlfDmbHBGsj3juL0bnBi9Oplrqw2kXzSfcV4OPSRLYNO0MVgg+s6187lnREy0uZs+T5Er5jz3SWc1xrk+z15cDp+Qs2kTfYf3txoT3yNn8x0KaGr5Wcmc6QF5kGPzbNpgrnO99PWDfu4O3BJ20f+0QT/QhHGDX8xf4xg8YO7iYwTuwAf6ukN2Ri/PR17OZg7le3m1dFE8Nl/gHffdDh6i03oGXgfP4QljR/JGUiy5oRUyYdHiHv+7PhYRf3J5lyvLAzxAhvmY/iKosVvzzMPoMvgdHJAII8PIz9DrZuaN/NMPOHUlHRt6tB1+k5zueOQ+Z87TIbJnbLXcG7+tG57/0Ii2Qhvx0wqxT/c4X9EVrJ+/4TvybB5nkjM+yRFYlrnDd+uyG9Pz6sc0D7v1u5rJV5K73Cd9z/PC0OiK6MoYRAvr8v3Yh51HAe9esAHRFPkRvfAv1gPoBM2QTw8v+gOP5s8N+DmPnI8cQl/48/rV6Fl0Dyw0XekQHUXOLdfyF65v7MsI/6cv2WDrLDxZw5TuhT4iWnXDslTaiST9y23Q/9ZjNd93nKrYWZ8rR21snoWmGYfoyBiqt8GBhW+L35Zlzwe/JyhaGmtsHoP5jDDrCT8nvpnhuoXndZ8xibGi//I55NOEd9yfsYlmsqujd9yPrFXO4aPk2dhg2UGPwIbh2/CEn6VHoT/9MVbp5oEndMN3tLO+Q26Cx7Y19F8MCm56qvrL87fX2GDroCW1GLFjxfIPpv2bwTDkq7QXxufvgqboAXSCqqtdqXefZQzmvfU80vaGimRE+tI+6kFVJZfovL8T7+gb/kiXbIf67Jhq0VZtxtep38bN1i/j3tn4CqLx8AQ/s3Kl1srraZ97bec8AYuiBqS+ZWMZT+7puHxv5PAw7nvdP48L1yxf8PAWP7wkkq1zv8VsjVU6YlzX78IQ07t05nfRJKp2HL9kPMPXs6Gd6MdYRn41PeFsoDm61f5kD/iOfxZGBgtF9/rKEM/94ZOCR9J36Qg37jQAQ2n2ro9UP62ckQkwBPlHnu3P4DMKO0wc26o8sgRpUcvYLX2ZD/oAVjJnQfL1jHH+mkDpVnpU/8tfGDeCJ4KM4Ilkwfyo/Ydf+Dxy2mmKWGzkTr4I+q6xW4fAk3viLvknoVuwrH0Qb5yMzuNXiYQZZ+VMdK2eaY7cM/ItjAFHJNBMIJhDnHq+nT6ZOPXJxFhPJtLEV3+EHNxvv/7L/8f21//afz10ebn9C3/mX9q++DM/vZ1dfXC7eT4252xw4uTlNPt8uz15rt/Fb3yAjO1u/Dcmz7hORzntP8RWz79vferT28lf/w//yv2z959vv/Xtv7f9zV/+mxNgX2yf+KGPW3CG0O/Pd3fXr7YLArHbCcSHia9Rbhz5R4/n3wmOJ3C/m2CEzzmG5fxCYyFAef78+QSZr0R9viuw4eQySZy9mxsMpR057hEYzPMEXwpCx/BKcAB9HGUJNpo7TMdAT6AAGF9P0PH69fU42XAcA+GATgE6AfVcPZMHbaEyqNlxL/jJkZw+dReCOfO9nWvncb6YI44VgCEHYq7bQdgDdAJqxoATJuMyTpLmC8AT+PJHzDKQCVQdWhJCYy7m3ouhC0ozijFOHk64A18rnJ25+Q/mno0DGHBhrIzpYnigsU6gKKHG0ZGH60AMQJVgS6Hq2FnJLMRDc8Zzb6DX8wAiRlctG2Dl75MQCRAqeIkRkAGdsfv5CX7krIjq6scOgIN2faLQpwQTsJdgmgB9BXCM3wG9AHLGczG03YOCjmkHYCVWsEzzUbAyw3FCwYpBEKTxLicIoEQmcj3jBNxgGbxUILQcXNPZQaoYo+9eD01ev7a+MDF4dx5ANg9tIQSE0HYB0jSB3pJIEU2Y8w6sXCMgt0MxySACz6GPnbmRkbTFYDQcDYnEBQkXEl/IAckAo5fov0YDf0ee53uSKXd3NytQlE6RTFPyyEEvwfnZJJKQdwtS5CLs5MKtHIF5btrE6BJUM1aep81bhHw+BBINaCVrMaA2rjhnDoxNFIMoNNc8cm/7rzOpwEcJkXnktXEFSrRv9B69hjfIhRMGnjfzh+Ek1B5NcgjD2Q/JFj5/8N33JyF4bbkg2ARkp0/hFfIxY6/sgv21jdDhYuggQzTNci8JGwLuu1uSkJPII5mQhNSpEoqMfBJ1wgGSjLfb9SRRpDNQpMmz3Fvnjz5nNnYqhTnGNWjoeDfOCzRG10dHz5fsh63RNQXoI8/XI9eiKw6Ls436uH01Hj3wqEluCPuG13WglBSZeZBIBNNFX+x/nFgb+lIMPiO3xls+tCXnPU5ceSOxVmBi2SC59OjRVbDP8zZ/mnBiyNO/EjfGD+EwtojANriAnapXhjzCB3WlMdqBaPJKKM1zyAV2iOSSAuEaZ8u95gfJ5GyS9HJby/lkrvEXpM/BGMZOEhl7qcStAnTG4oSwm3HiDl3H+Jsnnh/6KvsBNYb2F9KvaUOJAsup5hXo8bPmKywWjtIGTo30x5iCKIjH0G/mL90ZfwLbuAcmpo3+hmbCQ2GzZVRzkG0IbZM4wRZyjUSj5Gl0BrtyNYlPkqrQ5BWJxWnnQgHG4NgkMO10cm1kbRKqJGx4Fp2jC8Z6eoY9IJEy81EyxT6I6eog0zg345MMhuedh4iVeZnUsp3Y8ib6PEd8mSR8laAydus6/KUVxoN+wN8kYeQHxLkXnfAd4Bt9SbftSK+gfX7GT+GPLG7m0oSakoDIziQcZ0LinXBESV4ntBzM7MnXXAwG247b6a3OW8jkN4wgXV08Wt8hJ/YNzGvGZvkxRovn6DQJypFDLeZwn/wst6ekBRS1R2sZhMvCPou4kwHTrRYzSEabrvVduEc4FRt+Q8JQtt2JrsS1tpvSFzUjV622R732uujoBRiCGRM6wc6Mb/EerYhMK/kWX1jJ1siL7f2hL8F1aMvcsONtk2f4agWBwRzhBPN3UrvBhqkzHwXDDJC2fOlkfm9wz+9KRE8Clhtkl7TQNHDPNeanZ5NoAKLqc2gepY3xSj4g8lBZVyK+cpM5yU/c6dMkmcfk+RSXFxtit5ScbhApnnlSak823QtfTpzaXjlAdzBJjMFfJaqFt+afeBidEAuC5zy06BYcK4vkZ438YQvk38ttM53UXmSAn9WksK64zSIKCy3REdkwS4ax0Pz2PCqb5qNtYAJlsAAtsWKawcyVf/hutREexCfoosLCJmHinqi8Z3EtyY+Q+IHu71I6/SiOl/Dun/JXX2UOD75HNlHL+sJuQn0xRZPC92QxR8nCJhSgpYmsB49JL5KH1T1DVfgzcZP4mSRSE4PFNOvB0HIC8u2t6fcSvZ3Hcfmf32//2y/+je1v/Lf/3fbFz31u++f/7L+8feDTn5imn06bc9P50OuMmPjVsGgC9ZPxH5iP+GSdJ5kgPQ14dcFKOg+ufOy97eSvfeUX7j/44Y9sj996vP3iL/3i9gff+8728U98TAPDsSOwJfi7wsMMWF6T8RmCnJ0PAANKKIFiUSZs0AQUbyZD/ZpV90G303FIcYYNeF5t5R4AQAHe/I6y2QlHWbjPQa7xRK0eJkNX8z3IOQ7z3Uz09UQrgDyN4fDj5BJtESAQpJ/OGM9CHBEjY5EyRZoMyjMHpsuklqMd5UWhstJJAzhfV+MANTNIU6oKCLDACASdgPnVy1fbi1fPFVTyO8yBXqyuyfiOhyrboZW8rHYvETc0ySkDADAKCnqM6BgaJSiGBowFI+sECAB7k2s4S3EkErwYPBwod9VCwjPCW4egCs69TpRas6QLI4z383dMoYwnvDOAodB2sgiIpRQj2RVGWvB3AGmcE5Rl6KDAZYCqoN3+HFgjKwDN7rx4SHFW1G4ihmVE9tUugTajmx94QgpS3gtA7fwSLdCHlCpBpuaP4YcIZJHhraHDCRnkVKvzBmPJa/5w980EfoCK2hEYIzcOepiTnbFxKidT6dWEfayiBfNhqjJOdibuJ6AzfQznCxThp2jhr5w9nRVXBYcTWGvFfXhHwm10huAQUCAo4Y9X2VihNefsnxvoyHraaWLVdYJbqUZkIsMwILrCg2AEzAAAH19eSTfdDsm50f/5mWDfxsk60T5p1cbTjqzBF5m5364n2UW1CsE83SNL4mbVGRpNkpEA5YKKIFbYgjd0c3n5eHs0Djt9XgerqNRAfp49e1/O0NOnT7enjwd0Z+6vXk3VwYz3agI++viHv/8PpdNdPVCQBdfjSJsdk5SYIIVAVDRJNKuKAKkeSbuhgwL0SQyeXQkbhEn4e/QMrbp6q4Cs/cSIK4loGTIXTAOtIGIQbqaC6e5a2KEkjhwIy/1yNoVXgJ6rM8Bq2pG7XdGatuAVST8uTSyf7wDN6l1xKnIjeQ1WpyHJbxO28JYxTl8g1uSqY0dosh1YFyQVGPf5mUBQQarm6uBag5C8VhEsGFoRQr6S4MTe8Be552bNd+hyAx2HF6qGKH+iV8ybD/2DDtdy1A6rYenYfSOzoxfzy5P59/EksRvIM0ZIu2NHHTA73wrolABAF2kDGhDskagNnq5gUT0t7UffBH3JbhlbQhatqOzufp0ZJzBH35k/uNbimyQLNBl0uElcjd9OhZKc4R+yqpUuVkJ1zwToY/Ofjj7J7iMHzCvOo4PiOMWME9wlCUJ3xZpiSeTGqydeZbHd9A1K8lBtJ9k0wF9M4Mn3L19Owj6rcgqkSH6lmsRBr2V4KCC+KAjEfkJ3d5OERh1mxmeA0S1JvEjiGiVGFG9VfTarMKoqcyIXW0eSXpg3NL+8ZDFjeh+7gH1wL/ZzWrGGLN1SCUfwaQsg3MCGSQIUIBkzHBfYjp6TG6/MjCBoYYHJyo7hI+CHkE6iyscreCQHuwDigAKbC0ntLymAnz5JQNtnGRdQwfPojPQQPEsi9+LpYPqjVEBYTrW0SH/zoPB/cO90qsUuTp84AcKiRoIpZsKqmIYc3ZfvKP+HxJ7lUBgZWTEfvPqHDdeCDUwenaimyG6RFJw7GKv0WP6sZcOLJ75bcxENsF/n42o+Fs3ts5n+quqEbuBtMrHyfZScdHWTxiWYzBKFaG18xm9z8GQsk82NvuJU2D9FLGw9nECy7agtLgjgf+DrKqENhi18DM7YKzCOgsFzH34y8xfGoTuq9HRSjcU1JTE8Ao1TMMsY8SHj/9gf6ThFPiUMVf0Kx9GDaRP7qsT+rETSCPSg/eqiV7RpC3wZ3pCEpZckyA3z1hItZk1H0HGtpGsIJJs1zEXPyocwUrwxpiHL6LoSxuKVfUVk8H4MnJqbS1TLIfP6VYGr7TDzatAsLRlZQ9+v5OMkKJcOOmFM307A2v6CV15AoxLoYrvCH5mfVYGrwNKLgZpVxqhFAPSfRZRUN2i1W0yB9tO3+DIUEL4l8Tdfttpp+aCzuKg5I0/yyZxArN1UvmKaQcfBbiVAco0vLK8keI09FkxjFN+vyj/JTPgom+H5ygfljxgU+Y8wN5nSygjZlMdXo4OzYDJtUJGnJOs8iRzLP2TKQIgDqQitZcZA4sSkE4WO0yxSljPZw1Q2nrESP01INt4afH0047+cuV6Mzv7u+9v/8kv/8/brv/qN7U/89J/Yfvyf/WPb7SSHX42rdT4+49nV6OAVmDGLdNv4jZRw4rcqSeSkKJWqFxezeDD9ICw38zwySf8XTx5t73z+k9vJf/Tz/8b903fe3T71uc9sv/y3/tft17719XFAL7a3332yvRzHjuV/wq8TjOEIhAQfgwJjUGJWNaazCwWLZN2cDWt5c5misluaGMA0nQ4rwVAoIEbQSWghI8m4I9gt1VEGJfdaGkeYH59vN3NdBi4rllppjyIhxAAFcPWY0mHGh3GTw9yVdK8KSvXnv5sZ7i2ODkbpDfCpqQaELuZ/V7cjHNKFMrtZcsupxBUnCAM50gNQ8ReA5NrN3WRZUFLmhlNOcK3snQMmHAIpckrVcUZcvtcysykJnwBDQD8PuuTZAS5l9gRaWhnN6i+TqmK1jFbZ2awsGZ/8O6WdVUrxEkU0bMXJRFnGCPPMXFOgYBQFDmSkvPqAUWD1FC6YLgJaKRSOwyjLlLAITKABq4cHq7sMf9Kap5Rlr2VJK16NjoKKZv5j8EJNzWUFSTHCHkwxZZR+jBK0tiOK4SLZIK13AskqbSdjVRikRDgygHMFDwAKyGFHgITVKOpckDMAb+cPq3MGWpxP2nH5umgMyNXLDj2c2SSVdwBgfWeg68qHGoAp05YSC8h1jJKqOqAxPlEcDQAJ50xJMSooFKSTNHIyZBqRQ0XSDnrDXwWRoZPkQ9ey8qIg3TrFthB4qxUjgZRXUZTsYt6TmpRTJUNhJ0J2ginIYSvoh/Y4CnIQeCD1HkmMhT0G/iErWKDsv/TBKyYILM7C5fngwfxMwMcWnktWfWYW7z9/Jny4mm08GATo8OL5SyUb2E5Ce9ev3reDFIPislgAqbhioXKWNI5+VgEV/9gmeZzQaS5ekrTJVha+QS8VwLMyGYMISxVUZruMEiFKELmNSLPGha5eTPnuSJQFCpkP/kLTlt17BQ9COqHhABXsif6Ljx6zkwF2tOXI5LoSbdJzDLGrE/ggc3YuvXrhqwIAtdJyb5zjS1b0IrZytKqa/JtkWlcL9uob66ICm9zjFTEqTFhVfbWSpHJEVabPFhNXfSF32sbB/JmSklRUmdCi57Q+ktsxuQZoOzf4BQSnslXZ1iT3cdsejc7Mhq+VhNbc5NjZyUPRkS0nDNAFlyh2y0IDBcm5cia06gDSAbudtFaS2OFgbEk8auim9SJm+IXMyLmcP9RLPQf/mX+eUJ/2s7KKY4eLFXdtsYHXcYKksfCYxEn6B8kurucenESaEmY0pWkmc8VFH8YyjbbVXbmObSN5Il7BG/aeeUaSK7UKX7Mqq6nSdgIAyQk4Ktms9bLeeesCjRljEputYE5foXftsDhUJcvQrcNu0w7lDG3GeotDKAcWp9DBLXpQXW7CXBUhbDlSP12d9GqjOhcfPFdXFjaRjAx6td3buOCVk+NXBGAzr1sqgvAfwDjRYVFPvHYV0dhT8IAZJJFY59VMcTWQbczoj2TObINm4svyy0bn5/rUFtkZJumcBQRt15v+wFDgUvbwbvreniZosf8gVRRmxt8DVmdeNyQq5s/5+BIkZmxL0GdX6tk+8yA4P8ElSXEPPx/wx9VOXBRuagIk8VylqISJ7mYsWWhAzggQxhbwJfgh/Zm7hHVst4I6woK5gUQ83yUhinyJttJZ5NPVf3xeTRIJDMcfbLBne+f7LeieG5jvraLwgCoQkv6udtSCFb4uyZ/olp8siNoZ8PYEyxbJerZG8iwyItnDz1H1lrc0yBmdZ65fvRwfkySyE54iM8OL/yCfQOJq2yH8lF1qIskJASVKpZtOboCFsgEzNumKAsF98c4l9yRUHEh2QePoHy7/QCbJfhty5m2prvJUIiZYLpSEbizUkBg1YETRPLbaRviNPLMYqG1ZWSzwFo8Klq0azyGBYKQrVrHfI7cqZ05CgQSFFhsyLtEPXHOwK0wHRwXZToFoWxx0i/+phKbGb+FwkswJK2Kz7PTQgCiRF26IPx4vtgMcwd/RgoAqMh2gq0lUQrYBuZo10Akkr6hUDj44YeuIx/6hg9vdZjhZIRu1ElkE5FQOepzIP/6OEoAHG7tXghmL7kZ3CB+RWxKaJJD4oPPW+7FJqkTytkAtrIHDJqswSAk02VzLhnCaRTDJu338JnLZfnhJ4KwKwblziIlP/ujJ4/EFsb1sjbnefufv/7b6+NhHPzZ+5KPt937397ZnUzF+/nj6G5iYnd7b+dW0z2o6ftSMg3jhbnwsYG97TXJsaDK+pPy8aRM9ezw+53sffm/7s//BX9pO/srP/Wv33/7t390++7nPbr/3nd/dvvrNXxkH/NX23kc/sj17MaXpLAO8nkz0s/l5sgMKQ8hgkwGbxgg67m9wAikfA+RNbJet44w4u8rPGAgRX+Q1AHkPn10CM8kCglIquxKjxw9rzzdCO9+rbcpxp77/hpp/ZTvdevcWF2QAVALbp08nUzvfowArmNEjHg8fGajJkqgMSYLtwEFfSyjRHIOvVJr9I5mGbpN/ZAVUe3VMAeVkWW3MKLe0oZU7hxAyLwSI1U4ML0YeqrDCplVIr6wQYDF+Z/9mdVAGmNXnUboBXJxsB9iA7jzX1TRlirxSA21E+SotykCgOAIPsDVgdylmSuLQFI3PJX+3QgJnXbViAyBD//kZZWQ+qqbQ6oeBu04d3dovc0Cj1e3p67b7FjXW0FCKHskR7xM0xvjUITMopoqhVh5g5I8U006/3LTwtImVMH8UdbZsCMAcLHibhcdimTPImZJWehnozFVyLyDHiR2gHb5cz79QhkQEH77TWCeYfQ0NMRRqNsCePIBXohcZnCDBocrY7nFADkkRjUpGMw/Fy+HsBSbMWBzwey4RZTlMF6O/d1M18urlcwEzuk/QAUXF35kTgOjSUuhH8OlgQ2cB2CURIHs1m09pZQdiJU7ED0cDakv89YqcAsca1Nwntuq+6OfM81KZVCcehEP1GMObnXCAvI2wWI7sEihi+OOoKLhSplpKyF3Ska4KgF2suAoPSIBNJvV8AgXwbpdS665wAqMoQSMTP3goftjZQax39uC8MzUHzlpFAj90zSvDks8muSK3WuUlCafOBZKRyf6cwGOuXk1SEgPOGFrhoWYixw5eMLjJ5OOAsFImR8f00n7WCCI0bIBQ+u1tOJgRbakSmgZUzg19YTYO+gFPGfY656N6BJWVqayDYuMvtkgQ7MRoLyBjSQAmaUMm4WIcPzmes9VKVQM6l8NOJ6uYStag5zLcTtCurRTTB7hcvS+tWCWuHfL2mCTmhnZKSruuUuNCxq5w0BP8y66BudIZJ09kUiSPeyLTybppQ7oLGbzy4UQPemOHaDlJCkyjawWL8NZnl2TFVcnNOJISnB1TwbtXBDWCxYNdCCbtEGR8iVrnTqy2ba/PdYAvhEFji+4mEFNw4g+UMSLsPyuAEu+sdwrgVGEGLO7bP+C7Vk1RUeHPbmMlv10OT/vyJVTq7x6LpYzOZa1O2rlM0gnvUFG882qSt5iZUXaUXQprOnUesUzp2TO6Gfx8LRmlHT2s1Uqql0oDrzLiA+Cx7bQxnx0UdytAA3TbGetsxyuW5BldnO9ZNHEAm1VD7LXsNl3Z5vILtv5qvEm4dMP3rdDQpKyHimEVSIFl9hHYVqhbOo6OGbs331zfUz3J914lfvnyhfwAePv40SNtDZSPMUmc26kEQ08amCLbrgzIVpNphhXeu/FsCboBJlafCJbg0/Vchx/yGaHp6PxJ8IExru152CW1a1sAf1+T8ID1IkxSKMuWmLOlL/6bMKvn2EifXc0IPVuNdoYvNjd666OkW7QTphAUzCUtWmEfiuHCPYuQ5KM8Bv7jj2Cna8PoC2zzNkJjWGWyCy+vtU/fyQLJUcaqJJF8Gtsz/PXXOtPk4DtnDBoPfqjwjSQ71an2zcF2VUIkgUZyjWT73awSIjPYNBKa1iHbR+hBWIGcoc+q9tQcgvsyk656ta8SvY9+OrkVpkD1pcOmXbc+qHJF47T/qUUw9E/EJck1cqSVtbQxg3KS29/Lj0EXpLuDSXPWlLde7IkH4gj4sBYQeXK+p5qkFXU6k4p7oN34YQSZ5Y9HvH905taqtMyZW4MXOkcp2O6kiJN8rdAQVijhc7+9GJnQlqx+sMXYHIJ3/FAS1Nl+ynOumvH5WopH6Ac5iL/kbRUTTFLfHX8AOcaXlFzKDlbyzFcwQrRDxuJ7sSipBFOq01jw1SoMo47NtE1y8K9xDO2Jd67emVVptjFlsQJZpI8M1f55RLQAACAASURBVLZjxnYxCy7QWHafrRlKSOV8IG7QCjN464qaJn3sG9ney3+pIk6zd1RXvj+LNyQap2T99Wz1fvfJuxOYf3R7+wPvzWLO9fZ7v/P70x+ixFbq55Irtk2dXSUeY1vitHs9sfLrwbvrl6MzU5Gpipcklond2K79aPza9z72se1/+j//lgP0X/n6rypiP5vI/+9++/8dIH22vfv2h6azt7Z3nnx4e3z2iArJ7fJ+Hh5nT+Un48izCn09wQylkZdzz+UVq4IoZwLDGZBAfSZPOSrEdumRD1KrU245gsAYP9vdHijwpgCv3+tI4MQSUFE2BqNxshCuZKi4X1lysseDmPePAFgr7JvBD/e6zIrS9TEAjvrEfAfzDkrxNuosqioUg8GswlS5XrHADc7t6DmxsO/rwmFyBkc5H/knFaABS/wAKRVAaKfNwZBR3IfnQS/vKcZcaj8nK7PzTFfdnMW1U4uANzFRF0OGXQ5qnEUFkbtLpQyWfBI7iTY2bgeBPEMQWfUDdHWIjEvxVHISIFaALofBxkocT59lv+IXgZCYa7AUWib0AwTkbGUVpEQ28W2E0nYrL9ydrK+3PzAPtdEyMcjqgNWmmE8ObtD2jQBOy4wKRjgngCbgKUPgigWfl+AsNVaIQEBKOArr7HjoknF6eC6NO1FA0EAojgFyE8PUVTWDbcoJh/4nPLP7qjHudpK1Rgne4igoswhdI/s4hNO2MsKZlx3GVw5c0VMcpXlG1QDzPOVorHroezn/Bv5EcuJZV97FYxxMxjp40ZUsuKTD6Ehwzb8uOXaZveRGiQNklXGzJ36uZZ9r5cKxmgOWA+OcuFjG2/KA88tqgwLracf6lBLFOJX1z+6mdIbg9Eqlpz64z+XUGKIeEEeXyDOJioQccnrxQSKH3SMqPtnIe0+8//qzM61JHw7v05kXzDdBqjSvwtln5QB4or5knMKQy4GQ4+Lv2f9PVr17/uWHzldr36XVzfgwq04kXrU/H/5UzrLyT+O6Bs7WASUBi1y1EibZB2EReJfr5ZMMdFdJq3gYSGkesiiktEwx1JBrsdVRpOk945GhTp+lhVZpoI/u4XboAI38nGzP/NXZCqJtkjjzHFltuAhn1wFXtIUTgz4QeAsTvRLgZJlLrmvg29FYpllJBKTtsEn/IyOWF5kAXdeBWXMr9kRbZjQvT5WKIiUSwufAh0UIws2/Snz0i4oYPJ3NanTUfeciqjChNwkNtU1N8mz/zHxWi7HLwW45FNr+siPuSpLgcIkulsn7Wen0+QHmo+Q/eGbeyuhBvWC/AwQd1Bm7puT00MLjAC8czDoBbP/CKREnYv0hKCB4uF7nPdiRdym5q2pchcVeQKcTa1dywKmcQCdYaw+FOTmtqXKpknDNy3pgsrhdlrLsVNqZvOBwxRm3V/ZIdpLkdvK2ZCk+rPJdkjlq1FUZXQ2QjCbpphV4OcLImYNC1prl5Oqzbw80Koo9/Z/oZaEwJmmlkZ/lOO8ysZJ04b1JHSGVHNtZlyRim8IOBUgao/mrMtL6MVNVeT3VmrZB0DA2dNq6mO2L+JSM1VvuTC9vB0LHvXVJ5f9Z2b2ZBSZcsrNb74EXnkjnghvLP0P3R36GJwToXrmU1gvvjQCmEXpx3DrYijcEWxUvBNpzM4GRFlzmr1BE57QYd+RaKvGcrSxUHVQxdF6B2eGKY2wGtM02QGRXUhofonjOCuJ8qLwj8dFzM4znlGVnAQj4Umm/Fxh6RlK3rng+VDY4ociAoalW5OXzmhZOvGJHJ+GPHaUSKVsrGYdWMaef25F9nYcj+2ENNx3ju3CFIG7+BYaQBemExMmJqiamNEGSXcLD+GYiVnBmxmfMql/sA1ldxcVYvPWGUXRrh/lhXmt06FFcXieujG2SdxIMIrK6FJZ66x7+msck1oHP9dW4HbtApYOCWdUVqfRdQar8+pyjkQBaXFei1v4Q+udtOUNTOpgDMFVNl4QYizzajqDElpijMb+g4ojtvtHdrvobax0DvKIChDiHalwqW6Nf8nUkC26vcqQVfC3yIe2OPaR3zFM6i6+LncH3jQ+iKhZrEC21+kPYSH8vxy+bLYLQ3/66u11JXHQ3PsaTD8zB5cPPl89fzDZhn+2kmETJbuwmzxNfToB+NcnG+FxKSGo7igNwBf/YiXn4kq01xKt1AcBL7EMWkmW28QeGOJe0MZW1L2/eV9x7dfF4e/L0re3q8bvT9slsicRnnrOJZq/59S2Horsf9IVKTeIEklY3s9hNFYoSiCdT4cMWTxZ4hw86IwX7NgN6+vZb23/yP/yP28lf/cq/df/1X/umspmv5jT27z77/e35BOiPzt7dPvKBL22f//SXt09+7JPbO1cfUNbgESWhM1mMH6XZOL6El5fnc/L0lCdq750yMWYyoKisq9b0nVHks76vsyIbBzgA0rPaQ9ZiavK7t0RlK3Eo4KPKXAKiJzBMAZTEyQYiK4zdKwdDp3B5e382Zol0lKEaOY5+cq5NpmuyHGdyNmwcm/1saZp7GqbPd5TDo88+SCSuHcox44OZKhvRfhILYkERIIYhlLbwUVZojBUl6QJqBSoilgAE/Vr0I/MrQVKEnmnYUcAQXvPd/GWl3ZnElH0kOJPhBsQEcnFcpR0jQDoka2iKssWANICxMkF/J1hOzqlMsIeo7JsCLTsjTgiksgHlUfbZ4KaDSeIAWk5MOyYCXQWnyFCcLwUD2bNdEO/+MAtaAh/1a2dDBi3XqUigiqLdyCWVPJkONsfTn8TIINPTn3GutPIMvURiO5nsS5JLKLll7Nl/x31aWjXAyxHDAcNIAqbwOllGJVW0sjc8zDYGrQvqOZsPE8cgJwfRv2qGBJ9eTbKu2alydtUlsE7iQBKX4tkRpewReVzVGFoZoWzPWXSdSC5eOeHisjE7rj10EEDBgCixkxH1kKp9dSersHIQpSBxdGy85fpm/6VX3zyPZlQVuMCLbFk5TD5Ob41jywPdfgNLa6MNacuKdfCjZNUrxtIz+SDMtWcbWDTWgTLzq1ZlGTMyyYqXDgEJL6QONsIykwmWPGOIHyeb+dBpYnOdfiw+mYZe7Zg/WukwX/k0qWfnwWPGyTW97Ty58GT+R/Pqn+qbqYgY/bzhAA7JQaygxuigXhKFvNBPnG1VqDCGZNa1C1HzNr4q2cqzCeTpGX3UOSAx8AowMKAkr+hc+hIC8Y+9Cn8XZ0LleAaD/HV/a9wiFPRxQOQTdYPlkUI55bErdbNbNcF3PShRKzlQDL5RGQImkTgKn0VNJe9SNQNezbAuhgaX2IfIzn4C9NA8q3ZNrjybZNczthjJ0Lsqwdi7lxKeanuHk2TQwWWLlusVIoRXXo12MkHOCUGKeGkH/M0PuFdddALR9BKFCWiUCOHcm3kDi/bFeWuJ5x5ZQaSYa7DDyoL/hocU2QHzxTH4Yl92Zr29nAdv0cf5XVUMJBrCW5/UbPl7fc9e11kFCMb5TRpJfKjqx3KBTJFwZ9g6aDH441qKlNzj6ZEYAuOGTn57it9E0bLg7olVaXaCfAdllk+1Jt20nXPn1rHqqIloO9ZxH5OQV8PXWeNNks8yrqAU+VRyTabdjmWqAkRD3WJnu9Ud6spuukpWm1TV1ghWzAiSSGLAS95yM6cPvx5fSssWSn4FYNRQMAiZUaVdtsdxiKiw0/jpMz+C7FaUEMbzFlnUHOcYgHKek1a/57spnm3KQ7pieckccjc4dTMO7evbZ04YSj/sP2qrHgFNfEYl6wlskvBYgi+W2edjLNqXOmWkFydvyTZLixLUrGSyyWB/FadYW3mqb6WVdc1ET4AuFUUuXCFqclqGnPYIFjO/rBhLPhwbuSm+Iygb+QBPdFCqRBb6hE7BfcOuZduHbFqG8Bn4+LwTbLvHgFwgH9rXjS1Bvw52pAbF5gdae/snwRZYz3auM+pzwRiu0w62Yewd8qeKHLAKP332wyzZ0xthPHYl1qYF2Qf178ULBYokbWVDnShjyyvtX078oYONNd+e05OSZWRq7tH2upFlk9I8ihqFB/YBXOafw9pmvN5aauLj/6yyetkzV7gokBRRbJNsyM1TqmO5S1u15MdYprQ1cB7rQXVnlCtnr7wWaaapblHzSrJ1yvbfh5WyBQsaUb3owyItq7LrnSN6MOPQIiMVJCrrppJhVuNJUmarRH0mAnhXuNkfl6wpUeSEkOwHCa0ZxwWHZqJfMzz4YRrnpHQSS/ENSGSBFYu/srlO+q0DvweHSJ62OiXea9Aeu7on/OlbCzP45LSVZLQ0GfxTUquxyTxLteCQjVVx9AUuqZKDauHjQh90kg3x8/CWM51cvR1fEWzDHuO3y/8wDqzFCFVFuCKHauTL6ft8Er2vnn1vEnmzxXGwFfp+b84pOpnK8advfXCef6xk6+tZyd6TUfghJKymD7BvsoB3OlsMORsenrPS7spiYqMu3r6aSqPzSUz+K3/x399O/pt/7y/d/9+//rc1+W//zt+fAP0fzOBezor4h7bPfPSntp/8iX9m+9xnf2T70Fsf3t5++o7KB4QIuH44fZAD5o0IqZRHAQIQZPR2VmsPTmsn7ITugXQNW51G72dLWarK0aaPKTsvwCjTiSDjTXCfAlULlDKQySat1SoUfMb6Wite2Je6PhaGBx+cn2mflUk7IPSDwTZcr5UHriMQWSlehrzOZp1nxqj0kFddwyE7WNqPYQfzlswXe/RZbWPFEnBJ1tjQv390QAQAgRAjjMnSconSCRSNj0qTdQhBnuY+sK1l5DGqtk4ZI4FftgA4OUY2tcYgDjGXcWhm9RywsA0xn3UonJzBZq1cmk+AzX02SMfZmKs18Cqdl4yZL1ZenC+CavjgTLT3HO5KtwK7pkIljoA2YrqXl7sUuiDADwZlOeryTm3YWoakAzu0AiLUjvPCvuVZHXvhTKUCdJNA39vJsjyKtyQqRmda9uQVXI+9jrlOPGdOPXQZJz5cN7mQyWRvaSsWvw6A+8seJgwgbSmRYqdAZX5Kkswf7Xd10Nn9rBz+RZAuJyD7hOjVp4vDU+bnzCAkXAdziEceHzwTJRKArojVpHOQF0LV4RIR9KSdHT4kEHQNW6Yyz642mMgqQe3KVnFGfDx8quNLtHd+yElS23aEvR1kgF98jDOg9jMjNe0VVx8YNAdnDlD3NWreRywv1k+AWcwD2VBwhey7vNFZZeu85EVGZV81aBa+Gi+dysqLD830av7FnF6txGF1oWOI7BlvRuouRwYufH5IdUr9q/TQOCpdQrZ5dZ5ui8MnOfA82M5iXYLfDn1Vsi1DyMFRPpCyyVf60ko8jhcHfirJBftiH8Rf9MMyKk+IpAf8jO4wlB6KJ2ZElo31nU1Xeospu3cLCxWoKTlq3nhLik9ut8hYlnBscof61zfwLPySupJUnTbOs8e097mCSQ8sLaCtF7OK+Gra1d5LrS5577hWSHiG4EZng6QcOs5Rq56U6ItCdVblt89YyepJ8Be3biVi5gGXcjOwnHotp61Jt4gr0xoduxRzLZOaipzXJG3UggNtOZlUGYQB0Miy74o5232GQYA+/+b32qlCg2gnOcNZ47WP86rW4Kvw14JozAhMa5uUAj3OSbDd4yM9kN2xfeo2AGyrXz+Joz6BaF7d6aDSziD/U2J55oHW2o9Ju9Nvk7IxUtqz+uADHgXolIyXM+7zaS6pjkLGi4vcK50zkYVrSjYlkPJwlvzpHo3FkmnGJIGqYGRskN5ew35ry5PPuJn9onOWEIsH90qAZvUohFwrfWlbZ8DMPUrmyDY6+abSWmGAK84oS/WrEl2CyiWdKyJ8xtEnSTeJlrvZVX4yr9Yc3/D4Fpq+QYTEB8/qNZ28ZeLeK+jMsftWlSSQf9MKxpSnz10+B8PY6SSu5U7kIThREm+cd/HWq5KSSByayDn3+pAqCh0i9OoTm2zhlrXDj0Ev5x69iQX9XTgeXyFy7P3d6JrnIRE/2CXbau7x3MAWkivIj/fPIn8p9Q82dWhaFZ25dDuaAl35LAdflvkPba55xes86D27TopQ4ePqF/fl8wGm7JbFAgK5YT2Bog5xJUkSnXbgkOQlSUb4RDDJPQmYfMisfVEHoPbXFLzC0yR2ffaSq+aQWc77gW9aPWRbC+NUUsmrx61MQMMaSyih38RZwKZvCECGtC0mQVwPlpV1E2+dHGNs5riWOYSZSgQTQMF1qbh10vuWHSAGFUKfSKD8KieTlFScy9pCi12BebGxrsR1G+pD31GW7UMkhSLys6SASbyziIK8kOyy78ziGwNcFW70o8dob35IEolAvnGATiTPIkerXbWNOFszhdfDI2/d8NkkDVoZsN6wPWSyzCQZJb1zcpmJIMfXsyLu7TozBSUjkgrCXqdiZoG5bE38IeG29bcVdtZuIx+LlzYXbk/YsSqRHJu0clivz0RakIX2Efg03BvbTligoX/EVXZHndvuxd7oEM9p6+b6xRwA90L+1MVUYUPjl3MmEbbp6tFbw5/HM/dJULA1Wa8sti4ToGubB/yZ1XMlNLSwNTS9fKn4SQuX8lNYvWeB9nb2u7+1/ek/85Xt5L/6y79w/41vfUsg+vd++9vbs5ffxfZtj0/e2z751k9sP/VP/HPb53/4i9tblx+a9zjPQHBPJATDRJw+NtpAD05pCxjZ6Hm1ofs+ZfgJWLNnWUKvFQADnl+bY2dIh+ioRBFhR9qlPVLYN9+36MwUXDQrV9mriL4b2jKqCiP4zf9WgK52rLQIrxmGYDrjJMPPH7L2NbJcC5jnYQlQFVGShHAaqWum7cBDJz0b2mBIVim79ww7S2WRbLDuMQIKGHYtw7cbO90joBglZbvy2gauSfGyYnCsRhBc6DAQDV32y6dmOtAUWUqD0MFZWeaVsrs3DL9pYACSs41MQzeBUICkFtXdqo/1gX86FCMKg9JoL9B8EWFe1QyhD311xdoqHHDFJmu8djZxWDxc81IO0dwtUVKgwgo4SmwwkBGKYdt5GdFU4JSV+gaR8C3A4MRMG7fWNwllYu/8t+gxR3FEtFvtmELmb2Vx5iXAjJHyPykpw3iSxErg7D2sbp9r1VEZQMmfu275IL3ZMKWyY7KQDgxthJcjt5wPMcGOzUp4obvmmQoKZNBdcrdKn9SH9cKJDfNsPwhGbPz+T31ks9mfgDD/1rlwcoS5+SYZgcCCTkWV/PoQRr3/fJKAqBQVPHugGblCP5uFxfnIIYBy2AiSI1c+yMpGzCXPNhbet5WALxl7OaEKamyM1spqZ2x4zLhtzFpe7m0pds6cxPJKYwN/i9fMjnPwkmhTAmQaVLCs8XgFXv3SjhxQ06hbN7zC6IqDGtGS3fDWJJQTpquUegVPTmpAuu4PrNMqnA0vyU5zBoL1A3csQXiqoUoSnFIdDjMNXjSRRCLuIAgqhZUOeNzRpCUsljfLt54b+qgMrvZEwLXL7DpNmvegzhksdz08L/Q2DXcxrQNWXrkSbB+jV+B4oCvnY5z1KlCwxGWg3aseQyVcgKQqi+YcCNmQPfOvVQLRP9VrOBsc4ip5t43go2DUmRLhjBzfuYkyX8l8AvoG6Etxah/kmHULQRNE7tNl/7vC3iuBGxmt8CTALQZYgZE/B23iVe9ldCtZyNwYhCuxOMh0JUhwLg+rJDpQiZW8wcsmgXwSv4XbwZ/7wqywVcu0wibwRSuDvAKtD9CWfnc30ViqJBqtLYczGI7rJ2cX5kUKU03XNmmYoAQkcsWX713Alv6XeNmMmFJDXpKq68wf5kWZ8sxdB91ib2Uvebq6hTsa2ybbZXzo1sQmspw8SsAIhnM6NIFfT9uPPK09qMUWBWuT8GFrpLAxySvkUPbbCVbxQEvr+Io+FwBZlCTh0WqItk175UfeNJJVWgdcljlXE7FySXn/BCd5tRHz9+s8STyTdKDs2ftN0UsqMUTQGAd+XFu8FDiwYGFn/nL0X2Xb4bXHhw+Qfb7xAbwqj6sSvwVuEtcmwdQDRZnba20T7djid8hA209ZK6OxUQToChySoNH2D4IBPWEbJR9Geor8OUDXQaiHfblKvoDtfKcqz5FB2TSvOkN4BdkqeTdOikzS0ugotiQJP+O2tyixX6bnk/QAYskTVZDI5sjQS468Hj618tZbHKyXbIsxnqYyZ645gM+Byapssu3xAYn2ySUxBOhgKb65eGkayKeNDeqzupZVbxY/VB2hhDd0z1Y8JaBIXPR7+JJke3TAtG5g5qGvBRjmnQQWOtbXEttu+9Ruqik4A4BFEj5elJjvNT+/XYHYRvYpPohwQ0l5ZLlBqUuy+U5nomQrqpNYPhh4BcBqyrKzfIkselk3nTiW7ExwqbCPmC1BN89pBT4H8PJGG4JYFlfUn2Qp/t3yCRmZLTucJTniBTPHi4JJJdEkaObH0Ey5exKGigmNo27byVXRjT60LRFdS8Ad0Cx22l+xLFDnMZJocsoGYKs4vNHJDD6uwqK86ZEqKF5fvz+/UzVsOmvr8SQjz8bJ0pYmDjDlHPJJ9Gie0Ja2VXnK+TveLno2dJu942TGjR/4KanIuJg3HT19553tj/6pf3E7+c++8ufuv/rVr8tA/OGL787+hVl2H0P19OTD26fe/vL2x3/iZ7bPfOrz25OLd7fHF28NoWTFYf8kuSjzHAGbPQx6OZwMrzRZDIhPbODbvUwRQcQVH7I3Oo4UBOwJxdyngbdch1ZlPGudosNTHuPAxNmQfBsYsQbxHXsH8Res2XTkDFmNvANKO2b3rKQdjIkcFxlGBxAwXM73tKkXdqDcAi07EXYDfL+EpeX5Ma4rphcY0W8yahosIGOAOtHeZTtQKpMHORgaBy7MvE0jVrIZbhxlXtPFKigKgjM5oHz9ghSY9+X4dQ0OwA20Dpp70IUCVimLhRyBl+OnwNr0sWElO8oJ11h3gn+PQXTjGWWinMAQSPo8L8/DWrbT3kyyMe5heFqhRCEd2Dlo2/mrR+hvmQzzeUURSIUAf/7VCZm0XQPmduwEZ1xS1NAyJWPis84wCDAK8bloI92ArWVffr2d6aXVThJSOJIQkfFLfnA645gzptK2LKkAm1r7dES7rHaSyKL0ewx1JG2Xa35KYC6/DEcEvGGe87xoAgjNHOWiD/g6oKUvSlKtE11JUskYThkgKcfXOqvgA5kz2fSBPGGJ5Jp2WS24uJIHONUdXn2RQ5GDryQrGBnkWBhL/00udHpyDzxGyU7CMXW2y1GVfhlrHGcN3bih2+lDTrN1kwveb8cEcUo8Gc/LcipswdFUUGQnWoYAWs0fjT/BgJ2cAJH0yg6T/hNDjGPGBo1+YZZXezNnf6W5SsZF2/AMmZGegC0obAacf+O/SHe0hkG33AbvaD/B/L6tgO9nlHPY5p48cRLCAY71UvQQfr+hh/hzDFfTTKDRMxz0JgnTwPIX4ykg2ecuYxwNbyWFpeoQsIUXJFCUMEKPsgK547gYJ8OOtx/R3AecAGGVvYJN0BBjKT6714iWgy8F+aMTnGEwWDJFuZIXob76CvathxjD0B6R4nU9Cj7CUOmMJVKDOuhOprvL3gHxjMsYdMtjZVi2QQmU4FS+414lFmbsLqEHu7BVXsU1lis8V2XZc87LEO/MXI1Yg7RtKz4vusUO6vT+bgES3to+EtCczZayE63OGqUdm+/6IFDRmzCQCwfIoicJJ+Yxf07ZOoe+CSe5jqPKqIxl0kXhmLev6RV+eoaydvTfb8lQUMiqTlbmJFnTpk5ZpjRxZF+H/uFUETTGjtfmmTf4Ed0qZd45mZpyaD1jhvIqWtYtZFOQMcQ9trxY0MOWOKsE5XGQUv3Qw9Y5/STSMWjLKX8Osix8YPyxeT4TAcc9CXzhnXEHnNd5Kaqkgu62/z4wz06SS7cD6LHNHFSliiAFHAIv80sBtWXcvh0BqtIDoZFpLf8MLKm/Q1daxfNJ0tLh6JDxItVDwStW57z31m8R4NPtjH5dl98UcjuvN3px/7206YPktH86W7egN/fT1dVs21RZNhjVZAyBApRQ8Jn5ae4zvFR0miemsd/3bZppwhxoNb6XDhoLbnZV0qX8tknokpIrmUe3kknnQqO+HUNbcOY+bS1j1XK6UXCm1UX8Ci55EcRkDLDY5Cw58uKKN5pwr86VIZCbPxyEhW/ghCTzHe8WP8FQkRlHJotbEhZjk7GCvjjzRQSR7uktSqwyM3aSFzPnFy9mBXJkhJJhLXJAAwIflWx71b1JQr1dRrJuP0w2RskDgjaf4SNZ0aG5yI31nZ+pIKBNAk4dCihb7So4+UG86xq6kYhhBV06gWI7sOd5ysi5S/xOErrbwTz9yi5qkKQ/VQn4UdPGJa+XVQUph5f1YF/bw24VpKyaV4c1MdKFQPsJrODbX2ipOkNkLnoNHrZGtBs9Yv6qMAb7nJy27XI7ev+25MH897kEXrHvPm3NSbrCcFBSMDqvs6ssKUDn3AP7/7wt5eXwVG+NQtegmfxoJ4gCi/Z75i9U1rkC0mMnk7ylJ4fRxabRP9vDvNfe9oG2dGAoGEtliLZH2bJQBaBkBNtA0DPst9664DcS6TDzaesxpetaA/aZaewLZ8sy5w/5dbsnc2Dy+7P1G5v/AcnIzbwm+25sxeNH83aWuU/bgCeAv5j959omdzZ25Bwcws6Cx56T7BgyiwkG58Av9qVjxeCRro+czOGZjx8/0Qr6Z//Jn5oA/S/+uftf+dqvzCsUXm3vv3o25S6z2X0G/+7lh7cffPeL2z/9Y39y+/SnfnR7++IDA2TzOi1lQwHdvjrAGW6temnrtB2HvloIWmrlTCWBVggzKFqNMAX8dYUVimbnEZ8RNAkNQV0slGDKKCCjcEqQkmBazgpgUigJiINVZGFUoqRvD//kmVoSjAgZXZ0TIb9kHkwAK5chAR0dAXM4wBY+DWoNrYKkrla3/t7bcYNwS3YPgErWRuOMt56ACwvhYJfshp1mAN6O9VGH+AAAIABJREFUKuU9dtT4KAif+3caGkRlRvXyaLqwM6YARRLl/BbBpPgIR1GUlfGu0Tb5UVy/1y+rD4u3ziBqtToz2bdIguZmQZV2/WDRcjaNgF9WxyWoLh/06jaBA3Tw6/wSfuFYpd2CM+0aPFHm8JKpyxHKGOqwIp+MH9KLLJYl/tc5WL6wjHXDaMsOi+xeSoIBSK2WKqib68pyYOyZU/XDgxXeAIJxoLxKatbIQYoOxdeJg+ND91yOZppZ8CtTdsZMYhxb3oEO7QyaDYAaaNfoaOIqy4TP0CFGSSuWgPauP6J1QH6dYmrslDpq3JLD2ctDWdCMjwBdxjg8bPncbQ7OQHZpV8klysrCovptD4IwBSr8NfA5AM0qZXmLXGPT+fqYKLOK7J+Avk/KCrdDP5gmRxgZ508Mg5ZIpE82AtItjCC/9z0nsYQu6TTd5YimckDYZ5AUwTrfOooOFGjfK3lyipXxBxvzKsAE6Oq5TElwAW5yxEydCyO0dYK+vGIcppHQXdsrkCUb0mK19b20sfNzHKd4RJvIOPSmnJEnCJyCw7TgIMWk39u0pmp8S9ny/RvJS55jFU8BHHioVZkEM3WwM9LlFKg3d6qxCGeMgZqjsMaBpfBecz3YKX7j3rkH0XlFMCu5C8+CKYv+wQ1sjisEQuOOQ22lD76bX1wqaKe7HzmoBE3gcpxU0VA2lwojy5udscNqXYIdbVXi9ajCHCcz5EAqARaKy1kaB4tAgX5iE0QbVjZi18ybJJyAKyU9jU/FSMtWoIj2STALCAD0+VtfL8JSM+D5eu+jn0AvIptimueoH0U42rPOecVFjM1YTatWQOH0urplnkdeZCcsrMftIyRe7R7ERoo9vu84TpW4S28jJvAjNwhrlESYsbGyRHCThLQdbfjg9rX4oASK94t6WsxLkrfLwI6CxuAkR00jD85BeaLKA72UDK3MVZ6DSfsWsShcutQ/wTVjuAMJ2d5pw1sLnAgwhjggkhjDDyVex3EmQI+qiz3lDzSCfqkm8oqWV+tWwlcBOf6D0h+2yxKDBhR+haIrLr3g08oySo0nKzY6yh5RBx+eUmQfXVFFjwYirKpdqa/qsycgrXWy70y23MS41EhbOC0PChJdicXbjlqyvOyYnHXLsgIi8d26IfvEd2rO82/lplXI8tsAR8+r8jG2h4eXf+uKlEpuq4WaAFJFZGyaD9EyRvsNG9X5lKt7VHOZGmdk2ws6Fj2Pe68q8Pa013OeFZCsk/mNAMZbSIcMzz8+CM287bYP6Y1IjLX0Hv0ov+XBkO175FgFF2JHRU/RyJV/8JO3JpDQ4UNiV9tI52fwlldfKetCL1qAij5JV71f3pWHMx6ZhXASfqzgcn9OFMEP17iiM6z85tBL0W5h6Hw/ZeEX0wdj9Fwsk5I5xiTf1gnd+9lSTPWHqzuhGTS1v88M8JlIXulNvvGjNN4Y1CWDaVuzZvqRc773afu504Zfvyt9M7LhU9iTLKGPJtW4h22bqa5xsi3JQmI+NxNTYb/Y22yLc8brBxVY0hE7b+hwXzOoLRbIuf9TWz4Q29UoN/NX+/PnnenoCuckXF+TOJhAf7a9cJg5fvDjaYdXHfMgW1h1HsIQVYkC5AW7OIE9U7q9m9gX31LxxyR95i0+fiW4E5YksrSQTDn5rKLLH8+CjZPCfo2wS/5VVyOTKJoEA6hGuHr82K/xfXy5ffpn/vh28l/85b9w/7Vf/dr27P3vbd/73nd12vrVoyfbB55+ZPvYW5/d/siPzB70T/2R7d1HH5pXxkymk3IDPA4yLtfTAxmnkdz7OdG4ZaTOnniF0LY7Cj2PyQkp4/lOSmeBsKNkZsosxCGusIq9krdkegNMMsQKkALwUWL3HfCifeGbuaoufUNl0MIYFayp17jSTg90UukMfQAuZEi0KjE3xW9YwU8BNs63DBBlMl2J7pxj6AzMHq/fc27hU5Y7zuQZKwPQaPrH8ZBQzR8ACDo0WyvQjNOq1QatDoFaFh5ldlnZzeER4hGTwIGZibDqU/Bb5czTvk9HdjmRTyxvaaInH8w0cTCEGjtAZfrUWIpfpX35ZCHQXwWmB2fboOZVVhzDy0e8p3AyvZTzJxN+LAlV5ltZ4CYIvDJhQUMOLS9y0FKhIZolgdSAVQYhMmOwtsO1DkHLNeaiPdEqu3Q/ddT2VZM68wbNSH30xHyXcUz2t3ulkD+fwE2W1HxdSS050AAyfM3KVOVKDomNrcqOoNscPkE3K2mD4YUuMXCWTQeS9dPJ3Op6HCz6694s9EWSgwMMj7lH6hiwFU1x2jwv71G2PGrLigbj1RwfkujVBJV9cTBI9J1+XEpp2kof5pUV8rFU0htHDdxJooZnDfCmdHmr5yVPcTyT+dDKgvyxvSwzrLczk+oLJ2T8mjxhAzQY+vSAS+1nn0SExhTHgDHUWVSSQ76F6erSdIiX4DX87u8ywjijWX0GAxrgdy4R6z0QZm5xiHTSPqypgyy5CB0Zu4JAO77sLXabxmWraJJcwViuUEKqdQatuMWhkqOTa0pEoONzhQyxFUl/G4ju200c1Mmj06q7HZtjUG9lsePlhAav96QcmyqSMWismoEPOdW4VUcrEF+OgJox9ododRF6i2SuCWGGrMDh8JimY0eyn7VNigvBcWl4bnqwGtt+wQ6GIwyx7eoqpqsCHMQpMOqWCSU8/fsxQKdPlcgVM5duVb48flVP4Zgi4yrP28cIjxzw2kkXJiw+HOYi2rgKpquJCjkF2bHnC9uTkIfkomECDMQPuh54qiQl44mjZj0c2Z/knbM+cUzVlm1pgy5TkuvBQeaCkx97q/L28Dxi6F+LL7QXHh+4ajIw1AoHvo2qurx4IDkA3zIX66r1eX8Vonmo/hRIp19hF981SIt9ig+yjyM/wQKNeZ8LIO2VWeR0x0Y5wM3x07Hmv8ILDaDxpTBYq2imZ4Qy/XiOsjHI4WC1Q9aulGZQusHjVBNDE5/NY74cVMW0kD1zIkM+FHqve405em0sCw3Y1NEFH2a6yzz62W2Rft4rynKYFexPG3PIsPo+BP7qoaIMb7H/67wdJ0O9IAEeezGkq3ZOyKV6krFVVqUz0uRUsZAMR9foq+FpiJCEl/ytyM/ZJK91vlKqwmqXepiw6Tdji38p3xQahi+SzRI4mCIMzbX6xesmxpqSWpBX/iv+i/wOB0Ty1cCQti19wnB7m1P7tv4tuDDvcuggfKHKs4eDaTEl23Bk+0Vb+jZt6Fv+QSootQLLwp+q23x+T7fdicEzR73CjTNyWt3F0MFK5C+xBf3otcEzOK2Ssj+dhCgr2lROSHZtb6RB6JMqK73oInpPPyxOWr7nYn3z+PiWfMuaCIJPb6XJFwci5V6dizB7m0n56vR7yW1Wsgn+s9DG7U1WPkxuZzzhUbf3KmaojJPE1ATtK1np+ddzcDVoFDfj6sKirrokbg7xVJTsVWzGWF51O5X8Cfu+SpjK4bAuOyaofbBfrIqWoaMOqJPq2xZorgES466HRzKOe67mXeQc+slYet7HkkdkQa8542C84a/exENMNOfAzFkHtE8Q7DcujS9NvmnwTHYWHEjSrjhtF8mYwCAIyM84o0dlNMY/nUWhhGzsYd9YEpB3ctZxb3132TRVvXDAs6tT9PzQTVXR8zuVz1/8+Z/ZTv7Lf/cr99/45q/Nu9yezUvWn02J+wtlA95+9N728Xc+v/34BOg//Kkvb+8+/tD2mBPzUNRm5lS/5WylXuVi8bbCyhBB+ShzhFuBWRkRIx65WIJs32B3rAs+FiNmE0bGgdBKAAzRARS7KbCg1emYXgHAgMHqs8auRpM2v99Su+eCojVazJMj1bp65m2p9v2ApEqk3JuMqF9V+P/zgXZJ5wMcMJkMNo5ZgM2BZfaeTKfKGqOEUUCDK8pgB0CGHOXRaj/CSH7V5aaNhcnQqhydsVKWKSHcjYHAWKtVYlACdAwBVi0EPM5M/PH8pd9avVlWI3fWKGflJeSTwgpk7Lzy6T5wK59XzZify4Jcvt/mRTMjkpTJdMMKOFBxsiCZW2WhrSAuyfF1nP3lWEFdaCO+QCDLgzLYOAAStchFHJ2WVfpQlbo1h/tKgYIbHKNvgFtjjDOoudt46uCe7KXCEVwHd9FWnUBJgmlmOza00HsZvdq0yjcTFNZRFpRwL4vIMkJ7tl/OnRxzA06TFSY4Kx2usnCnrt6Q8YUWGAkyvgCzVozMEwXpciqRJ+TETgufnkrrIZmuPfdAN9DEeKBeCaijR5teMWFY9kk9Jw3rsPqvJmXA/VffJ+CAmeKrrsXoCsDjkIu/0CY6JiPtOSp5kt+RkfX6vWlvZYgF8J6EE9YOkvn0YEK9Co85YiBCcx6xAZx+B8ADt3EEPMc6vaWRaGkvw3PN7zst0/58J7pFTvfEqY2sRhK55leww6l3Y4HkY9E5zhfXpGrmrxMGlkEnWZ2884eAi/6TfJK85TsFP/vHgRwy5wAdLNAhYNC9AXocfm8L8jAffIrTgp9dbks3Xcozml7G2WSy9xseWnwT/ngm2FObtBLRnq5nLT2w3ewZLEu/kGHlq5yUbEJxJZ2bQdMUMocOXEGJaW9RV9bA/YGbc1VO7cHpXNsyEtBo9Vw8TNuZrhxmVgkjE4tUdbI0nTgsHJJTZyXt+J9Dm+WBCI2eJrkTfHb1XVa85l8OwNJpzshLMKrN2QwZ+4XXlBl3DvJNQ+8E8j6zQYxIkJWR1a+2BTzgqeVX+pREKoMzXWtfsvq6EoVHGu5JU0bTRKFMQOYSRLV8FMcPYmo+HsQWOy0Ms1A1sWb62IZrJVfmsO5v2g78mn6eg3BGCf25KGd/ly1kQosc/fQrAbUvetvNdKWFk+DGYfwen1eHNRfdL85kCqFLKuYkEwoYOYjLQdp6qw6OLjZRQaYDdPGBn1M6Xv6I3pAZXgvYzetbDmbSKiT0Mhkt075HGGzKzn/5+QAQaurgaCOvyJ1KwxedQvelAwwQPJxnKbHO+MX7JKpK9yVbtBUM3YMqS2c//gkstf6rV5U077LhO/KJ3GqBQaXfHrHpUH/N2zciGZaLhZmV5x2DXCpO4gWRtp3nj+x0AhZvL9PSdPDFAt2tN00U8ZwPZvXKZvX9mDRpwkdDiq8zy9Kx0akGKOZo4pGzucZbMU6Dcw+IuGTEY3eciryaLpKGB/FA5ENYFwLzjGwic92v6XuJPquoQ5NJfHjbQ5Je9MRzK3CY+1UyncXNCtWyIelSSoL8sITuaqj9Y2xdXjbEgvfBRy06yg22H8bX9tvNa86iuMA3iGPl6g7rseYHvZZ/6e0C3fZXaBJpbOpWPNAD64pzpqL7l94jFjOGVy9dwn452yFUAs/XyqbRZnmtJ7V04IpGvsLWxT+bC12Y89hCncgoE5b8aZz8D5/P/SMj8nmL0bHZFqsyJH4j/kYS7vWjum2Kth3HgFOU6RtznVTxmFmIQ3+/9Bd+clbQJ0D/5gToL14+315OGcDzqbGHWG9Pifs/9s7nti9/7qe2z/zgl7cPvvXe9mTeL3cqjzJMGQcZUNMK+tELWoIT0DXVYwME/+HSwVhUlhrorf0zC+IihbvRkumciXJoDrO9IGjrKk4DsTglzXCvckO1ZiY8oHEuN/sYpLYwR6iXkcvQ1GYE71C1Lr7JGBX0dGAOTel/6fcIdvlOncdYWOOWwhaOa4StIAQHHkCdNx1+IdBNhl5KlNX3uU8KVmHU74CF+xdXQzdlAhOYiTRHYyqHH4GO8sd4iCxR7DeduwUaNcy0H6ATXQP+0juSB+lPc1Mw05Ubj6UOjkt6LOy+b1+1UxKCwFsOH459g46HRlP9sec2dDzuV7dT5ACsZYqtbhBdAq69T7Yi5xZ0zzKrFEfIPGYu93J05pmkiuYO/02X42qDFPka4FHn3x+AHDqSTBQYAya2UzaK+nElMEj8WJ+UCBDdk2RS8G6eKzagFD7JGicydl1d+ygDsnLYkDEZnci8+EUP5uPiv4bW5EC9vn1CzfCy90wJF2Uwd3u0MsnQLHLYrPfCHhlI607xVQFKgosVbHItxFu6Jp1MhlwGxPrpALbJAZfdl38+tDHfJ+FUfa0cQJl10mmcf8/LwYO2teghO6K6vxfy+/Kb8k2dVd2cFQUbVMg+/2udVayhD4cMbsVgrP3s7t1JJO0ZcnUE42+pLte8YmJ+Mx4Fs6JRA25vxelBgHrlIrKuoHrvv1Uqa4oZozHWyU8+PhfBuq0KG4aoebgMsNurFk4dhWUZ190WeJLGkl7dA2ARJ7fA4P6461KNdrvRqocCpbl9OV27bbTzbP0ujfh2x7bqW+2meaDfkHF+KpYLOOMwyQm2Hej5HVUUJxezl7kyJgzQ1HfntpjM5QdOflZpNOZgCF1r1fRAE+zYARsltcihKqIPiKHHkCW/4tKrnsbatl88utYBjg7EOr/yrD5B6bEqG6Isx2BHMih8QO+82l4IS85u4W4dSDl9JJHkX7haoHKovgysu+wI1kKf0K+w239XcK3H3ZMkexcv66uH6v4ShFYWV7BQHAQzVE0UU6wzAhwQ99MgaPc1gqHCsQToml84Rbfot5Kq4V/lOY06J+vvlcTDlwC7FMC6HTv+eZWTJsZEHQA2YaUzSOK0ashxxpuAlW8T+6rArSvoslV2dK0f8x9tuebYF8ofMdOBfBNwDjRyACJ8CMZYbqB99JhHSXTFnolnIa2CSfwIlfbuPoZNnJOkmnUGuR9e6Ou67yCXTmraT6KTtcgRmu8czcPzzzpjZiVCgjGxU2qzNl902um9D9BzFBbBt+yrze3qva6sKIvsRUZdIRZyIw7oSmUkDx1Xxwsa+6p17Eeeoy2dNRA9cFOlpO1MfSTpk+bnLT06iyH7fFWZx2o685nKnIuxf+wuF4oedMyaaGVayaMkuDKNdL/7D0sXCyMH3bePdrAnmdf9VMP5YFZTZ22JCLECJ8x+vjS22teyDZfOKJjcKTLr3aHNGwJiocuN6W+tWPr30rG/SHrnv0cTFHN42r7wtbfdWEnVJmCjGnLF51rEYsRrgY6BB+mEF9zfOVhf6uOlsal88Ar68VVtx+SHqppoSLlT9pO7qmKd9cTE1oITw5vx0WUWOqSLmur80fAsE6qkEVGg/z5nLfYEY8TVklVbqWwj3GaSoweO1CfF3mirbn2uJG1U2TavVP/Mz31uO/nP/50/f/9r3/hVlQC8nOD8+ZysiOP7gccf3X7g7c9vX/zsH5sA/ccUoD+9eqwSd4IfrW7esZ91mEYWCLCMEFp1uMEZjBo3OyzawR6sTFaO+VX3XOE6DxbtHsBPiGJqVHi8Dyur2RFAKWscRDWXZo8BNJfCl6PdMgbs8uI+BdBRMs3BYNnSX3cbRat1CGrZL4Vr3Q/m9vT1WkGaa2m/dtTOfgQnjkDcsZXh6d5xO/ZzLwBOO1mJquNsRfbrZuzM2li6JBBgcPZJWbABLQXoEsJpN4Gxg38Lr1cjk8mnHQlxiNx/fIs/O4aY1hiKlJmLOnJ2DqBMXwQA0F3lnWmqDsahXdmygyFVe0Yade3SddOy+2aPSQffEyAOX8RbnFg3tia2jGMMpqsTduDl3jo3om9+d3lWgrojmRi8+O6LdKXX2NBundSqQuTQ5YBzs/bG+Ef7RAewfgDEcYwa+Ov+yFaczO5PpX8SsPhgCpg0KPOl4NzVKTuAABlAXFZbDhysBrgYvwK6iMFRLniaZwuEHZct0a4f2fqyVnanue8P0O2IORh3J3tyrAKYf4UNNq4mlfnWAH1NPDpoEcg9yAjlVOztNfSkX9PLvxvNl6Ob6+JRkmlleIMBtd9EG7xKJhvp8msXreMtiXdw8VDp9gAkeNXAR3NtZj5MlfdeYYQ/Xrm0ztq5dvPJaPdeZD+HV/rcC6+GO6B2VQROh+Rk/ug9qQqGnBBZc8iYND/GEuNeh9DO7FxXgrN/68QDIdMeZWqUMTMVObAYRwcEmqVw0zzf7UWZfqRfsDt88uqOMdk/lE7Gmh4K1fK88nLdF2PbIHJ/PD/Jad3btA5b/iSTfA2/srWBO3s4qVpIgN5E0t4S30nKls0SByPv9sc81+OeYD1PHkFBZp1Jr8xWxFxhUX3xa6R08OVBBoXZopn1z69CLP2s02WlfgzEOOZzEKLDrWRvjftdSexrXLXwsSvu/rOaj0MUzKlTzP0+ZCmOIdIQmsg0620nIb6aP+jVGzpm+lm+tVKUhIOTlp7/qlI6YEyx4IgJNlO22fbzDoJW3RVpIsNUjDUZzTAYayNDBdLgi3HnOA6ClAdViZU3W4/mxZYdKon9b/XEq0j1pWqUF3mChVUWXlsopzrJtyYzlixKzjrn8pwLkaFWcCQZp+Bl2bUdY9d2PnxoVVTt/drdr/xXKn3NNioYsZwu9tm6lN6HozrRv+ylOOSoQhCjYMn0iYnQvz4p2yvE+gBNkrcGqiktB970Sq4HEJPnoouRK/VFJdbRrlY2JN8ejy4Fyz22rnbys4ejfbHZztfxexq9wRhRH1SzJJkbdS5GSQaWQNC/h67tFUkyKDciWyCiL1ySHqRE3TTz2UJN5ujsiPJS/htNZ8HIliF+6IHM6IfsjIMfeMTrcHuQnl4jN0Ext+BnUbZ+Xmf/DUyu70bVK+98VzWSdOEI3MWTXU/AGXPZ/kUobtGteifIvp9FRfZ2dzW4Zw4YPYvjR7GPrMXPadBb3jt4F6HVwkFbPYyKJF8PrfS6usiyh2a/cE/euW+dn09hpxZobHN7+Ju36SQ2wPYvX14UMD4fP+v36NEbZc3WozforLcfOMZjbrK/qsQ0lVRBA/8ki97KgH+mLV15zWD50AWvE7YKzl9IpRiIk/mphKRFfBGZg/iQw39W4jX0+WsTd/C31Yif3bdvJMme80/s/8TXl2rnIO8sHqppcILy/6uT7eM/+8k5JO4X/s37b/1f39Be5hdzYt0fTpn7+enl9uG3P7594t0vbD/ymX9q+/QPfmn70NMPzwr67F+V00xkQFfsneF0QQSxZV0xJBGTGms5XdATpWQQYZLKpY4rSi2FzxqRnwsImvZuI+3rFQt6DcShNFiCaCETn1tSAP9q6CIwq603ZGjJU/EqQe8Cx7lBDiEOSA2k2rbALEVk7CtAD3cXHewk8LXs8wpOggFSQo+k89AvBWxdHxDTuQAJDhAejTUlnzjO2gOKMD0M0CVTFU7uo2mcW+7FCdBqyD4ABzsB7WOZ7sGJ2w1EhTfPH0jyYL+tjA3An9WIKkQZEGen4L6cBYYCGDVQjsPWVS/BSGTp+2SMWWT/l8gpB6LyEsetPO04Iq9LTA6GTGBWeYoELIOdTGn3x+v5tp2xOzHjBnTgBSdOYoiTVLAJmBsUnwWkELs93tn7BzQO8kd5ueQHOZsHfOgIAOS9oRpnaNeVIX7dT9TlYYzim1UcyFgcHHWw43DVYGctqyYCDL96RYFIJ2wn3iWz9OttBisACp3rrDfxZjDxWQzS74OXeAzQRWuJ8e5F6FY5SyabxlvjrMMT80VlKjji+VhOtI/oVeakwBkDUTmwnqx9zOojPE4SbjGM8StmkesRhyOBcZMnPN9DIGdMLkP03k0Z5KOsJtBRsBBjIOwonw++hY1ZjDEziNExXSI36+fQSyCRm3kgtOx86oAufKYSg8P+Zow9UdaOVmwARq0OOfrAN6FHR+H5BVehkfAtzw8tlPjijmydcKmdgy3Tx7x/EHQdGODrO0AVa0KCCMl6wA6I2kUEw9cCQ+FyOcrGt1V9dcCKI50Vk0ov4iBN5wrQtd0l04/slLaedIV4H9/xJ3dn+hxxh8udtjHA9GkZn9pYN+1yUjVqshMQWuaPR7ghOOXtBdbNJhDjBGSItu3SqwT1SvSXHQce6gE5aDhOb+jygVHe0hUnS7ZDg7Is6McI38rUm2HF8CUjR3BYhOrQkFHjsV8fGB0MNrTqa2FmhmAZNF2POqvqL53ZE7IAWci0dDV2VLyw89aD0Wo0mhxXmwuj3Fbn5WRMBvBgbuFzsOKBv7FEQMJhOYYNaii05atUQzRZpaHO/+SODg/8jvKUveZgOA/U8tbD7XpgmnBLelCCuNrGq9le2ZIzXDrSRvwEYQcBqYcbtY4PWR3jctRGuDs3mofe8tcAnZJvnZBNyalWxBwktrKj+rESPSGvaYhwdBk5vFO5V/U1GIVtwZkuFpdn4XdQ2Lxk/KqYM7b340QB/4VPvnvx3/TagwsnhHyAlyt7jjYkz625VIeKn8Hi2hHZ1tirQKj9dQSgoOj5L+hLclHiyF8cGXQWWck2VdrwFs686o2VTqYpTG9wZh/EBwh63PZx0q+SzfVbnLRhi6bfU59qpZVA9DyNk5l8gMgYvwfo+2JQcCsTW75JaSrsC78ijN2u6TYYtauQe87TwnYLl/VXU6Oh1mS7UQWs8qf8tZOF0MdbcPgoxYmeRJXUHm7L/E7AqXMehL+WbT9nWtR2yHcRP5Jkn/v0qrCcr6NKU51F5We0VlvWR0zbtGkUf016azsdxeqgV3LHF1wlt+YKi3II87IfTXIk7tObEWZq2lZIjFqZERQ58esT402Y+qDLt8r2KeWYElibN1wIrmYBsVPFFrA12XvNBRSaWw8obWK1CUtks0nd0t2cnutXp9vH/9Uf3E7+46/86/e/+Xd+Q4Hesxfvb9/5g+/M4M+3j77zie3jH/zC9oXP/NHt0x//0Tk0jhJ39qCzWk75AGwkQPcmf87502fhD4MDqJkNtwRwGfjROQ5B9SjMSzm1w1blg0MTwchqX4xBvCc4P5tT+fjq9RwKoncZy5D7FQx8vLcvfmWc6NqoA87p3iWj9K5xekJqMxnHCk2ZbmHcgXf3fHgwYwYQ5NHZIbVCuf0KtrPe0QxFzmlX91oBa9hVhgUpldXZV+a52NKeKo72V62Mmw9QaWJAmf6AlQoRyGLyQ4ErTqH6gh5dqV7lUQxs31up3S9MAAAgAElEQVRUWq3ywxLLDN4DhfnVh9hBox1cd4fTwn2UqRUAiRjhT+SG+44lWx0rLR/LxJcjlvEIfKKMvhSnsiCfMXcsxi+bgwZrK9MqpQyvFBgChnvw+KDv0CX4tTtS059eISXD5JJTl8i6fEjySdvNUgrcjuJnYGhfu8O1y7JlJIA8j3bfWXBeYqdM5f6wpu/yq6OsixiLhz30r8DUr7T3fF7lxu96xYTmFd6XvqVrjR2ByeGaE2n5RHf8olnobNzYA/PeaMLUqbIOrVYy9ui3nIxEQrv3ZmdfTj7kyIFXdEuAzlYAaCX+FNc8jrWXuoa4tHwQoDswElHDT1enmDYea8dnfvW93mSFORhyOQVH2mhQ5gy453bkwR3Uy2M0bY70epNGfWbXuRWgz2M+oNGYY0eN1wb57AYwQHtGeS2WEjxJ4sYZbeJSsphkoMlxXLHfXZY1SvED2tEmmKVHPNkZg/aZsWqPsyYeLS3bBWifdJtNkGgnb63+HGF93XmkmYT0QMOdXlVN2WnppPVZU8xKxAOh7j2+Q05kA0o71T4kTa9T0yqq+7a+S2AWf838YIMG4O+P9s5nRJjf3aPcV9ZllHEy/FsP+2nZ7z864XEAo9Vl3GfkQxBZzNhlrYnztQ3CUKr+WxJYR1Ilof2shFMqAmIb9Chqma0Oaz78IGyfNh7YNnh+CGLWEDsfX7A47Jih5hLcmUjGXi9MxJ5A9rRXX3QlErC/0pUIRtpW8i3PGcszZv3kLxqYq58kjTxvY2yF4ZhA9pg8Bz1P30loHfszGZ3o2J/xw31NU22dX2UIDnueDSqqm8dzLXqeTlqV3tcPWFslgkkP3nQRv3C9sknetzF3fcTPJgISmInN1U8HdPpEbrxlrj6Qsfzhlpn9gN7eh/yuijz5RMYis9/8p5JLicHVt3HFfqvv64Ff+HD6VB7VUCgEZqPv0z7WX28gyJc6Xfygbi4CsI7XdHTutn3he/zq70tKFU8Ww00321VIxunnropaCabqYv0dDcmJl8oT3T4oyxce2Z+v+bMPa9rV1qv6Zq6r6jMVoZpfFwtivLqYsDwExIKglzFle0YTdUsX1L/9Z79gYveH6iesOYiNxgvkbZfTEP+g2zxrNzAyFSKY52lHaoQezb28L1vbJrwyXRxYGr/slP18i4Y7rB/le4kN9IPovutusTdCdZAXmtEj2l4SeZMN2bEmUDO5pry3XP6Mz8Ii9jI+kzBpZUjmlvb6T/lcvmucHZLgLPTVA9XpCjJ7tTlnZvcbses6m+Aga7Id0FgJGMuTVs+n7cZCMIfkgk7jomw+SX21hB1UMI6tS+wIZZfOVi09Vm//2Om9AvRuky1N8RWbqGbBomXtTDO8atXP8svnlPgf+NkfmgD9z//c/W/91t9FUnRI3D/4zu+rJPC9tz+xffK9L24/+tmfnAD9i3NI3Af13je9YoTze1eADgEg02EVawlVGB2GK8gFQCVk+TwwthCjDPLojwG6vyln/byVl3KknAApRz2n5oU5ZEC/z1gVjDQYO5MV/ToglZOWOXqP2RLlvbz9DWH0r7lPylpDjYOa2QfAjk6TFJg/CmC86uTSX7e4HCkEJnscmshYQ8CJ099khbIC0/nhtfRwNO85d58qC4pwK0OOIgZ0a0ik+MfAXTSDIxgxsNQDXYC5aOUp2KGo8u1gVZqucv+A9E63739mrRpMu2ufWBwNnut7eQX4OEENlPk9XPBBZw4uFtAcxqgf89yDsSVz5jLGgKGcIgOKyDD/a0n7wxXe8HKXkIhLDbtPlZUEZaxdVbbhd0BNJUudNDm9JrA1Jq/6shRaDhfkScyddS5P3lzNEehVvqCBJmQA8+P7s7XCDSQ88EqjA4Ylt3lWMkIb4bPLkzJODKBOl47BcoZCRt9zYOyMaa4QfMUh0VdpY3c8FmlNg4UtoW3ksyJpAxgrJ1on8KdXJRb2g8GsCw8oqwC0gdTKLjfYK0mCM4sjsgehrcazGyo7K8UOhpYzJeZ+3gFK8HuYknvoheCbnaDoaeSytGr7pk2pu+NWWdkk4rqvzhjjYdUJeaLyYR7FMFIWyqoaVeLgs1Ys5FS96cR6wCTIVpKDK+BeGPbAWVjQO9/OwR86TwKKlVeTVfcqjI2rX/MIo/xgyZsocRdTYe5B/vLe7v0ZoXI5uP9bUjEcdZk2tMq1J1/Ur1Yo9jaa6Nz5Z0x3YOaAWSt6yQ7JgVU8nW06SUjpWsr+HuCMBUfPu406H+FzdE/yITvjackexA5UnJZsxFbomeBNg/xFFOHhbrMcoDj4NB3md3Q3Mt97RV8lWiIjx4Skqp3Mawe+YII4H6d0xycPjLmHHaGZj7Y5jEvGzpiLrex5CBqoswj+tJ0AqMZdNe1YmHFXyzLG5SuAIUlWqbnYyL4K1XSZcQhrNKPli2SInogAnsST8WElkuVQFyOw2XNrAz3k0pTf3ZbighmoZx+cb5HxCTMOttpAlARGxqxbgl/r3soOvGTlOfJnHGKOdub7Ma466JSjv77Z5yG6xS77NZoa+f5mg6yOiY7aRlb9MfOW3ndO0CvMxZZ6TaTKnNWvBPKyecI7TJLHKMe/h1DS1yFhvgLM2MgeICx+SR/3wLWJl5u+fUF+n4uS5VvMv5KrYCfYAOavxIRuPPJpfoa0JKyRg7zaULK4RJ+5zO8KXCvjCdDqix+ZINkzlvOmJp0k9qDP3XaY1uKkXq3pZIGxdS08RafM63x/sHPCLLdwKPipb+SHa5dLzx7IVV9PL2AfuVMV3oPESZNpxbh5BZcqULNt4BiLaGjmlaQFMhxkojmVXVyjh5A/c25ywGQI3qwELT7c2PFbzmexPEtapbvW2z1sts+3Xusq/EHWrTeilnDGo+F1bK0iUpsms3HjqGGZk64V34Ql1U9wyQ3cUdWIDGQ7GyP0eQHGbX868ADP2hp70F8J0+7XOIecOQebZAuijia/ZYLV6ZVwTTl6aab1h9oOtrzhf3NyOomd+c5vD3JVKucQ6PP+HDw3VZDavy6f2VsTeBe6V/adBDDEeQzFEsvazD+kqzy7ohtCzRfFUoVSXbTwmw30mrwuRh+25ZxTdk+7s4L+Az/76e3kP/3Kz9//5v/zm2rg+aygf3detcY8P/T449sPfuRHtx/74Z/efugTX9jeuXp7uzqdl9Jr7yGjYgJ5lRrOktOo/sCAxSzmWUcKQQFgDwbjCB4IWW2RLI0F9qgMK4NXkdD3OQxoOcMGQmWjYvwsP+H6QZYqWEv5uKCy9cibHCAT/EEgI4NxEH4xsYJ6+DfKpC+T4joqnkbU7HkETIZYmeCAOkNp8CfHLSCreez3aMwKOJ09t1OcPek4fn2xu4BnnlNcZPBLWOLsX1bQvQ+a4VloBCI4czi9xkDxSO8IVWxjAtg5MQ0WwB15fuRDePEm7Wro+LqHrZmF5qv3RhqUFND5y/3ABfSjc2eMUYKjDMg5IzhItqyZQI39MEatxCnJk+vCGBses8xOlWXVQZSDlgbU0tBFE+NhaLUcgxohDXwJkEHlXKDCrTrML06FaVyhY5LmR9B9/26NewdV0y40bBNJCMlpjlzYj9P/rI+ZN92wr3ElcTBeR/8Xs3EA+jX59FleIvt9PZl4jcyq4sU0cPljnLc4OEoesCdIq6PIorPf9Sf981yPWHj6JY4aNX+sJsvBdZlNaC8dYaUSteUE2Xkmhy4xFz2nPXmhDbJwfG3QKv/KINAVOU/FMxO9Oq65LocfAWtw5XvsbLgv46cQ1iJwkNUd4WaMegc1B7r1qp0IPZLnRKsmArkuLLL+LkdBz/hBbU1Sib2AQv/6/8g/epYyO3klfq+uXuuF3B54all2uzqhPCvwPsXXY+QHyNsAseOW7uhg0mDfCmqdFFNmn0QBckQgK9wLmQy4nWJoIYU2lsUB6eq19kQK/xkO/e2rBXZOLAMN8DXqOkqQQMsk8MtB8ppZaGra215pzySYMWOgvLMltzCC7LxIuhMhusF0PD+/eaAM3ks/W5HR19KYFtA8gbsO8/HINCXaaxUH41sT8sowfx6UTNbBY5yxT8sRlBD5GTnS63AXO509zLMBbQN0nxuS03r1ek0P0Dib7TmgKNNtQke/i+gig+01Op0xczE2qpMVDkQ9tDK/eFf9dJBZ3ROdmRJzWUoiJXIVTxvDpkpX/PaGpaO1yxlm2akgsGas9tMiaSc4/JB+yu44gdPEwEFlJAMqHQ801RYv4TvgwZE3FiKD+D86QLd/VvmpqNnB7whsB2sLjVK0Z4looF0eWR19l7F4b6sy0e/cs1vCLjxYHUM+kF055MGFAy56TrZ5FVdNF1tafiqZYJlqjkZBUOSrQ6vPJOxTMIxcZezhmWRJmG+BYu6aZWVMQY3l0e8A1w2eg7DUemPs9zZFEpnsn/aNkU81A77weyMlTXZ07SB3YpopaKCj34wN0k1/62T7HaZ8t3wBofH8Rua1XM2cq1O6z0aVVyMqWa2KMNur6kBL2jsaHZ6bKTnJaF61/NgVNNa5ZehlTyxTIhtjYlU3wTltHBPCq29VH9E2z8yrOSfL7jfxGPdqV+3cFgMivZpfwQLWiem+60CzviVAvIs9O/pN3NqthnorkEQ+fv3ivQifAJBEMxDD4pr1f1UE0HUHIP+ifKoPaR+5eiasjC+iNhKrLl5Q+bEcuYP24oOFR6vCzODkQB3edHdSSVT/qXMLRvjgNvsNyx9Z4hElCF5IEhg//M874GV/lm/pMYgPtQMsuM79euPUfKfX96bkXa/90+t7Z5bPJ+HEGxeojKbiTrSjI+YzP+MLxOZ7FT3KHZ3QrWuu/llnBUFYsFl6BbOzWEBcMPNmDIpheoy8ZNUc4O0PcOv0EXvQPz170P/t2YP+rW9sr169nJe8zwvd766l2G9ffGT7xIe+uH2ZAP2TX5hT3d/aHs3hcUrgSUGZTVYejwG6CO1shwHKp20aeGEmE8hEa8zi2DsjZmE3GCCLC1WWDCm7qMtB0jq+XBI4Gzj2zH8BIk1Eq5PY91x2vfPqsc9O8EFZypQ0Sx5NNGbouh/dQUu/VmH5svO0SO4gw1My9P6sQ590srKTDnCur/5iQFIOXec/r0r5BP1RXjU97XEaLbfgeNG99ungJKPkXIizDCjn0LgaUHGWh+SoAlyAmfd/eIx5FQdOpRzro3KEKCaHlYZLcWAL9DqAiccOwRqPtKyvgrsHzjW4zC+8QqgVnR/5EufgwOau5jMGrfbVYWiwEAdc/E0gXue1KxGSRmWyI1fzu7GpIGMHWwH5IRHQU0pjcaLNplEd2JVZjZwfHRQZOvg/9KcsR46iHLMofpMzB8Ox9EeGIyse4rnLftdrvPqKIIQsQYb55eeWUEqX+FX/Uzt10uskSvZaOgjbExC1ZBz9cslxHaQox8FouxPrqRzP8ifJq1USCqxMuRPnJKzS/MhEwd4Zdjuw+sTBiFAK6L13LaqU4Jd5S8ylPjYCvMaOsR0PGrTREDEcnMUBqW5Ih9b2mlRD4DjUZmpQO04VLCx31jOuNUm1B+gOFvoKRd2TvbBp8UGAIRmTp1nDEuCTM2b5tR7uunR0ICX/okPFIQZLgUTmDRYHLzynYIIcKJ/U3JX+Y/BFv7ZPh0MtwZdgxoL3YuaRdtiVM2PpA56HT3q/7fCeShRtreBdp2Zp/sYRCy77u2BmV6zUVvZEKpNjp0qvborOHJ3OBiSeUeUHHprmDtzyMz/FoZeuxX6h4+gXssvWAamcyv+HxtqPWb2ngbyi0EOzHVDiJDYAHkt3wjxshwLx2FWC3LzpQ4mlODfrdTCRwaMdZR4rOEkAYQ9y/sLLBI6LKZKdjsm4vbY1MWYCdI3HiRU+dVzXIVvIiWyOxy3d6vkZi/9FUwmQ7mtbsj1yUxq8mCQLf2kxqyf5YvHG8uX29A9/aSYB6I7D+c7ED2A6YYdN9+nGnl8TMpKE+hywiHF2hktOPV/jgn0Cqo7Wu95Fv8xE5G0LTu412JYXICExXdYqXXkYP80DZPjBiSpXCdpxdZyJYpeMCE6MKQ50yv/Skbl44vLhfITHuJEol591W+F1bX34zPf7IVV+aw8N+HWjrk7UKxwlU07Wl21HvzDDN00Cbt5OZvtqH8t6c9wG4kRck0Mlyh6gmVwhsuTEwcUiXwLA6oee5PtuGY7o2iwGtxmigkr2wc81yYFEIeP3z4Zy09e4D//tn3ClfBH/kSHZeeSx/kSSb/Fpjjq87EASH044Rp5pp3ZWumk7J9yd/3pg8SKC7ueL2JS4s01s9ZA/7ndJMwGWV8K9ddMJABr3vcEXsJoEBtW0c0nvzWauTQ7wG+ROsLi+E3Z5EE0sGeNyGnl0Z73xSHLtj2kXn2nxzjyQfCcWKQQ3sNbog9Wns1IqqVmVmh1HO7FN9GnApq9jhuJZExqmZ+HHMrDzOoJgmQlESS7qbnRS1sj8Z7kRHsxcFvYHI+jDCx3mk8vIg+VxREWDzi2DcEDfGMC8XPIe+x8KW5Y5tJo/WYhhkk7E7vjoZIh9dKReAb3ioLzC7NZb8fANwGO/tni+VnjnoJg302hOjCiJJuvJ/FmYZhKKRAsjdn+iSZ4m3qonrYThUfmvemMIeuBna2daQXcyh8R94mf/cR8S9/Wvf3V7f1bPVRtPhm4yNY9O3t4+9u7nty995ie3z3zyS9s7jz6go/bPB0xxOuR0k35hNnISjln4KHCyBz2cSgJDlisMFaGZawSgQhSSWMHFhSX9D1YqltIvlbFwi0UJtppRXyeaShui1FFe63uuFbwol6TrZHtotaePPihZq9MjpT44gmGixggTauxoSMa6io4AH40sHc3f6V8O1dzq9ydj1Hy4hcYaAdEp7Xi6BE4yfNbSBo/2NmJootQKPGLEXFYJHyyEagMnGwdbHkgzZAaEGgtW0XVC4qU1u8FSAaBAYVBEXqKEDG85OHEw5Hl6fmorJd4O0BMA6Hm+jWHwaCw7KCb/HErneqdXH2pMzHspXYyKTjtdrxNzkO5g26CzDNF6zqmjOjmaX/o9lo3bwE+/gLhYEgSs87MPUDPR90djdzCA5YHKYmg2Rt8B+F6Orob6kThnH56oNvOJLNPP0aFvAskGpc6J5VNyIX1JwJjT6M2HyMhyQux4ea6RayVh5ld0fvEu+lydmK9Vjhxw94pl7ul8jnRUmaOTIWtcR4dBmdtmpDP3BYI4WXbGlqHFAYrR9+ph5CVJKmggZ6Fl/3qfa3SqCYtpX+9Jx5GKfDxYNV5JutWrJbhoLxlwH75eJzXOVFYWlODklGGJi3HgiJvChSRC6oTtzp4k0cmJGjtLn9qygdsdTD+XMrYMdjnjTbqxYkWzcVZEV1WODC0ocYX1a07FcU3WPRebUBUZ54NsxHlTxlAOPI3ZZrR6x8PKSoXEzKsM8EwrxnEUK0Zmzm5QNYbiJUm8BKsyOwS5HXvL9aoLue5JRLIz9p2lBxmmveCK9C/8XONi7DkUcu0xD+18Un5wJHLklT+8iwO/G4DBX5U/7jbLia8IC45KE7MZS+1Jkzb63Rf3IQqjdnoZN4IPZZtvsN0GH+jz2MQBUyNS4p9ETTpq/JXlz706XVdBk5pc/NLAFLTaY9B3kQd/hzzV3kTf49c2cJJdEn2DfeHn0q20Zx9lfglt6clJxD1ZK6FssCuZZf4e074VwDTVuCRkJnHf9d5ERcdt3KSb7P2FRjpzw/5WdXzts16BemwPY4iDXJ2jOb13mZOY3zjJu0noh3y3jHu4xa/95z1AZ2753uz3XCNB+uagf0vGKmHh72LkYRWzbcnPGLmgFPRce2AboJMIdWKiATpVZ4amGigTewWr8U81rIOjvBLPHVdsh8pmhZumxfd9luJHLx6WlFluZVtMkR5ItdubYH4qLmoy1qFnDD/yUnlXF/B88cZtaw/8A14dhrxsJWK12/u1mBGZL+O6uq5tZfiGopVnL/WOHRJrM+j7G0tKt9/Yt+He3a65SsAyogZ1D1juy2oKn1dJk1nsJahZMmE9UoVbHlf8MrS7GRmhpNkLWw1ky7DileWSgjneWLT0Hew6JNQsQEI5YwxzD+OXXh3wbdmC0hAalFgHgWk17skjMANfxr6ctGrJlseoQ9dYPDj3RB0Qh/6NHUIvBcrsaYdP6Xvppx5x+8vvKHkOtqs518zYftl0zevoFFgefSl6EU0Sc6mKKFgeTBZ5glX0r/U52uBPdEZiIZaaDktHRQu2dsyqM30cMl7y3StvtWMJunVOwVzzNtaD/STeEU2nH+ytFmCnX3ZVSg6KFbsfprhI26XDQDGl1Kl9SfJaGBb9F7v6sxNKllUv5okbBxzp4ZOSy57i/ldnBf1rX/vq9uLFnN7+6FLL75yQd7Y93X7gg5/ZvvCpec3aD/z49t5bH92eXF6OQ0Vmn1UEFJUD4liNst7oIHfLWIi/fqmU2wFlwmHsGqEyWwBGpD2G5rgykWWfo5irM5Wi9sAmGBCjczdKitMsgsT5UfvKRuEQeT+PMmHK0hlQ6ig4Q45C7K/IWuVTWfmmlAdHkAb1GpiApS11odhgUt5rfFF02tOhYAgTyQtWdOd2v17HtLADGXvXwBLHmfZpVyvdFoSceGHjq735WX1AyVNKhAjKGY+gaajSZqmv/0SBqtB1VHv4mk4Zj8LyaF+xJAVMWx7gDqALGaTTQl89p5OKwT7AlHnGF9PCVRS7hye07KQg0ORNjepyvIrapqD5UsUMGJW2AlUUHGAQrbPiEYPRoGHpZwxtEzIKEAAmGhTYwhNOtUxSIkZC5FDAuvMVA5QRmpflL6vdykbvwYeUvYCUhIG6jDO+QF8JEByJPehpjiuRnZDhmHywrNpQqVRTU8EZTCZYVtPAKTmScaWDvO8yDmTLl2iNR1Q+dtDByoSnudNMpe05GG5fIZOAF1IsMwnQRGOBZA6XQU9xzuiTfWU5DVq6T6VP9g86vWInq+B4NGBdSRE1EuhKL1TenkCW/Uzoqwz5w0OOpIuVr9DYvx6cROn0LpcSAA3Lqxj6Nav6URPLcPTygQFfmFnnIUnPJijmsXXokRQ/46j3p7GYFugiJX/7p6sqteLmmZIZSaq1wmn3UWgreCdjZbmS7Gfg/LOCsNJBshfFF6YHOHiutiAWcjmnUcg9QKDd4UnMjl/DBqD4xiMfeiKzvggW24AWfHb9kLOAHPLP4oTHVb45aWYqeOievN5eQBdZ/eneNifI8gRiXRKn+zouPFucMU4bN62n4dSBVr4/DlwwDVYZk62zyzlghMWRXRl2Z1WNrWkt7PHFNKcA2feUz+6j9glnyOX6dbzt4B8coOIh8t0A6NCxdFZlvIvC8ROOdiqjQkdXQBZmrJXYg97tAmu7AN81wGJbJ///UfbuP/tm13nXO2fPjOP4lNqOncR22iTOofxWeuJfKEVAaRNolEqAoP0VKlUgISEhtRLljwOBkqYthNJKSdu0TXyYGY+HfX2u61p7Pc93XMRrf+d9n+e+773XXodrHfbhlix1LfEB2KolkilmKUbA79vfIn+KKbX3KkR4yQ39exT4xBCyU2NJfTYxi5LQFv7AIfHNfqJLf6c5FC10h6eohmby5dvimOt/hAt67ZQYy/kZLRpJt8QKQ874irEDDeAKw/TAz8Y4psjPbwXSAGCR9af/LRt2MSd+mNdCgcPBlNNHDwB2nJaJjLRHLEiRPfu1tySq6535j7023nHkbj1mNNuuqt8GsjWIOybMK4VoJ5p6aPuDT/c7jTcVdxNvUkgX6KW4UsNhibeLScsSDDjiFzSbES7c2Fcbo5fCD//lK3yWByHSikmnUIrzS7x+hAGSS5eCF45Z3HaT81sQTkdyF12xpxZYBWbawA2tfmicscYyg6EYep6bftzuZq2ue1LFMYC2N83bPBhb8CZ2Q7xxbmyhUo15G43oMq4wjthCBY5uoEfLjEVbZ7X7TO6bIkQlINmpCWzGk1xeUVxjM95X9+xrk/Q2VqycwvuqI1Mg2HLGAc7G5YtZncTzsKIjDyY5W4xb+CNZRrw3XnJuYD3DEqqOjbGR00Il7rs20zjKShNZYirZ3hj9anylOJjXeZ8cj7cqSG7ZX363YvkgNrYXnHH/8BwYrmXtku9bnzkvFT+0sW3s9CM2Ko+xrVUvLJcHvR8kCO6KbyI3eVltqriKGDWkLmkZpbk20q94Rv9gle3X4rWuv/7uGy9f+/Vzivvf/5u/9cn//r/9ry/fP+9Bf+uchq7q7Ic/+OjlrTfef/nGl//USdD/7Mu3v/qnz2vXvnJOcf/MqTjpFVBncz2KrLX0XsreRDp+gaFNsh3h7kRzxIWRLsBp0AEWVXFjDdGIBY9RSL+YXs1o/+GcsKnZEAlNhttKcZJxmqpBEyzZod7D10K/lK2VuBGgZ+FkEOwJJqht0BEgDMk/DsDgRUDJipN9YzkBUHsjpnJaRZYzivFRAd9BnYxVz0S5Z+/kkQMnCLLP5gadhBCQmkDi4gMKxlKL2k94NQ74PMg+a3DdwbdnIG3EM4sasDJjt8OO/aIjcYjWUfdYw1frOJosgxX4EERnxoWAwzNLDdKrf8a8IJHNhk59Iuqd9Yi0IBHD1zM4ws44CTh8V/Wue6H6ebchJeR1FCSbh+63zns31wx+D3+a9gKa7X8SdJbimH4wOoASv+jApMukJkE3L7usTKBovjTxYRjmbx3Q8A4KZtlpi1oRShA9vGhyV2ckFcLJE+rc6m7kKwGRW8yr7OSwHbiMHUiS0m3UUcBp7ray3GppbYagH8ZH70hufSAIRZ8e2EbCtl7HFimWj+W7GVMdXvoiGknCkyBIFgdXmJ1FZ7PvDT6m+ILOrpUnOPQG7B4X/a8k+dUE3c/AH+L+myQTVtU5BztJytSnqsWbbwJ+cM4i9IFGtiG0hSEHF7T1Re/xEXY1j89su/mDaG7hgkfrlTpnCkiaN8EYFzr9LLLNuDXPSgxvzdUAACAASURBVGcb0COGh+A4z9mCe8NQdJ3q3GCaaCPbhSznyhjpBGcMPLVhsOWJIHd//pvkh27Ex123eMjHLDvjkk9b72xOK+o9S4K2E9h0+bNBNIMZXI1d8YDXxNqGyodBa764vr+y8BimMNVkZANmmNSlmZAwsglN+hw89KouH5xYDLb92j/iv1EHF/GiFDTaArATd/O8qx9ciASNjHHhwQSyujZBUuQcEVWWrAKzukVjFko/APayW1N2iwTRUyfDpd9J9MNZBPBhFerYWrb86lW+UVrrwSpESZ00S3Ta0vYGyVazNpzfoNmdFB3q8zeeTFBpo/MP+qn2y6sk6PKh0HcOqFKQq2Xi50cxCLiQx01eZsxKNThvfwyf40c9PHWE0fk6Mq5Q2mgb2jZW7JE+R9aDSV29k7hHfZwxcVBaBrpXB0gf77Yrn3jOdj7dK/+JZsZ2S8qnYM8yqostDNm4MvzFkWaMmIdjOuND+4JplwHC4zifXRhGn1i1mVUN1T1w3gk0AZ/i5YcE3TLp4OyTLA/yBBJ0J/slY5AiGKP4tQk3w0MMVxc8zMa3jderC9Y1tVlcB2cW/bro8y/MB2Y12ffrtlqYn8mv9Ge9tv9ChNqHD7tX+8Gb2oD9paNS278F1tWZteOxmRQEXdi5cWHHPHFl6Ea7k2TzKudKFrlbX7mnuLpsktHAAvOrn2FVp8SDjdxTOWBnLmxMPEYzT0A21Ph7YiU3Yj5y3lIS0oMvHFRJXHkLR2yhafGvNMZvmPTnPhNDiMYVz+xENyIop0bX8sXFaOVSFBMT9wRTG78IH7RtTXrCa9dUEJUKpWCCbiGTc/jfBx/6PfcnR33nvXfgNdvGDjF6h7uKYbWVuto9PN0TJvJLEuuhtEA7ArSxMUEte4/t21aQAM9xACi6Zb+WhvML4LiTmojkjO+985q13/jmy2t/77/865/8zm//H8w4KYD+8OxD/+BUH95583MvP/tT33n5zjfPEvev/uo51f3MoJ/3oOs1az866/ndaN5pvEAuNmi8iHIYbxOYjRDPtxqoPvehh4A1ikCS7sHe/45oaVegjIORkjBT4UH3FEe/dy6vAVrJOH0XtePQXk1cgnihgDGJzwqIA9hVQHyohNF/WX7ihPLOXDi4a6Dq8U/VfwDe/BloL4/1ddvLvXqe/TgqSIRJVJ0yY+4JACc/no1Ku+W3QJKxBKBSkito0+SWjZ4n0NeAQ1hAYDs3KnYR1STFCWbYI4rM4kQCJubvdmLnlkNXl/A5TgpX6DrWIhyyJVlPSKji/DPiWfq79G2pLgD9/HqxzYMBqAoc/bYON3j0K8Xy/k6BgU5sJKBzUkUQ0hkedCJLGCM3Dl6TgfbVb9ElnCZq3QDARRL9zKsZOn57sWWD1178wHUsZlfGIdKYedVhFln6j90G1EWLrqfIoecUoM870yWNFIkYY2aYISfjS/SwAvbwboJh6z3ORf/T/tPTb6upOEBmz1dGFDmzVSPJJ04m4/K7Rq+krT7BH2sLIIvdrqXHlb1X5FzfqK4F9pJzCxm+d9nDAmk727Hk9Hh+pXBz8S/bTVAB3Y9yLZ+sz7beLnHFZmfLTPXdRYoG6TjnZb89a8F0VTanXcXq69AjGe8s6dwqFF3Gdqtr44UbWIhMr4pC5dR/bLJNGSfdhrH06uxDgr76fuRiLrSRjGcYhjzFywWeSw+uSh69YQWbsDh6gGPNc16HfzEwuLw0qlZkgor/SMsMfnx9WXWtqYwfa6BKX8NPNaK+twCOTrDcdNlAtUp9E8yZn8PHtGdbjN9b9gIvcn9nZrtKydsuYnfYlKVAQp29hLA1ttfksxR764Sf6ava1B5nqPTE/yy3ru3DRhL05QSxqQTsul5bX/6A8TUpiYDNA7cIn4X/VaQH2zTFnQUt/cahJuhXNrAfNkeJWVJRW58OfM8WX2Xlu8PPleBrtlGYpxV1nAgcXKab275FGmwuhtcGEiO80q36jB/Cx+hQIkFFDsbVBI23ynkVWWMcJY9O2iLHcHMsK/1dnBt2h6ni1bk7srr6He/ApWBeWNeiIzLLdCmzXipC1k7BefuLJh/Gx2nEFLfILhwafbFN99W+W4cf+Fb5YZeRcWMIFMY32Mdt3+rA/P74JhLm6En5dXU0digbBi89VoQk2mdCy60+tu+hmc3BlsoygrIpOM4r3S0iEqfytQuW9j7+rWumO0DUuCSDe46TmhAPFs4SbrfPoaDj813YHjmNr8y9uY99+KKAhL0DEg/uqkSGlYm3RxkuC5z4q6Bq3WYMTw7GtnLjLNpkxapIyPMNDs6zCpUKNf598RI9rX5EZ2z+vse6YJ1EDuc36iMachByt8B1NOaz8Wz6i/+Apxmr7uMco8RyxC8conoOSdNhaklsGV5iQMYqvCWBfxjKtaEwbNv9g++qYSyZtt2OuQUCm38wv3rVQu+DMBNPSE+V+7BixvbfGJBtYqyi8HvJuz1ZeZFico1b5xSIhtK7z3XgUGDdm4KGD5w11vBTISfO4/ypoPzIJnaEDjzggGR7+Mw2YW/VUe5NXM0+/nOy/PtvvHz9P/vWy2t/9yTov/u7v3PaOFXb08WHJ/nWbLQS9J/58nkPumbQv/YrJ0H/qZd3337nhLqqNHkZ5OuvaYm7yHGgldjxWcet/FG42WNZx7RjjARwo2g7cZeg2kWUuWBC4pMlobN/BLKkoFb0EcIrilJmXw3o/tQm2k+6MW01CCL4RAaGtTlkpEsYrefhVUB1J5A1zhFiQJ7vq6mLivAaRaj9L8AEBGjf1/f7y7E5/UeKV4AEHM//olkEpktxbyHiBqlO0KuSGWBRvRogfxQg7fLROVAi1TL64RC6noguga2EIuOjGZH1kKC3wzGbYZKXQ6vinEElqfOy6CXrhdv2SFdXODegjiBqMkAEqD7h+eZ3+OcD+uLwAPsL2Iyz9IWkmRWfVRtdNWEe7yC6Kyx2gvwAOKGRpjvO2ulW6jCkYFc+dB/+7OOKs6LKyRL+w64DLqzWaBEiwNgkn8JYu7fBolsc/BJgpRhQPgBm4quc05oJB6g9Swy5zCpc4VXnMYkVDDD0Ezj3dTd+1LpbWc45DBINleUsS5YuLJCuOkDioX/uG+cmnZPSBwo7lgFzkWxms0ds0c+Xxb/giAOlOOvIcDtCY8N1MG7Ygp2ly7DcwTa+eTm1vQrXSxxIiS5fKDw5OUurxtTbjXGCZjH2jK1jTOCjoRHwZwlwkp2ewtvVCdjD6a/nbDzg78btFhtknunbNF2DLMU9hX/AENJEa1FA/JWcIw90QC1lC5BZZttrv/isbUj+Oyh6QQGFMZFzeMzmUfxTmDsJOkHU1m0+lremn8MBaT+SCTkjqUDXBL4NDDN+N2f/EmnZfS+aSHpWoubZycu3Lju/VdhDjnQ4z7FlgtVhPZzTeNcEXvzicK8Y1vVbGZt8RPStjtBY4Si4iRVyXzjuQC2VaA1zYowkmeCLGrgYYC6aNui7lWVs0EH0DlbcodU+M9Vj5xFG7Li4PTYEBob/o0oaV/wbgaCLkiToGoJw1dH6krt1F7/Y75Gh/7Nt8uqrBc54GidofKvgiQwp7kfn6PtT7AF8cnum49ofw3v2tctuzbyLbsO6Jceb6t7xzdaIJGVdneOCcvih4Rffw2vrbcaM0M7HJEINnrmD4k3uLZAjZ+Ob6awNLBmiPdYh+zgaGyy1rnhViVebxtbgU/Sq/E7RYU4VBxNzz1O88Jygm7zouYZYewnZzyt/rv7WFjyjim4wHv9I/ky3pLiwbecB+1dCaO6Yns4ionfyqZm1bRLZSavyRU/aDs2rFlI4/+oBH2PHy5+PXkdmjV87lsrYJhBdsICeZGvamxzfAlDFbJCw2IwBC7aHd03AfW/wZXBD8Z1UJat04ouQm4pH6h+sc4LYYmnlNlviYvPwuhMqq3ChbbpvqhiXa2z//ZQEnZBlaLHOUhDDL2Do/qkJ2GmssYYHn8aI6EKxqatfvAUvhUb6WasZiKcsF/sHFwtcpNMkle73RIlPY7/7zecAQfUbXuhciknQT547Qlu257487r6ytduQBxOtApZ/5Erhq7pwvrOfCt869j4jtT5yZ6m+CiQ60DKTltK3SdD/3n/1m5/8w9/9By8ffPQDEm/eHHR85jtvfPblG1/8xZdf/DnvQf/iSdC1B/1NXm+jZQbimxP0pjzg8wPARpaRK/unKrgItcl7wY/H65Qr9vPMPc1dyhCHGevAALq8u84lDGFpwQRWUaQEEOXuJG1rmXvp3MY1WjgBWr5Zs6Ca7Z2TPHRf4oQCKS6JQuRaEkrCkLZalKsdKKHDCJZG6G8BdUGJW8J46XPo8YxxguSnCo4TCT9jEEglGl5bsS77k/A/PcOBWNID3YizS3sT/BhY6SOOb2QRP+j9fX6+9NhWO+iMHRad/2RVAgDOsfXli/upsYyeZYwDOrM0MvfnwIqOdeMOFDw7KgI1/bsY1eXa9L+TTXgb/kQ883mYe1k9y7klgyTo4K4SWRpPor/kCuupGDfBWEFndWZEKR6HqDJLv7vSI7owshforbbREwXNzKJzShoVys4OFsThR8E8DrCFGSvDXUrfQKCFuyt59+OTp+/+sgsfGVSccOPpsnUOU0QrlaD7CqLTahMA20bXA+DAlQSjki5OsitvGPsJUlY1eV7vl2p6g+XRJVQFj7cCtQuQjz5MXieFKXTLBNuhL9pjlxNYXDOdwIwVNQlIzR4nx8Q1GFdxwe22fdkXe/fH++6AIkQ0MM6DY34dtHQ0AWK/0u/u7d9vOvDeZF3U0JUU+JTeh1UQtbcnh1+s4evp00mEWHL3HFreUwwZOL36g4asWRkcZU6FLoM8m4cGmX9qh0gBRtismvjpEzecf7wSo3y+QS+tKBDItbmrPiNjun6h+Jo7eYtA+z9/St71c2ozPmqKULRXvQod1SuGpSDaOA1sSG8S3I/++bYJQu5BjBdz3jjn0rz+thNL2e5HH55X2YAF7qyHnU7hNn6HBFF2zis9r8/oVgHLIc/rj/B6uakBWjizE5lhrvTefK99jWw6sND5kJ40Him/FFME17hP7hJMrhNHGx7kzmfaju4Uj3JX9dVnw0gWTpKboIs37L9sEPiM6dshVf0Gap5wv761bRCjPCEo8ncDfX1kfVcTsocC4yiyG+W/4EB0P/IbplSgeU7jvbFjBtAkbdOreDO8bmz3UNhJB/QbMdgGUBgNyj2Di+6ccRZDdqLHfdYElk2fv++Bc7GlXbPJuCcSep7ZTVL6XHhwofouj+5KmjlQWf3KL4lY6XX1Mbr8qq5Vx0P/FKtugarq2L3gTZRHLCmGW1/tT1g1evRkbFJ6Gv9roV+rugXFYINsBv7IXhRjGl8mQRePi1nU3zaXfH9jYBfEAvT6evGZa5Bi2oiNdnwOxnmWVk14ciF4o2sLUBr7N3afuDpMsjlfO4cFpTx88S2+52JGlDSPMzGSolyLm6JJtLsw56RZf5gG2zPjg3atRiqfQ0WKqT3zC50sTajQuT8TGfZjsYuQtmnWZYrp6Kl5/2D7yWXccwfVMQb3lm7ga8beNMmT7VDIMpOtjX80usa2KwZ4kJl4E150dU0Pqu2bSzj89fT71jsnh33nTa9yXa9nvvRkW9Xpl8m1OVfEE1Ldatm4lRFHFW0jCHroGS4sXClegV/BePHAs+fG/zffe/O8B/2c4v4/nz3ov/M7v/3yx9//o5ePPjp7z88+9Nde3np567X3ToKuPeh/5uVbZw86Cfpbb7+89ZaM9TgKxed9XdaSRXRnNLDqWyZPwlOHOAge4NHnJpMabRI/TGjfuxQfZUqScV+rEGVZS1ZtJOc/zCb5VL6xMUAoiYVuDJg61gq4tH+YvQyvlVhQR/+PwZfmJlQAhmclrkNIkIoea7x1CuYcrEh/DppSxeWqeFWrcL+0kWUZikZIlvSc7qOx0EbgeJdAZkEwz7MPWwYUOQAEu7gS6aLgOanZFfdUwSYBuOA1S2xLAg4pYJn3We9lT+5igZ+GKnpCEzLRGwVWYo98R8hXPg+J4wJLDGWW8Zl3nwb2+yAsXzeQjNpbGfxPbab6ifzKQ3RKSCe6zd/q8ySMAcAuL4ceoyOs4BH0XkU0RwYabxP0ttnCDDdUN80YP0DAvDicokXBdTspgA/Z5n4lt8sO737iUS0PC3/S2THPaLGXehqKDT0Vu7q8S45uAEvAl2Vr5cHweoF21QWWmfkh6sgkJ3zZMalvzwrZN0n2duSIEd5KTnbekgPLvqhgu2jh5u0YLJsIJ7/iqcYRmntiYhjZQNsXLCfpTsbTAAT+lvdRuVccZNtAtIemnNMAIkTunkGP3nF/HEv0ylAi2XJk7ENQQRMJBMSgBqmb3gdslpNNoNKQ7ZUEXVtBOJRHbSdB13YJVZLjpLxNwT/VzXJvDnlb/PIshO/lvAMeOo3jqxQExOQSDHkGOBiwg7Sjt07QLbOHcdKkCxwkNS2oirBVnUbH9PqoA7ydWGywXwi06idJl53JLwAjHvXMmpG0dzWDr/mAOBdbWgQGzzcuCeO7tFxYgsjL0cckneDaN5h/+pcgMYywT6jtpy8XXldhhIDDSybVEPupSWgH7tBDz0Y5KXPA7D2qb7Cnfb/i6LRd7NJzMMYaYfHW2MOOXO847burNR3JSs+RW03Mtlb7us9VD93Otr+boJMtxQza6G2BYuDCvtuj+5yl0xQsxFMHrSToYPZxtR9+6L415orR5FuPyqfn4T70q5uDKY0r+hq6rR+0l2KeOzDzqhx8cEdNPMKcue3yAys6/1lE82D0ty1J7pUXtBi/Oyz0BaC6iWbfZz1DFInom/1NV8NY+TPujKFYO7qodvW/7cvx50m5z+Mfo/93HK/MYCt+y2tGmTWuveiRZ3ua/nTJq5xIhlX8lrqs1VusEi3L1a7+/rEJumdd8d3FbVTSuFVx4vuEk0mUJx5BxxrPOTFzc16J5jE9y/LaBrq4Z3Elj8Q+yBAsM32Wy+lDfwurEpfWc3f2nJlzhJx+gvXgQPjcSQCSPPTXY+te9+pn40H95rVbmSF2rL18zvET12cKJFYRK0ysfF0sUlyWfrsCRTTYcowtHQH6nR/R21UzWf3jQmZeMcd4NBl22s6EgVhxk+TwJLwgGdV+/Uww0K8Gx4penQbv7b7D/oy5eY4P6TVtSLp8CU8Hg3rD/88E/cITgzAdgYddrKi62w91JZH9BAcpJg6bonJUSs9xTZjJJI/P9NDPWzkIved80Ed0leEkvme1guwj+ZZjP6/i3K/NpNHo28T6sjuNp3kYun31qjnL4A+uMLlT4oHXT4L+1b/6jXNI3N/6rU9++7f/wcsf/fG/4l3ob7/3maOwJxH/5P3zHvQ/+fKdb/25l2+dJe5f/OyXk6BLaKf6cF5f85CgR9sqWAivUSb4sZJuhfXfo6gFtCY1KOk1iipQtWeMQ+1GAA10q/ueEStxFlwT5PqpAhbCyf0YSATS4GXANo6NzxJiBcHw7phQ7vYf5eYVSXmnePtru07QE6SnnRYN6ErMmhk8Q5hPRHQ/xrwbNA6/9SBjs3NDp2qAPCxdvjPoTdBXLPcwwzS8zSF8uC/xdZTMVSDv9TPh8FP8CEL1lV9TyTrDKW9miwD60t6c7NJGD+k4r53Y2xcekgT6qiOPY8rS5fJlL9+cFQ0LoLmvoJS/x99KB1q5yywzh/RxeJgdVNuHxXGMyCjg2/ZJ0AERAbD3dT688iSJjA3bPJyTOuXTVGRo8lUnLEBIcDFOZhy79TZDsk7UVsuzy3bbYOTXZYszQwV42+nXqTiQz+w3BaLYXJOZ6nh0hFnUzGZv+/Est2U4/DzPzooFeynrxCQmCSzhU7ygErEkT07QPXtuWV7H78MlF1DGeWAvGmMS9CaHFCC4J6thpk094LbNYyt97Zsvk5sqIGEYN8uagFt/eKvGktXotdv3AUBXWOZXP9v55Wn6Ly39bvbcaxwUUBykgnn6yPhWB/AixaFPueax3QSofzVBl54iPyXoXc2Cetn5OZC7cu9QBiPVPvy6OFmjUHGhJ6O7/uok0In4xcXiLndk5ryxFwt6ZIsdo+wYfMvKgJUcjidzvdVRRrlNwCY7U/Bp/dx8rN/ruOT0bxAS/FxLqtVXg23jvXFkvCdRTqQaW9B+4q5wwhdhDuXoTXyMyyuZSOS2gzjujl2b5qzaCSDNrBr2WH9gftC2/gdmuv+eScB12WNw1ytUdiAs/hmfeqLJyIaGpC9heh9L4uLDMe1/ti+7gX6D1NEy07t1TAnFdPBoB76tKwiNNYM5ugbObd72+dCU513cM7Dzv67Ck+nn1Zji28dnAqWzxjs/asJk7LScKisGVPu9wGAsSBwDuyPzCx7BVn6JbtlPkseFLwz6U9p/6HeYOg/6kVTMRiOngla9mTRtbL7JMz4B/+aZZ5F3V7K5mCWbnZVSTWZpeul+eIXs/J9gZNpfPka6ZlULxdG7IGV8pPlBnsl7yFNwoT5jHBm8nkKqrple/exzFxoHTIKe/qFgJegbW4i9EOktyo6Nv5KgB7yWbtRmXCgzT0bOF0juOJZ/6GqL4mrfarKTFYsgtgAoJUFfNHh8+q9jm09P0C9mWRei+/Fd3v5gjJzJpslF2raXkjNCkaJiYelQItgcAE7YRqsCXYEHSxKbWrvOz+jl9sGXlQ+TkMRsjr+bHHdSyDPX6jtvqyHOzljT7xWEafvonCEmvfeS77utrGdyCVN0unnHzX7tzriLBl0PL9liRG518WDyoDKt2MFn2+LGW4iK3U08rckR+lBRevmescN4KvyoC5Ua3cdnWbpo1X76HqrZNzvFwdG5l+Xbt3DmTiYqNYP+1plB56yonKvx4JeXWnp41k8O7Uw+Kl/dV2VXGZrnoVWyOw0tutM2zIfokO5R7KG2U7vduvbaO68nQT8z6L/7D//hy/e++0cv3/3B9870/1un8XM0/XnN2tfPEvfvfOvPv3z7p3/l5QvvffHl/bPE/a3zfjaVYpSgc5psfU6F8JSMI5AQZvW5IO1H1ozwMgxulVNuJa7XcEJux8ywV0bBJIQmEgMA+t5sBGvH4OD+vRBh8EqSKMW8R/HcNkJWO+JrwNnO7QYUdrZX4To76uGc8ayDGlwpPY3vQIvRSclliAYMApxVtLABHL6qyi5HO0YUZwp9HhsGnyAG/mQ2NhOK5qHGBz+tKTr99AbzcSxbruaaq7z50/42ksHxL6Mr87cMU+HuLKmDuizr6buI22Z5miDXNiNH6CrXLuKs7CQ50uWdA5KrfxhS9ojfoOaGsLbwe/+DD0uCrja0TEpAOAfEHbnyvUDwXPMMkfv2SoPwtLLTfuYk6LzLU+3tYgen7i45qO/D6zqxKSalPS8NvweYNfC37F1dn1FF1xGkvmxwHyc3hmOttLy7AkCP7KAbGaLoo7MsL86YC6QUyQJOrphKlpeowYutQwE08Q5eJoEaR48TS7Jb/RWtjOnQNc3L4WyHcOV9D6Krgvv36LJsfjl4EnaCrpvUd3bHTz4lt8RC5uI1hSbodoA3wa6EHh380DOHbt3VDb7WntOXMCQBCrqfoCcjO/engKlxUByKIlT++r5OJY03gJnk/SnYKvdECjof3e0yOvBx2+LYQ4oNkS3Pq7FnWavN0rWwigT9OF39+LBHRe2Rv2TUQsfyFT0Er3jnA/RcZCPQTkBU0O8SNMs2I52CUz7DQo3b2C6s3UVH+Cn6o9/yJbxia2YJaqer6s540/6PtA1AtCHx6Kgvjj9Azilg5q7yfGmW7U7XKZJ5zMXxMN9fR5fvkvMWIIepI9MWge7eQtsberNtzz2H/vbtYldGkzuiQ7n7Qf8CXHdMHgaf/y0JepNO+/LgQZ26ZhTVQsYdroe/9jd+5qZrE5Wg2/5+J1drqOZ5cMBjVbIcn4YQL1+YsVFwetrtCcZjbiFsHaegXh03IE6NgUHElYmPkq9jEYLv4sWYvb9ostPXFhWbevKznVjoLPPDd31kXML90Oh+EgvqGhfMZ66FJehvab9sGN57SMWUFPSSnJfv7B+lqCzZqvgTvCFhM3HFD9H4sCVLcrDgg9UmdnxSVobUa/hKRsygbHOvUxR2W17VZDkTMneMOY8Gv0U357/1L03+g3XgCK2HWel1J4Zh9eg/IkpSYf2LDTZJT3x98b0K1Zb8e8eCUCC9oUBoWyh/xGsO3jr3mP+H5kyc1U/a7lxE34mLZZ7+igkrQfcz15+ahsuL55WU6GswkKHv+DljYlwxpmKO345y7boHJl7exqbC/82p6sh8J/JSpNuyuQAVO4O+CDwTcJaXn9ox68ROlSeTDbanFikkA8XVrA7tBKdkn0TVMWveEnTa8bbFnrIfn5eVpbO0vcXzYMYrSXoxQHQ954CRXcfUcMIQ6PfcP/j45RvBm9On8lL9NEFn7/befhh8adGKlcbFP42xM+inHa0S7yFyUYtRvlndFSK7GsPxtPW9iXq9FIIKxji29puUprgazBL9tSXnHt53zsSc7s/EHHS/9Zpfs6ZT3P/vf/J7Lx/+8IOX737vj1ORPq+yOAn6N770Sy+//M0///LNr/7yy+ff+8LL+6f68PZnhHA6/EXBKWhTcxowdvmg0Gwlw40zaO+lmVNdl0Atr+xLabCQQdHIeKY4VOEZCpilQXnvuZt0QONlq3E6NXASVs1aJnOfIExG7Zk/DU0VGqpM53Ht/9KSTNHYZUEe2QWWfrah5tpKYOq0eEb/S/JyT/VU33EOqXAR2OgkayVS539ebryUj0AhTktgEKfo/YHZ26TgTw4jgNYKa+ntb82qi2daZshPgpDtcOuodY3liPDn0NCgdstp+BPPvRxj98i2bTPMY9zFlqnEJoiaWSQ+y0ucFlKU2ZUwoFvWon/2fiOsBnAifZaAIcfMcsWJTGFE5Lcg0ze8qAPxs/tUzjN6u4HeV51pRwAAIABJREFU1YiB7lNKE5jCmpXcXv05wVcqg1oe+uY5ZZIEvbLPDPrjCfMZTobWlQTiXQ9g6x7qVxN020MxbfTVIvj0nzpPbEpMyFLnK9r7LA3Gic8+Ho3Rh8tJFj18Q/11VkhdFEi7RKmzZS5C2I36jQU+4KPfNWA28OWwEIIzQlZZTmi2g7XeecDoCY7ntHdsxfvujRuqsp4Offck4ikGIs8Eg9GfSYJXcZExgkFi3mXvxgk7q1w89HyM0zrfJfkDy/LwJPHV36XbzEoHKxwMuj+vAMjqDuHgWvUzRQWWOzKQUYPn4teDY/aIGh3cgTXSCk99iwmxzl0lc3BoPGzi6lsWDeHdtDGrLSwn358DBQPpQBjO//w+qjL73BCnZkksU7+H1gcZIu8JVOQ0pQuPe6InQS/NBMBeybR/kDbOQuMzFk9iGX6AURqbEodufbKwJnDcvqtJo1/AHv82CiUFsTEWt8Bmq/342wf5jQI6KGUPncasw4TkU3nVpwvE6F4SO22h8qqRO+byZdqPr53ZqWgUfE6S7nsLLA70h4+T98fXQ8OTrlVHlj5V13aix9/gt8YnmWTWNQJzsO9A0NQECEeI5ivYkgK7+MVre4olaRNSyrPIv4HzTMQHfay3HZ85QR9JXuT39VkHG4kmvde323KG8xK7eC158bttGvtYDnrG/HHiEMmNYtAJALm+Vh7uxKExXPJZ+t/Ji5V7OYuldz2BfscqNg/TOT+VMQXXFHIVWE/B5DqX2aMtfmHUnrxhZUsSDOKzFPn7ruWecYOmJUG3PGTbAKgPMsw0VjwCush9Eqj0XX2IBwmNOgpdNm55VE4iZSryOF5J1pUKl1++2TYT+4quEaQnGff+2Zz1wpKg0/85Awq9STwCchpUg/WODWdGfvkG32WZjztiguLRHoBksb48KXbD+/zTkmvpapIk0+T3VOtH33uMtts5HDJtPcSw1aS0Dx9b9LzaAr/Ulgv+LXIvHRy7uvJYj8cHlV+RdOx3ClGiOVnbYK8FO/KdxI/v3JdTHvvV4gm6EQKK9YNhUe2+gpdYT65AMXv7UwOZqHOtQTG3eQ7MZDKROH8SPG8Rk713FV8P4NW4FFewVD5xy8gagaOEpjjjQQdaNNCl0bvN2QjQ4JNYp3bh/BCbWHpUTLTt2gbAf8ZhYJA963VpukdL0/VMCwmNr9XkrNQNnZAZfjEm8N92qNj6zbffmhyD4sQu2OvU9xYjFOPGVhQ7gV6hsfjQ9lEAtXXsQrxvgv6wEiF61TYoDnJQn/MF+V22NejwujMR/tO/8XNK0H/zk3/6z/7Jy4cfffDy/Q++j+HjqD/5zMvXv/yLL7/SBP39L7589rzw/a23Zb2HiA+ToCcIQAghoEHlY8KDy78+YKqHMji0wcZXIV5VQVg1Qwd0CabFLGbixJtUgTrbqOeTsI5xVfEZgpJKSgWuNFEO7Myfv9c79JqAimliPGCjdvuC+2hfDRFaPR3hEVQ7Ox4AwcbDpRXgk+DpXZhRUu+dsdFK8DjLLo9XRyjWMog+J0WO8TJkfS897UaPKnAMx1uzkI6DMJbbhs9xlnVqjC/KjhIeehjRmvW28sbeIQARTjUXA+JUSiNYA4wG7g1aCnj0KUMR7+sM4UuXRrh9qWLR0njDTTF8r/Zw20aZwGu7jY5Zbm1qZMgDUJDYJHxHb3NIxyRVLhy5ihddIxASfx3Qjx5L5zLjrZtx0CcgqwPjNWO8QzjL1RLUOHnLIFR8yd/S675zeN693IJLxm6HDleNL8OMCAoHL0RN8sO4ktQSpFsvJ7jcXsitOoDQcAmYFGD61HP0W01LtwH02LaSbkiKbOL8jCHrfrUkne92heKFEdmynqRK91nvjdcAheWbwluTp9op9hg8wnkoeBNGyCpi893nja2sQ62MS7aPFgpEE8Ex4yrOJeEp33XF4BexOFG0QiZQpAiFoV6+iyor/XouY0QfbsLjpWp9d7sT05vwRpcx+wRgafI5Qb8Fk1E4j2vTgRxHydrSyDaq5+83cFYfEjQFQRmHbdUY5YTRWOhEDKZnOdu5cEhjGZrsUvKWA2QvrzsjuUJ/pCvGMLS2wULImqTZVQuw9i6vVr8KXhyI63r5aXh3gu8uzfsd20wCoctJ0B9AU2NewQ62mADKfDA/bLvWi2E7+OzAqtOpnW0adqsBv8HLvoiihQMLVvCoj/O5xT4KXZmRuVtBaryxycp8cPi03ZUekCk9aZ+W48QI0e3nwLzFhgkcxJckZTPrFB7Yj+RnJXoOrKJswc8H3SfpuLhjnogfYW0wHhKbHEj6vJosq5vqx/mKzNjmHj8wetBtEOCjYwEwI2SjTdDu5G373VmGamO4/rxjg063ZNdnnS3OY6bMAJ0+/PrzKdw86GN5WL4F10ylORxLmkJSANYyjazvgZq2V2YrBxYYwKVNfYmH/mYSwcERfGbOJohgevaK+vSqF/t6+9bwd2j3VzNxIz7ggzIhoMkans3qCd2LrkanEq/9SOdPCFfDIycW9mWy19o81yXX+oRgVqCCsftdzJcHLKyofp0GGFODfWEUibtugpnmk5CGSesk6MG42UM+8VL1ojFjdDv9TTwS2e0k9NFWhC0iwPZSHjJc4WpfByYd013JCXilH7REf4TbKP6jn6j+DOd5JHGI+HH+NxMOyHk9H3ysgnp234KKyVgtzC7/Z2HQg6/jcgCAwXUGv49dvAfW9J/oEx0mRvYY2+ctMtbVP+yjlh43hxos9Zk36Pi5pu2nzT18gFx4CC5qf7R57FWUGqSS92JK9S08Qd/9t1kRWp90yXfkpzymm0FbLrqwpK04jsubU/VRh5Mob3CtxbWboN8De5Wgf/zy0Q/OIaPHrpVUi9i7ctL6ZBW4PPAW5ox/FZhcWDIv1Mc+F6X4wRiQof228MvbpBxqXx5cGEOlUygUUiiu0L73FhpmAqEjj1ybpBvTc1ghRa1zGKgS9LdfXr6h16z9/b/5Nz75vd/7vZfvf/97Lx/FuH5I5fatl6998edffvUk6D7F/csvn33/3aMAAv2TrH4oZdPswmmTYlkCSXURw6nzZTZK/2P2LIyVwnV5hhx/ktGCaPz1GBJOD6ZlWX1s5yYyj8rX6hdBahINGlsaaV515sbsH8NFweKGZMStOvL9ltahSYzFgaBLnvHGOAzvDezbQZfbTJWaBpVUn8P3RKLeCet1aO6oyVG6HUj6FLpudTEBEAYsUryH5YVXkeijW9mH6nW/C3eQEKhvd+plj+cfTr8B4AXcYZ6a5UEbIh/xg652dyZz9ubjbB+ZOgcf93uNM4UC05KQOOA6yarA25Zlok/Tk1AUPCEoHJTt0YaEVlabb93DNntUM6TOxNA8dFU+dpfmkvW5vO2S886IeDbPY4DFMlIFewIcgvp9SJKDrFHdOiWAIfwvz2P8nhGubFciJgqj8wimTGJspSZ6G2fKbasQVP1COxIk3KAjTBffKcBFFU4wGBWfwlSX0hOMqgthz0TEpc2/neza2TK0zHYBfpKBGt8Ju4IvPRj7aeIlPpO2JdjRuRUNKFpImL1fyFZ7mp2EGVAzfYLHPd/l0KFZEiydkGNUpV+JjnDh6DzLqTJja+0wP5hRDd/93cKbJAyDqxR2rITdV4XjQF8uIM2MZ5yMJfIkdxybdMfUWHNDSmyq+LmDKpKWFrw4SMa0WEhLZtXR6BU8DQZx977+APQiNhXtNEezy1agVOO2Z3S/JEQeIzYYO+JWdMozSmHgua/4LBsxNvHkxlm1UZmI/OCPZ+FcGDEtpscmeDGvwxz+roBrONXvevNi4XPgWll5wJZXe+Ta6I5ozaydWCcc4gnj1YhJgtjJMjmli8OyD2Z2Tpt9FY8waBL0WX1x9ffH8WCvlHtI0MNbDnMiBsqIsrQSXobwCcB0X6G9SbUeU9C1Ck7gfgo2jAl9kF+IfYHT+TvtwJtzXe+kpTChFXOz9ND44xlpMuunoNcr1eYk9syMOnAzwTdxFnEzMMsl5uH7JkW1boUPDZ6vqiysqK2EZVNcZSbNCRmFJP2jyFiNSPM+F9KB7mhIMKMKswLLraa1KTuoKBo3RJ4Tb1km/jH+IHPZp+hKvFPt7kztgx1IBsjQMiWAFu+wwcRx509vFwtGVLOGlcW92D0+lMFH/719YSy6SQWkn3tiMxvuyjLrrIN7Y0MSD1gRnQNrzAfOUD3/w42lYIOm7G0n5z4lXV0pZlCSTbtAOLFmfIlnqktkYnLxOjSoI4dcjled5GRiKvIpSjDGdb3FqCdB8/zzCprGN00453wamjS2GLMvXtcteJuRC1RMMsjXaLyVS28M3Qnaw+FYdmx+b9ep76j+tpmHQkH9MeP2+Gt7VWWkafW+YVP4WYxBuxNfFhv93E30eV740Pui1+hG8e106hV9jqnibqbvrYcV8azA6Mw0KmO99JDyVAchGjLrvm3JqwGKeRcjxk+AbZajfroa9YfnzR3A8tLFxsboLvmA5cQ4Y7/VtcqM+Joxu1BZ/mHK0csd+6gZatKiO9hn/AyN0TfaUeELviaGiDxNC04+fkNu0sU8NeNXet/zc7DN+B7T64Itq24QZHAwSTyQ1yLW+FG/bk19yI6ISc8M+s/89W+9vPa//K3//JN/9I/+0cv3v/e9tnUO5j5Vi/O6lK98/lsvv/atv/Dy8z/977x8+Sf/xMtPfPZddg19/MNzCMFJ8rUH2hKXogVky0gqwDtYypLyVpozUJjd7xCYwQsAjkYxc6FAUHkwwYOdXoNIJ0plRAWZts61ORQuIMbD+bk+pRLaV93HJPtzSVy+97HXIEKCwQrItdRZAKNkITNvQ3Oc0gYqAEh94fyBz3RwnbQH/Uif92+sL5NM2AHauJws6VRHAb0Vr/xCP6kUCQDaVvtOkJpEkBWUaitJyCeaycitNbjHwP4yeWRQ8iV/Ev2FdNIjGZk1wLqFRkcOTQakL6Nnkf1y3DtxbWBNzq57epJreXn6J1EKHXN4mPQv1bgWX3hkHGlpKsCo6eigqNezPH/2pqtgo6JWDNN7M5MkRY+vjq019NBlQoulDSbgd4oON4C1ruDMqxLbq4z6HB2b69fZ2JYDUEv7fChfxja2Gl5GVPS3VPYuY9VyXb3KzDyprQJS4TFLg5Jk3SXLi5cd6+nCS7cC2NFxSJ2E1oRf/lhOeu9nl/B2hl3f/VBvEDi0vZk9TTjTU1yTzGb/XJOGSXptnzqtF6efQId+qFwnQX/7yFmvz9AsRzCK959DYHHlIlAPMsMmimctbC3edvuKuibwQcbG4rs65H7ee3ar9jXD7eD4rngHFsWZb0xPFXpePxKcf2ivDtGCsK1Gf5Dq0/Xpl1nLR7y9fuA66MpXA3aQv8B405y2JmnPTAzJ28LM7fxxOY7MOiSsZifvLQC0bwdNk/KN/s24MmbLfY1D/rHfJWCxCBYPcr9GOuetxE+gesu++3er8moLu6svqAwW5BZXXGiEGGhswitesYpEMUuWDzOu4NIUcs04w8eDP3bC6R/r+oWm+LxdfFUbJJM3cNrJaZ/ujAitcujR9QleTWc7bNHPPmGJNH/uoEpj1nJyta0gU6sHwHCShMxi8V53B3dexuu+sMB1hgCxTwNAK4jVgQrjGcWiRZcYV4ri1bVyjEJKViJYXa5+EjGgLxGd6AhmIKZZSadA38EkGJekHbHpYVazhSjobUj9KLutr6ZvAdOKW0geNZNEQO7D1bTKjidQlbzbW3oljEjxpLPEJHa165KgOOVMMMjPOm/WWBIznXY57+WMQ4dkCbvfYOUWXB/Bw+f7MQUpMoYbT44+Crtg6DyPBhc7Ii/LZP6DnmE3SizU17ofGwkNlfssMY/dzywqQ7wTTA9YEQz1YVddbZFClfiUmAk+UQHIEDqUuB0nOish7Ej5fivpxSR/3ZKTGJL4fLjkJAnODzRfpj8UtFMUbILCCkDF0NhZZjxnrzHdmteDMwvL8YW6xfIEQgZvnVzVUPT1PRwuM9cFw4y91+/p3E+xkskxLRH/asLjX1irz7ct889v7jBve5ZQ+TmrD8CRzgrfVVxeDXPlxEo92VySSYa78jAxhDrlyCbE6UtisB2H+aDixjTYuWxEcVFkNrFaczaCbK/eBT0SN1VWrBQTvbGnFoYm5qiKZoJt9Awyi0nheTDEK1U9zsJF9cPyrs7U16R4HQzv6oK9rJ7l7PFnndEvn9UmB1snF/GZAIcYQWi3oj4n7IJ28V5L2A851m2v6rNv1tYFF3OFkTpD4LV3X3/5md/89nnN2n/9Nz75x//4/+QEd03Na0wf/ejD8+DbL1/7wknQv/0Xk6B/+eUn3n/vqL6qsic754XpMUKdFovwXWWoYt7lgOG8fECUY2YNUew7Q4YSI+BU/yMsK8X9zjPadipAtKrd+hhHDPilCtUDK0zYsij9WYIXFm0A5+6nADBxBs0hSCrANpQdpE+yfa7fBOy6tHAloCMhG3nKN64nmW8SsF0il5ug14nEUUgV4AH7CBXcZX+WUesBOV41FM2MWbOHLRqjDtuC116WIfG7gm29gXoFJoCjQcXJogFgrxOZC