Bourjois provides almost 7 types of foundation. Bourjois 123 Perfect Foundation is the first foundation which i tried. It claims to Corrects and conceals all blemishes with 3 correcting pigments, 0 imperfections. I have bought it in shade 54 beige which turns out a little dark for me, well it happens some time but that's not a big issue. Today i am going to review this foundation to let you know how good or bad this product is.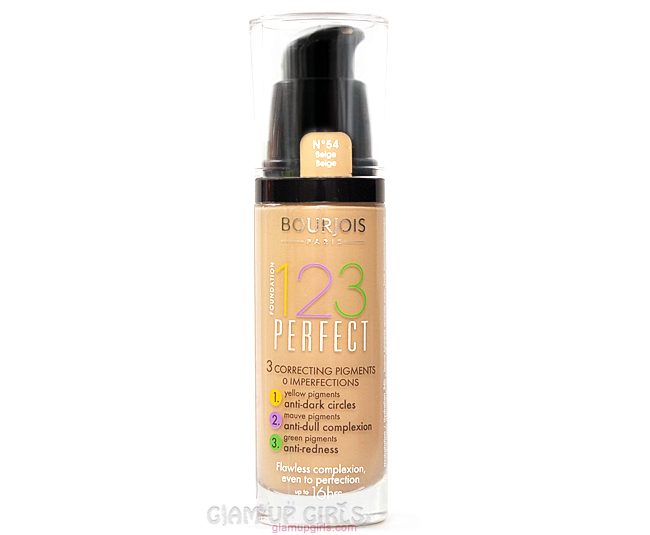 Product description
Defined to provide 24 hours hydration with SPF and anti shine formula. The yellow pigments hides dark circles, mauve corrects dullness while green even out complexion.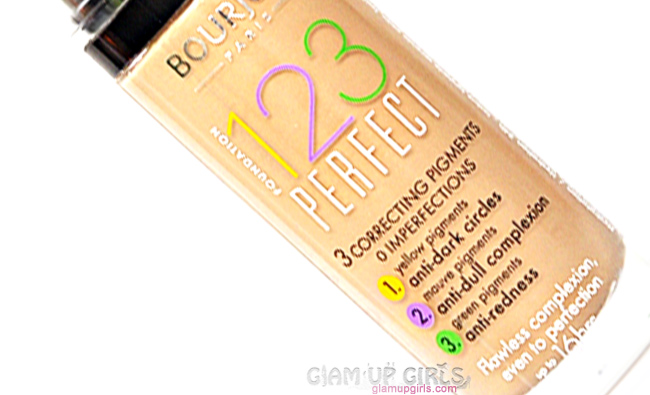 Bourjois 123 Perfect Foundation
My Thoughts
Bourjois 123 Perfect Foundation comes in glass bottle with pump dispenser which makes it easy to handle the product amount and a plastic cap for protection. The consistency of the product is normal or may be a little towards thick side but not too much. This foundation has prominent kind of fruity smell which can be kind of bothersome for some but i really don't mind this smell. The product claims it to be 24 hydration but in my opinion it can enhance the dry patches on face. If you have dry skin you need to get your skin well moisturized before applying this foundation however it fulfill a claim of being shine free for some extent. The finish of this foundation is matte which gives shine free face for 4 to 5 hours but in too much humid weather you might need to retouch the oily zones. In winters it can even last long then summers. This foundation provide medium coverage but can be built to heavy coverage without being cakey. One more good thing that it doesn't oxidize it will stay as it is till it fades.
The biggest claim of this product is that it has 3 color correction pigments. First pigment is Yellow pigment which is needed to conceal dark circles for rested look. In my experience let me tell you that it did hide dark circles and acne spots a lot better then any other foundation so far. The Mauve pigments corrects dullness for radiance. Other matte foundations will make you look flat and dull but this foundation doesn't make your face look any dull which is a great plus. Green pigments neutralises redness for an even out the complexion. Well i do not have any red spots so cannot say much about this claim.
Overall in my experience this foundation is good for combination to oily skin but normal skin can use after moisturizing. It provides medium to heavy coverage hiding blemishes and acne spots and some what very dark circles.
In Favor
Provides medium to full coverage
Matte finish without being dull
Hide dark circles, acne spots and blemishes
For combination to oily skin
Doesn't oxidize
Last for 4 to 5 hours
Not in Favor
For dry skin
you can't find your shade
My Rating

4/5
Bourjois 123 Perfect Foundation
is priced
$11.40