Beauty care routines are made more easy with beauty gadgets or tools as they can work more deeply, efficiently and quickly plus they are really cool to use. If you are beauty enthusiast and is tech-obsessed then you are going to love using these tools in your routine. Today we are discussing some innovative beauty gadgets which can be used in beauty regime whether for skin care, hair care or to apply makeup and surely something is there for you in them.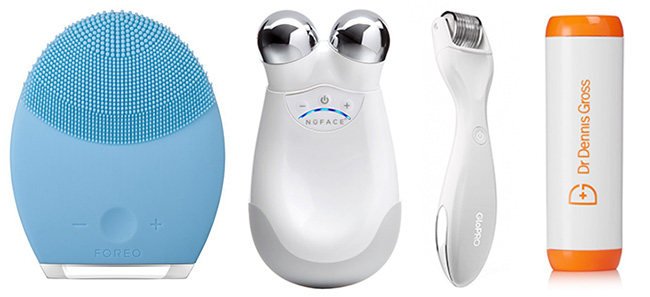 FOREO LUNA 2 facial cleansing & anti wrinkle massager
This device not only deep cleanse and exfoliate your skin but regular use will also minimize blemishes and wrinkles. It is very light weight compared to
cleansing brushes
which also need head change after some time. The silicon bristles are very easy to clean and are less prone to bacteria plus the battery lasts very very long.
NuFACE Trinity Facial Toning Device
This toning device with help of gel, will help contour your face with micro current technology. Apart from that it also improves skin tone and reduce the appearance of fine lines and wrinkles. You will get even toned and contoured face with regular use of this device.
GloPRO Microneedling Regeneration Tool
Microneedling can boost collagen production and will give you youthful and firm skin. This award winning tool will help you to do this procedure by yourself easily which improves absorption 200 times while naturally triggering skin's regeneration response for clinically proven firmer, smoother skin in just 60 seconds.
Dr. Dennis Gross Skincare SpotLite(TM) Acne Treatment Device
LED light therapy is getting to our skin care and this small but powerful device have this power to fight acne. It not only clears but also prevents future acne breakouts. With continued use, it reduces pimples, redness, inflammation and risk of scarring.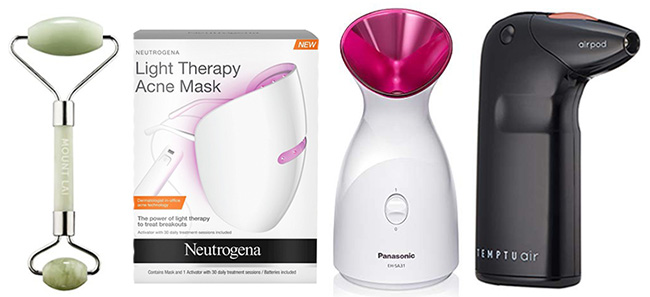 Facial Jade Roller or Rose Quartz Roller
These famous rollers promises to cool, de-puff your skin while enhance the effectiveness of your products, absorbed with the help of these rollers. When used after putting them in fridge for 15 minutes, they can relax your tired skin, specially eyes. Both rollers are equally effective.
Neutrogena Light Therapy Acne Mask
This light therapy mask which emits red and blue light will treat your acne from the source, giving you clearer and more even complexion. It is lightweight and you will not get uncomfortable by wearing it.
Panasonic facial steamer
Steaming detox and beautify your skin from inside and it can be done easily with this Panasonic facial steamer. With its nano iconic steam you can get that spa feeling at home and get clean, soft and glowing skin whenever you want.
Temptu Air Perfect Canvas
This device will help you achieve flawless makeup application once you g
e
t a hang of how to use it properly. It sprays ultra thin layers of foundation on your skin which you can build with multi layers. So if you don't want to use brush any longer, this might be for you.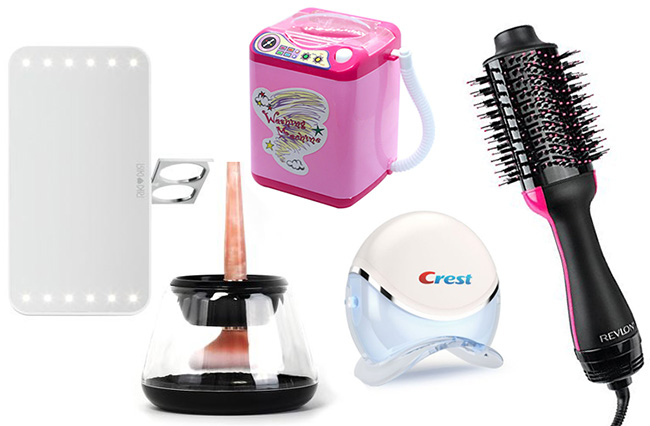 Glamcor Riki Mirror
Good lightening for makeup is as much necessary as your makeup tools. You do not want to go outside looking like entirely some thing else then what you expected. This cute phone-sized and extremely lightweight mirror can fit in your pocket or handbag for the perfect lighting on-the-glow. It is powerful with three brightness levels, a built-in leg stand and a retractable finger ring for security and ease of use. For larger version you can
visit
.
Electric Makeup Brush Cleaner and Dryer Tool Kit Or Cleaning Machine
The most hectic job is to wash dirty makeup brushes but this electric devices have made this job quite easy and infact enjoyable. The cleaning and drying kit needs cleansing solution poured in bowl and when you dip your brushes, it clean and dry them in matter of seconds. While this cute little washing machine which looks like a barbie washing machine will also clean your brushes and sponges quickly. Just pour the washing solution in machine and after washing manually drain the water.
Crest 3D White Whitestrips with Light Teeth Whitening Kit
This kit removes the stains from your teeth and whiten them just in few days. Its unique blue light system uses the same type of light technology dentists use. The blue light weakens stains so that the whitening ingredient can work more effectively.
Revlon One-Step Hair Dryer & Volumizer
This two in one brush will give you amazing blowout while also providing volume to your hairs. You can get envious waves or striking straight locks with only one brush which makes the job easier, quicker and efficient. The brush is getting famous with each passing day.