Moisturizers are very important for all skin types but if you have oily or combination skin choosing moisturizers can be tricky. Creams and lotions in summers can make your skin sweat quickly and at the end you have to remove them so skin can breath. Water base products on the other hand are better option as they sink into skin without leaving any layer above. Olay essentials double action oily/combo moisturizing gel is one of such product and i have been trying it for quite some time.
Product description
Defined as lightweight moisturizer which gently yet effectively protects your skin throughout the day.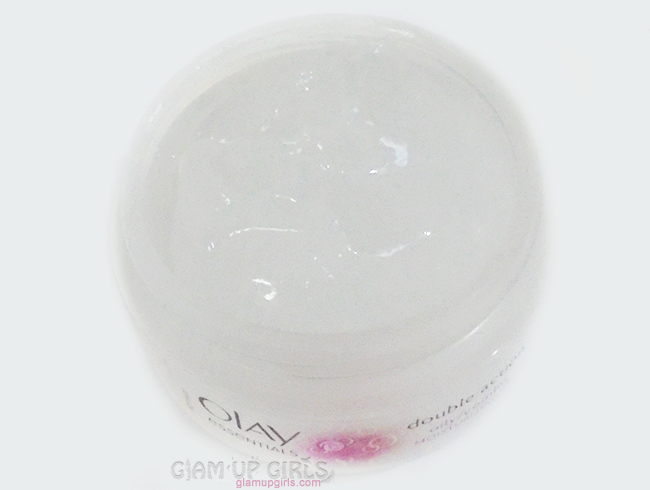 My Thoughts
This transparent gel formula comes in white plastic container with light pink cap. The texture of gel is extremely light weight and have no particular fragrance as it claims. The packaging is sturdy which also travel friendly with tight screw cap to product from spilling. It is enough to apply in morning but can be reapplied if you have combination skin which needs more moisturizing.
As i said the formula is very light weight, after application it doesn't leave any extra layer on skin. The little amount is enough for whole face and with little out ward massage it absorbed completely giving fresh feeling to skin. It looks the necessary moisturizer and keep the skin fresh and oil free for very long. It also provides smooth surface to apply makeup and you do not have need extra primer for regular makeup look.
In very hot days it can also be used for dry skin when every thing else feels heavy and oily. However if you have very dry skin you can mix it with some other lotion to get bit of more moisturizing. So far i am very satisfied with this product and for price it works wonders. I have not noticed any side effects so far on combination skin and have been using it for more then month.
Overall this gel is perfect for oily or combination skin. It is lightweight, absorbed completely into the skin without leaving any layer and provide smooth and soft skin for makeup.
Olay Essentials Double Action Oily/Combo Moisturizing Gel is priced PKR500 almost