My skin was getting uneven toned around the mouth and eye area. First i thought to buy my self some vitamin c serum or ratinol cream, probably from
The Ordinary
but instead i thought to consult dermatologist and ask for proper treatment. She advised me few supplements along with few skincare products. One of those was vitamin c lotion, as i would have bought my self but have gone for some famous international brand. She on the other hand suggested our local medicated brand called Cilix Vitamin C Anti-Aging lotion. I have used it for 2 months and i think, it deserved a review.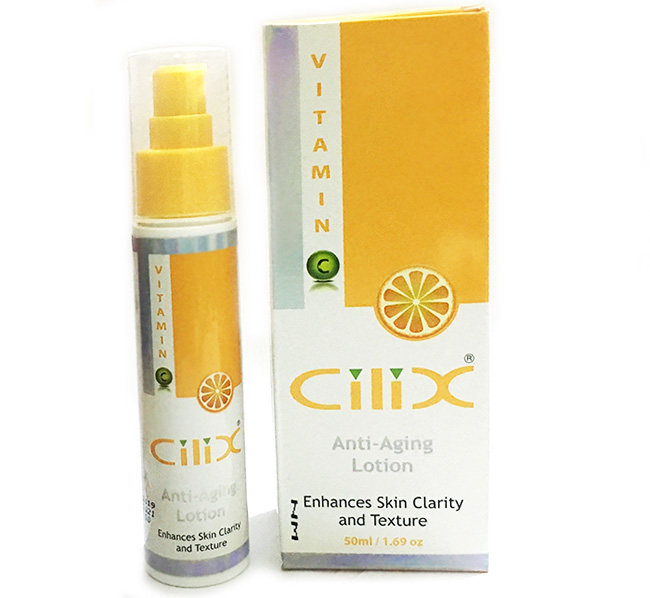 Product description
Brand claims that this lotion improves blood circulation, skin tone and texture. It also stimulates production of collagen and elastin while neutralizes sun and environmental damage.
Benefits:
Dullness
Uneven Tone
Textural irregularities
Fine Lines
Active Ingredients:
Magnesium Ascorbyl Phosphate 2% w/w
My Thoughts
This lotion comes in very cute slim bottle which have yellow pump dispenser. The packaging is very good both in look and use. The product is white colored and have nice texture which is easy to apply and dispense out from the pump. The product contains refreshing medicated smell which is not very strong or bothering.

I apply it on face after washing my face in morning and evening. It is suggested to apply on the area which needs improvement so i did that and didn't apply it on whole face. I take two pumps of products on finger tips and dot them on face. After that i massage the product with circular motion until it is absorbed. As i have dry skin so i have to apply moisturizer which was also suggested by doctor.
This lotion is claimed to remove dull skin, uneven tone, textural irregularities and fine lines. As i have used it for two months regularly, i can safely say that this product did work for me. I started noticing the difference after one week of use and the skin texture and tone improved impressively after one month. Mind that I didn't use it to make my skin fair so i cannot comment on that as i have applied it only the area which needed attention. After continues use my skin was even toned and it looked more healthy and brightened.

As i am not very keen to use the chemical products for very long so I discontinued it on regular basis but keep the bottle to use once or twice a week to maintain the complexion. Overall i really liked this product and if you were thinking to buy some fancy named expensive vitamin c lotion, get this instead and you will not be disappointed.

In favor
Very good packging
Nice texture and scent
Absorbs easily
Makes skin even toned and brighter
Budget friendly
Not in favor

Cilix Vitamin C Anti-Aging Lotion is priced around PKR700