Sun protection is very important if you have sun exposure regardless of weather. Depending on your skin you must choose sunscreen which can is suitable for you. I have shared sunscreen for dry and sensitive skin and today i am going to talk about sunscreen for oily and combination skin which is SpectraBAN SC Sun Screen with SPF40.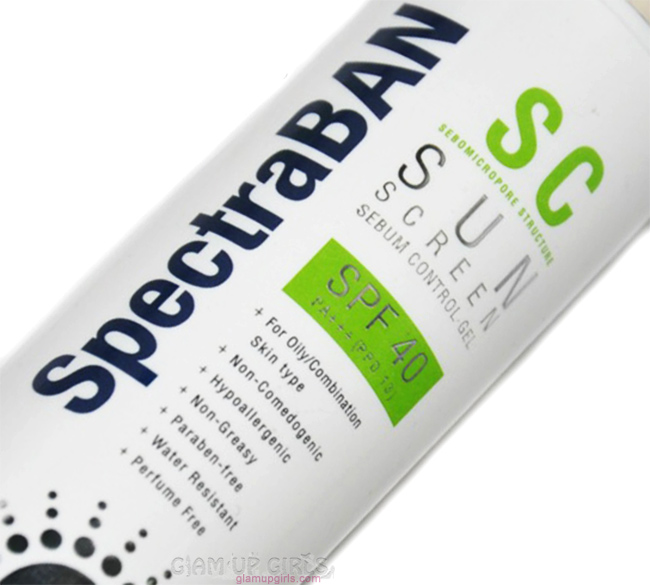 Product description
This sunscreen is for oily and combination skin as it has no greasy gel formula which controls sebum and also protects the skin.
My Thoughts
This product comes in sturdy plastic bottle with pump dispenser which is travel friendly. This sunscreen is water based and have white gel like consistency. It feels like primer for its smooth and silky texture which glides and absorbed quickly. It has no any noticeable smell like it claimed and the mild chemical odor fades quickly after application,
It is better to apply 30 minutes before sun exposure. Apply a little amount and spread on face in outward strokes. Let it sink into the skin for few minutes before applying any other product. It gives semi matte finish and if you want complete matte finish, you can touch up with powder. I however like the little dewy finish which looks more natural. It provides perfect base for further makeup and you do not have to use any other primer as it also control sebum on oily skin.
This sunscreen is breathable and doesn't feel heavy on skin. You will not feel any sticky or greasy feel after it absorbed. It doesn't irritate or cause any breakouts. It is also suitable if you have acne prone skin and it will not cause any itching on pimples, infect keep the oil at bay for very long. Overall it is perfect sunscreen for oily and combination skin in all seasons.
For dry/sensitive skin:
Sun Max sensitive SPF 30
In Favor
Gel like texture makes skin soft and smooth
Absorb quickly
Doesn't leave any sticky or greasy feel
Provide perfect base for makeup
Keep oil at bay for long
Keep the skin from burning or itching in sun
Not in Favor
SpectraBAN SC Sun Screen SPF40 is priced around PKR1900