In the collection of Nightlife by Camila Coelho Sigma Beauty introduced their first ever lipstick called Dance 'Til Dawn which was really exciting because how can a makeup line be completed without lipstick. Later they introduced more shades but i was very curious to try this one first as it was pioneer shade for other Sigma lipsticks. Today i am going to share my thoughts on this lovely looking bullet.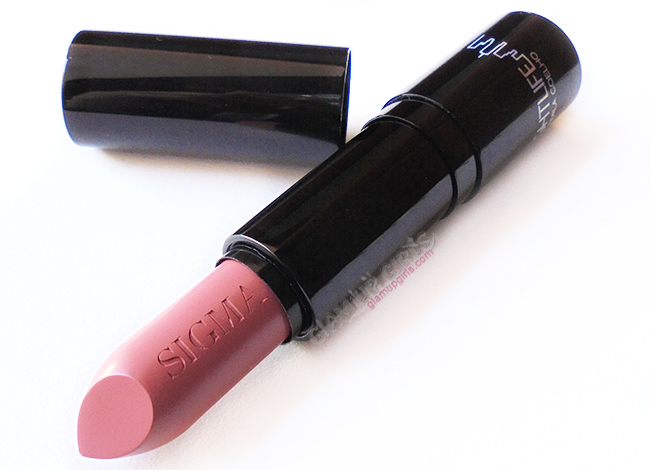 Sigma Lipstick Dance 'Til Dawn Nightlife by Camila Coelho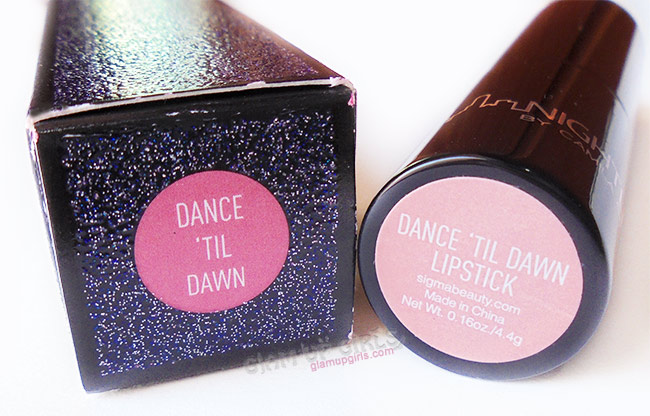 Sigma Beauty Lipstick Dance 'Til Dawn
My Thoughts
Sigma lipstick have heavy black shiny bullet which feels kind of metal giving it luxurious touch. This particular shade comes in glittery black packaging which was designed for nightfall collection. The texture is creamy and buttery smooth to apply with very good pigmentation. I love the fact that it has no any strong smell to bother.
The shade Dance 'Til Dawn is defined as light perfect pink. It is a light rosy pink shade which leans towards bit of mauve then peach making it to slightly on cool side. At first i thought it will make me look washed out but surprisingly it did not. It is light neutral shade which can be perfect neutral for light and medium-light skin but may be don't look flattering on bit darker skin beauties but then again with 1 shade dark pencil any one can make it work for them.
As i said the formula is creamy so it gives the even coverage on lips unlike the one such shade i tried called
Essence Oh so matte
which was very hard to work with. I still suggest to prep your lips before applying any lip product to get even coverage and better finish. This lipstick gives satin finish which tends to turn into matte as it fades. The lasting powers is pretty good considering its formula, it lasted around 3 to 4 hours and still was not completely gone. It also fads evenly and doesn't look bad once it fades.
Overall i really liked the formula of this lipstick, it is one of the best satin mattes i have tried so far. I would definitely love to try their other shades.
My Rating

4.5/5
Sigma Beauty Lipstick Dance 'Til Dawn is priced
$14