Ankle boots doesn't just look stylish but a pair of good quality boots will make you comfortable and warm during cold weather. This trend has been so long in fashion and this year again we can see it is overcoming the fashion. Why choose black, you say? Off course black is the ultimate choice when you are going to pay a lot of money for the shoes which should go with as many dresses as it can. Wait, this is not the only reason, actually black is classy, trendy and at the same time give you chick look, on top of that it does go with many dresses :P I am a huge fan of these boots and i have selected my favorites to share with you which are currently on huge sale.
Updated: 8/30/23
Alfani Women's Step 'N Flex Avvia Leather Booties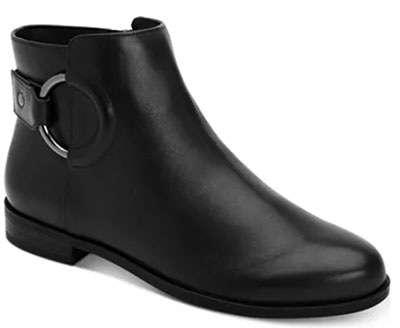 The simplest round toe ankle boots with small block heel is perfect pair for every one. They have side zipper to wear easily and i liked the style with strap and metal ring design which adds a touch of class in it. This pair can go perfectly with jeans, skirts or even straight trousers. The style can be used for formal events and in office or school. However it will look equally good in casual events.
Betsey Johnson Cady Embellished Booties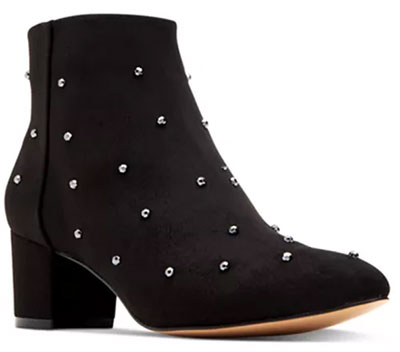 If you are looking for more stylish boots which can give you a trendy chick look then these pair of boots are perfect for you. These comes a little higher then your ankles and the fit look is just amazing with medium block heels. The studs are not too cheeky and i think it is a safe to wear for every one who likes a bit of drama in their outfit but doesn't want to be too loud. Having said that these pair of shoes are definitely going to get you noticed in a good way. These will look perfect with short or long skirts, tights and maxi dresses. Wearing them with straight trousers might not look very good but you can experiment and see for your self.
Bandolino Bari Pointy Toe Booties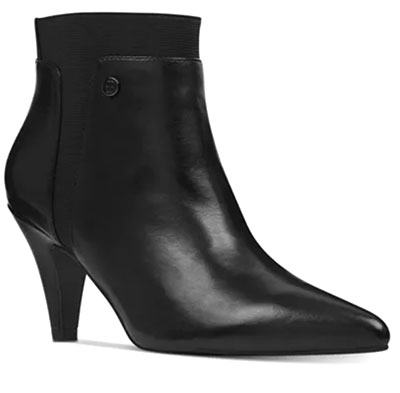 These pointy toe shoes are dream pair to have in your fall wardrobe. They are easy, classy and suitable for every event from casual to formal and every time from day to night. The elastic details on neck and outer side makes this fitted shoe wear easily with back zipper. This shape looks perfect with jeans, trousers, tights, short or long dresses. Though if you have a foot shape which is wider at fingers then you might not feel very comfortable with this pair.
Lugz Mantle Lace Up Women's Booties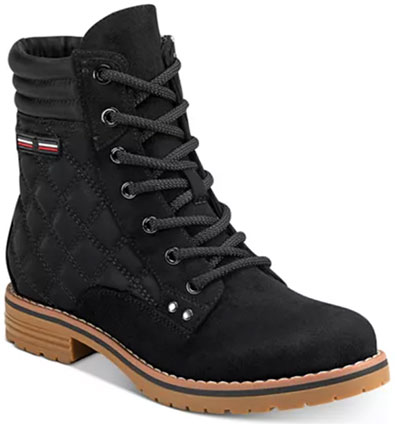 Are you the one who is attracted to combat boots? I am the one who loves to wear them, they are perfect for hiking, traveling, camping and just to wear in schools or collage. This ankle boots with lace up style and brown sole is one perfect such pair. This rugged-chic style have zipper closure for ease of wear and the quilted design at upper and back side. The round toe makes it perfect to wear for every shape of foot and comfortable to wear longer.
Ankle Wedge Booties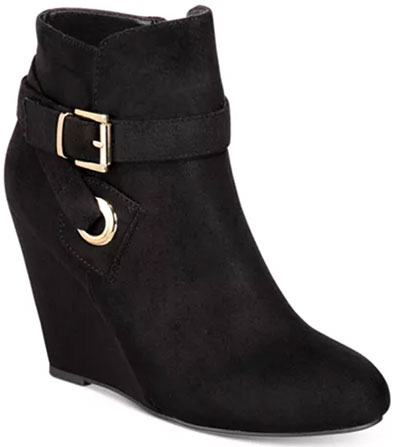 These ankle high wedges are dream pair of boots for ones who love wearing wedges. The street chic style have wrapping buckled strap and gold metal ring style and buckle. The wedge heel is covered and look fabulous. The round toe makes it easy o wear for all type of foot shapes. These shoes will look perfect with all type of clothing including jeans, skirts, short/long dresses or pants.
Leather Lace-Up Ankle Boots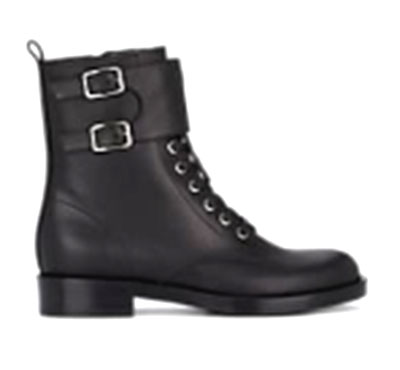 This leather boots are simply gorgeous with lace up style and two buckles. If you are thinking all this laces and buckles are going to give you tough time wearing them then be at ease, this pair have side zipper for easy wearing. Almost similar to combat boots but have less rugged style and more street chic style. It is perfect to wear with all sort of dresses, jeans, pants or trousers. Round toe is comfortable to wear it longer and for all type of foot shapes. The heel is small stacked made of rubber.
Dream Pairs Women's High Heel Ankle Boots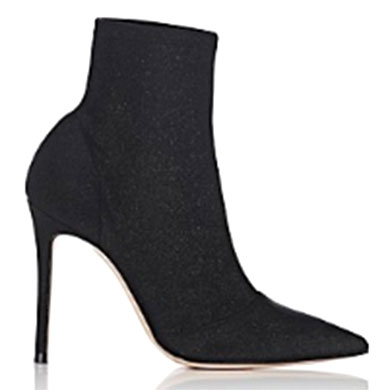 Ankle boots with slim high heels, isn't it a perfect pair for all your special events. The shape is made like sock fit and hidden zipper made it easy to wear. The pointed toe and self-covered stiletto heel is every ones cup of tea but definitely will give you head turns.