DMGM is one of the leading brand in Pakistan and is easily available on all leading stores. Recently they have introduced their latest mascara called Magnum eyes black which is collagen boost mascara. It is not water proof which i personally prefer because water proof mascaras are hard to remove and might cause lashes shedding. Today i am going to review this mascara, lets see whether it is what it says or not.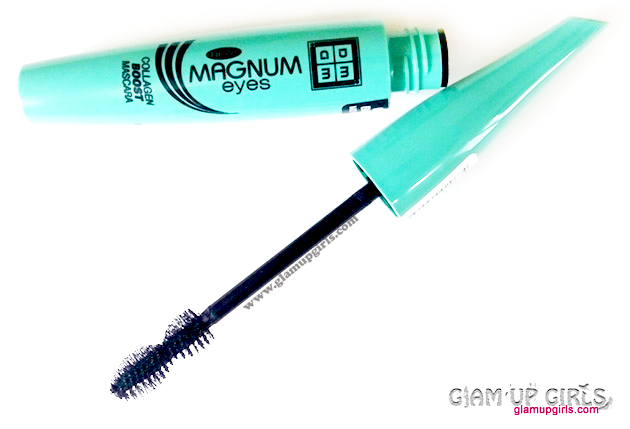 DMGM Magnum Eyes Mascara Black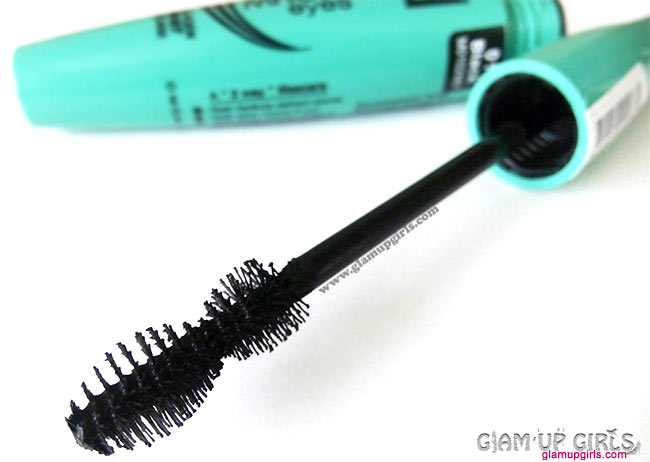 FOR BEST RESULTS
Starting in the middle of the upper eyelash, apply cosmetic mascara in upward parallel strokes through your top lashes from below the upper lashes combing them upwards, and working your way to the edges. Lightly stroke Down the bottom lashes, moving from the inner to the outer corner of the eye & comb lashes from base tip.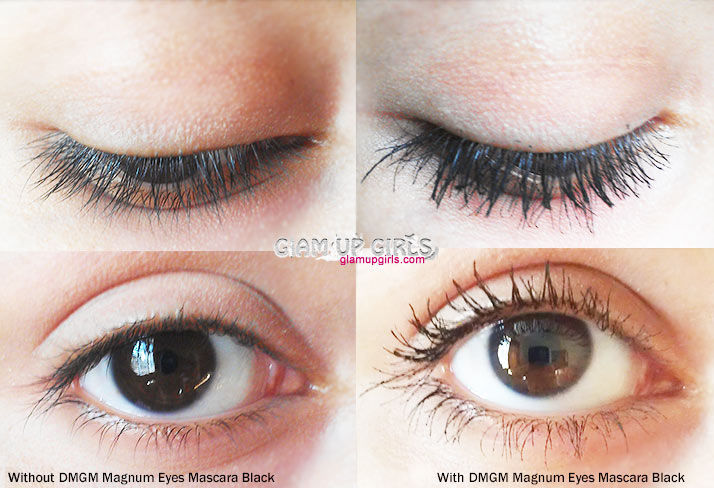 My Thoughts
Green chubby packaging of this mascara is similar to other brands latest mascara except their is a slope on the cape. The wand is long enough to handle properly. The bristles are not what we have used in other mascaras. They are long from top and bottom but are very short in between. They have suggested to apply mascara from top tip and comb them with bottom tip. Well you might find it tricky to use it first but can handle easily after few applications.
The consistency of the product is thick having dark black color with matte finish. Because of its thick texture you need to remove extra product in tube before applying it on to avoid clumps but this is the same reason it provides quite a good volume to lashes. As you can see in pictures it did provide nice volume to eye lashes as it claims. I have also noticed that it did provide a nice curl to eye lashes as well.
It also claims to be smudge proof and let me tell you it really is smudge proof and will not smudge unless you rub your eyes very harshly. As it is not a water proof i expected that after few moments if i touch my lashes i will get some color but it did dry very soon without making lashes stiff. The staying power is good as well, i have worn it for more then 6 hours and found that it still looked good. The one more good thing is i did not find irritating to my sensitive eyes. So if you have sensitive eyes and avoid mascaras this might be answer for you.
Overall DMGM Magnum Eyes Mascara Black is great mascara which provides good volume with some nice curl. It is smudge proof and is long lasting.
In Favor
Provides good volume
Gives nice curl
Not smudge easily
Washes off easily
Long lasting
Not in Favor
Brush could be tricky to use at first
If you need water proof
My Rating

4.5/5
DMGM Magnum Eyes Mascara Black is available on leading stores in Pakistan.