Did you know that the human body has an average of around 450 scent receptors? That number alone makes it possible for individuals to enjoy so many different scents, which is why aromatherapy can provide a positive experience for you. Walk through a massage salon or spa, and you'll be welcomed into an atmosphere that calls you in for relaxation, not just because of the ambiance but also because of the scent that engulfs the whole place.
This is where candles come into the picture. You may not be able to go to the spa all the time, but you can certainly create that overall relaxing feel in the comfort of your home. There are candles with all sorts of scents you can easily purchase. But, if you enjoy experimenting, you'll enjoy candle making as a hobby. You'll need the basics as you learn candle making, then you can play around with a
candle fragrance oil
according to your liking.
Here's a list of some of the best fragrance oils to use when making a candle to create a relaxing atmosphere at home.
Jasmine
First on this list is a sweet-smelling, floral scent: Jasmine. Well-known for its small, white flowers, Jasmine is perfect for those who like to light a candle to make a space smell good. Imagine a resort-like feel, where there are fresh flowers around. You may not be able to have fresh Jasmine, but at least you can still enjoy it through your candle.
In many cultures, Jasmine is used as a natural sedative like lavender.
Jasmine
can also help reduce stress, promote relaxation, and help the body unwind.
Lavender
If you're struggling to fall asleep, lavender candles are suitable for you. Lavender has calming and relaxing properties, promoting good sleep quality. It's a plant native to Africa and some Mediterranean regions, but after being processed into oil form, it's now easily accessible for many.
However, a word of caution you must remember when working with
lavender fragrance oil
is that even though it is not a toxic plant, its oil form can be harmful. Lavender oils usually contain linalyl acetate and linalool, which can be poisonous if ingested in large amounts. Be sure to follow proper safety when mixing lavender oil into your candles, and keep this out of reach from children.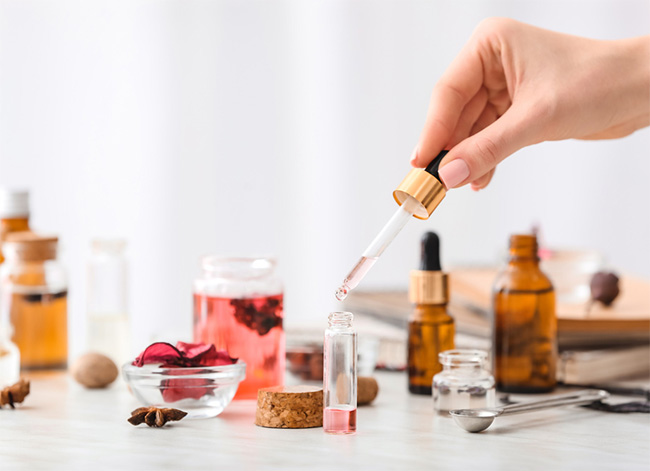 Rose Fragrance Oil
Who doesn't love roses? Like Jasmine, this is another sweet-smelling flower with which you'll want your home to be enveloped. If you like to create a premium scented candle, rose fragrance oil is one of the best choices. Rose fragrance oils are expensive as it takes dozens of rose flowers to make one drop of oil. This ratio is observed to keep its fragrance and quality, so when used in candles and diffusers, the roses' scent can spread throughout your home.
Here are a few more reasons to try using rose fragrance oils:
It may help relieve stress and fight anxiety;
It's good for your skin;
It's connected to fostering sensations of desire and love.
There are many reasons to fall in love with rose aromatherapy, and you should try them out for yourself.
Pumpkin Spice Fragrance Oil
When the first autumn leaves start to fall, the scent of pumpkin spice is all over the atmosphere. You love it on your latte, but why stop there when you can have it in your candles, too? Both stimulating and warming, smelling pumpkin spice can bring you back to all those cozy and lovely memories when the weather dropped. Light up a few pumpkin spice candles as you stay warm at home.
You'll also want to include a blend of cinnamon, nutmeg, clove, and ginger to compliment your pumpkin spice fragrance. These are great for use not just for candles but even for perfumes.
Eucalyptus Spearmint Oil
If you've caught a cold, lighting up a eucalyptus candle in your home can be one of your best natural remedies. The healing properties of eucalyptus are said to come from the oil extracted from its leaves. The leaves are dried and crushed to release the oil, which is now what you'll enjoy in its diluted bottled form.
Being a healing plant, it's not surprising to expect many healing benefits from eucalyptus oil, like:
It clears your chest when you've started dry coughing;
It keeps mosquitoes and other bugs away, making this an excellent candle to light in open areas of your tropical home;
It helps you breathe easier when your nose is feeling stuffy.
The Bottom Line
When it comes to candle making, one of the most critical decisions is choosing the scents. There's no right or wrong way to go about this, as the choice boils down to your preference. Whether you're making candles for yourself or to give out to others, there's a fragrance oil for everyone. When you choose fragrance oil, it is best to only purchase from the best supplier or sources. Creating premium scented candles is something you can easily achieve as a pastime hobby.