Does your child turn up their nose at anything green or refuse to try anything new? Mealtime battles with picky eaters can be frustrating and exhausting for parents. But what if there was a solution that could transform your child's attitude towards food and encourage them to become more adventurous eaters?
Enter Kids food games
.
Let me tell you the power of food games and how they can revolutionize your child's eating habits. Through playful challenges, variety and exploration, creativity, and building healthy habits, you'll discover how these games can turn your picky eater into a lover of new flavors and ingredients.
Understanding Picky Eaters
Before diving into the power of playful food games, it helps to understand the mindset of picky eaters. Picky eaters are often driven by a fear of the unknown or a dislike for certain textures, tastes, or smells. They may have had a negative experience with a particular food or simply prefer the familiarity of their go-to meals.
For parents, it can be frustrating to see their child's limited diet and reluctance to try new things. However, it's essential to approach this issue with empathy and patience. Understanding the reasons behind their picky eating can help you navigate mealtimes more effectively and find creative solutions.
One common mistake parents make is pressuring their child to eat certain foods or making mealtime a battleground. This approach often leads to power struggles and can further reinforce negative associations with new foods. Instead, it's important to create a positive and relaxed eating environment that encourages exploration and curiosity.
Another key aspect of understanding picky eaters is recognizing that their preferences may change over time. What your child dislikes today, they might enjoy tomorrow. Taste buds evolve, and exposure to a variety of flavors and textures can help expand their palate gradually.
By acknowledging and accepting your child's preferences while gently encouraging them to step out of their comfort zone, you can lay the foundation for a more adventurous eater. Food games provide a fun and engaging way to accomplish this, as they allow children to interact with food in a non-threatening and enjoyable setting.
The Power of Playful Food Games
Food games have the remarkable ability to transform picky eaters into more adventurous ones by making the entire experience of trying new foods fun and engaging. By incorporating games into mealtime, you can create an environment that allows your child to interact with food in a non-threatening and enjoyable way.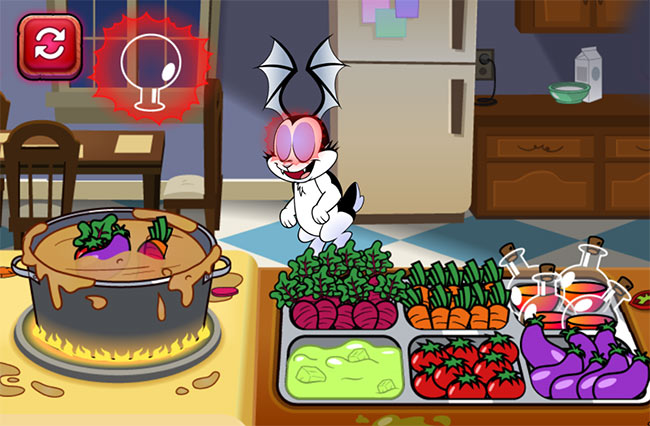 One of the key benefits of food games is that they provide a sense of control to picky eaters. Instead of feeling pressured to eat something they are unsure about, children can actively participate in the game and make their own choices like
Bunnicula's Kaotic Kitchen
where kids can choose different ingredients to make a dish. They can also choose the game that involves guessing the different ingredients in a dish like
Bento Box
, or a food-themed scavenger hunt similar to
Hidden food
, these activities shift the focus from the food itself to the excitement and joy of the game.
Food games also make the experience of trying something new less intimidating. When children are presented with a new food in a playful context, they are more likely to approach it with curiosity rather than fear. By incorporating elements of surprise, competition, or storytelling into the games, you can create a sense of adventure and make trying new foods feel like an exciting exploration.
Furthermore, food games provide an opportunity to create positive associations with new foods. When children have fun and enjoy themselves while trying something new, they are more likely to remember that experience in a positive light. This can help build a foundation of openness and willingness to try new foods in the future.
Creating Excitement with Food Challenges
In addition to the fun and enjoyment that food games bring, introducing food challenges can take the excitement and engagement to a whole new level. By incorporating challenges into the mix, you can encourage your picky eater to step even further outside their comfort zone. The element of challenge adds an extra layer of intrigue and anticipation, making the experience even more thrilling.
One way to create excitement with food challenges is to introduce a food category guessing game like
Feed the Baby
. Here child has to guess the different categories of food like vegetables, meat or sweats by looking at various foods. This not only makes the activity more interactive, but it also encourages your picky eater to rely on their senses and try foods without any preconceived notions or biases.
These food challenges not only make mealtimes more exciting but also help your picky eater develop a sense of curiosity and adventure. By infusing an element of challenge into the experience, you create an atmosphere that encourages exploration and openness to new foods.
Incorporating Variety and Exploration
Now that we understand the power of food games in transforming picky eaters into adventurous ones, it is important to explore how we can incorporate variety and exploration into these games. The key to expanding a child's palate lies in exposing them to a wide range of flavors, textures, and cuisines. By incorporating variety and exploration into food games, we can encourage children to try new and exciting foods while making the experience enjoyable.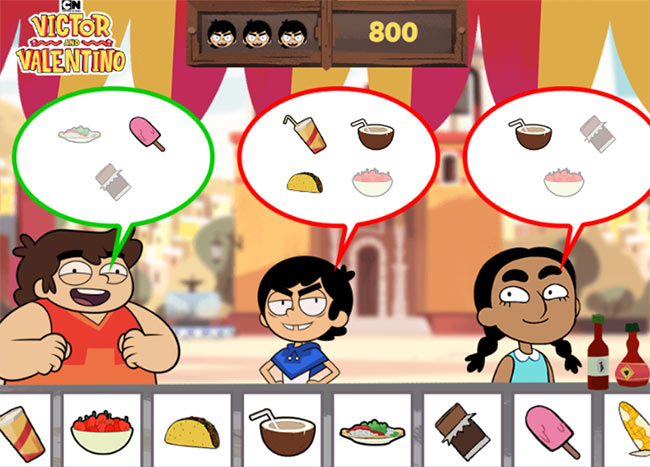 One way to incorporate variety is by introducing themed food nights. Each week, choose a different cuisine, such as Italian, Mexican, or Asian, and involve your child in the planning and preparation process. Now choose a game which is based on that theme like
DC Super Hero Girls Burrito Blitz
which is based on Mexican food and they have to make custom tacos and burritos for customers. Together, you can research traditional recipes, go shopping for ingredients, and even decorate the dining area to match the theme. This not only exposes your child to new flavors but also sparks their curiosity about different cultures and their culinary traditions.
Incorporating food games into your child's eating routine is a powerful strategy for transforming picky eaters into adventurous ones. Like we've explored the understanding of picky eaters, the power of playful food games, and the ways to create excitement, variety, and creativity around food. By implementing these strategies, you can effectively shift your child's mindset and encourage them to embrace new flavors and ingredients.
Mealtime battles will become a thing of the past as your child develops a lifelong love for healthy eating. So why wait? Start incorporating food games today and watch your child's taste buds embark on a flavorful adventure.