If you are skin care enthusiast and love to try products with active ingredients then you must be familiar with Korean skin care brand Cosrx. As i love using
Korean skin care routine
on and off, i have tried many products from it. If you are just stepping in for this brand then in this post you will get to know the few of my favorite products from Cosrx which i have tried and loved. However depending on your skin type and issue, you must be really careful about choosing products and should do thorough research on ingredients, if they are suitable for you or not. Because they have active ingredients in their products, though on quite reasonable prices comparing to other brands.
For example if you have sensitive skin then stay clear from AHA and BHA products. Similarly if you have oily or acne prone skin, Salicylic acid is a very good ingredient for you. You can learn in detail about all these ingredient at
why choose liquid exfoliators
. Coming back to the brand Cosrx, it offers very good range of products from spot treatment to use in daily routine which includes cleansers, moisturizers, exfoliators and many more.Talking about prices, then my favorite place is
yesstyle.com
who have the lowest prices and very good delivery option all around the world.
COSRX Low pH Good Morning Gel Cleanser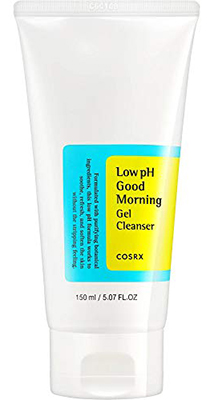 First of all it is a gel cleanser which makes it perfect for all skin types. It is not drying and doesn't leave the shine on skin while removing all the oil and other impurities from skin. Now the fact that it is low pH cleanser ensures that your skin gets what it needs which is a little acidic instead of alkaline which most of other cleanser offers. It also contains low dose of BHA which effectively exfoliate your skin giving you glowing and smooth complexion every time you wash your face while continuous use ensures you get even toned and brightened skin.
Cosrx AHA/BHA Clarifying Treatment Toner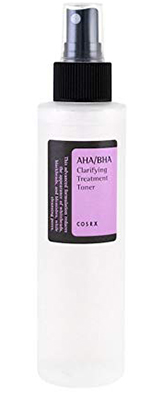 Every one have become quite aware about how using chemical or liquid exfoliators are better then physical ones in last few years. The use of AHA/BHA peeling have spiked and obviously the amazing results have forced more to try it on their skin. Corsx AHA/BHA toner is a reasonable option for everyone to try and it is good enough to use everyday which gently exfoliate the dead skin and will lighten the acne marks or blemishes. However, one should be very careful in using them and start with very low quantity. Specially the sensitive skin should be very careful. The regular use of this toner not only clarify your skin from black/white heads by cleansing your pores but also improve your skin tone and texture by regenerating fresh and healthy skin cells . It is a good option for all skin types but is a gem for oily/acne prone skin.
COSRX Advanced Snail Mucin Power Essence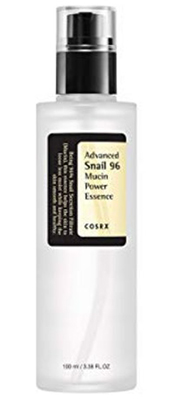 If you are confused with so many amazing Cosrx essence options then pick this one which is sort of brand ambassador. This snail secretion filtrate containing essence is not heavy at all which you might expect but it works great for all skin. It is a healing product which will sooth your dry, irritant skin, hydrate from within, fade scars and give you glowing smooth skin like Korean stars. It is extremely moisturizing and if nothing work for your dry skin, this will. Also it improves the elasticity of skin making it look more youthful and healthy while reducing any hyper pigmentation..
COSRX Hydrium Triple Hyaluronic Moisture Ampoule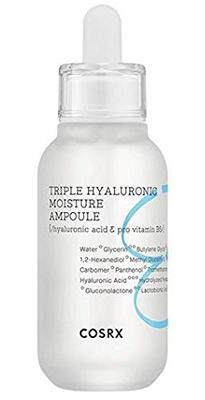 If you know the importance of hydration, you must know about hyaluronic acid. This hydrium triple hyaluronic moisture ampule is a perfect product to give you skin the dose of hydration it needs. This product penetrates into skin and hydrate the cells from with while also providing the layer on top to keep the moisture locked for very long. The dry skin will love it the most but in dry weather every skin can benefit from it. The continuous use will improve the elasticity of skin while making it look plump and healthy. On top of that you will get the glowing complexion everyone desires.
COSRX Oil-Free Ultra-Moisturizing Lotion With Birch Sap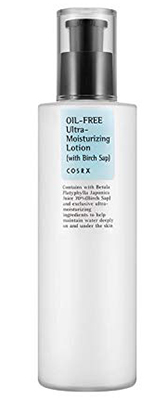 Looking for the moisturizer which is oil free, light on your skin and absorbs quickly then this Corsx oil free ultra moisturizing lotion is for you. It is comfortable on skin and nourish and hydrate it from within while soothing any dry itching patches and blemishes. It gets absorbed quickly without leaving and greasy layer on top. It can be used both at day and night time routine and is perfect option for layering products because of its light weight yet very hydrating formula. It can be used by all skin types in all seasons because of its unique hydrating formula.
COSRX Acne Pimple Master Patch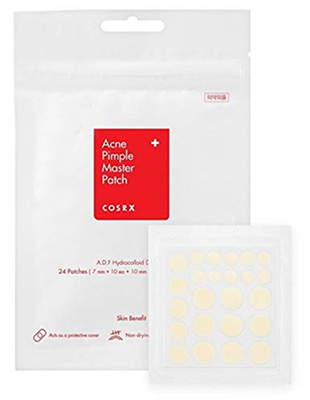 This game changing spot treatment patches, introduced by Corsx have been loved by almost everyone. These translucent tiny patches can be put on zits or breakouts for overnight and you will see the results very quickly depending on the size of breakout. They provide protective barrier on zits, reduce inflammation and draws out all the impurities and excessive oil. Keep replacing them until the spot is gone which can be from 1 day to few days.
COSRX Aloe Soothing Sun Cream SPF50 PA+++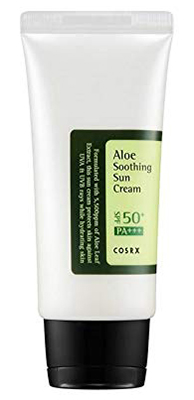 No body can deny the importance of a sun protection and if it contains some amazing ingredients like aloe to sooth your skin then it is cherry on top. This sun cream with SPF50 is one of the best sun protection product, you can try. It is hydrating and yet doesn't leave any oily residue. In fact it gives matte looking finish while hydrating your skin without leaving any white cast. the perfect combination one could ask in any sun screen. It is also great for layering products and doesn't pile up like most of the products do. You can easily wear it beneath makeup or top it one other skin care products. Because of it's hydrating yet matte formula it is perfect for all skin types.
COSRX Ultimate Nourishing Rice Overnight Spa Mask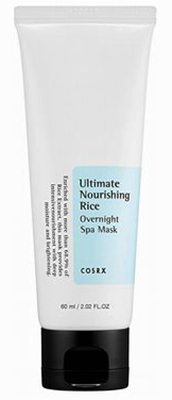 Sleeping masks are best thing Korean beauty have introduced. They work their charm while you sleep and you wake up with amazing looking skin. Same is the case with this nourishing rice mask by Corsx. It is very lightweight and absorbs into your skin so you do not have to worry about getting your pillow dirty. Not only it is quite hydrating but the rice extract in fact give you the glowing and brightening effect in morning. If you are struggling with dry skin then you need to try this and in overnight your skin will feel smooth, plump, healthy and brightened plus well hydrated. It is a amazing product to be used in dry winter time when your skin need all the hydration you can provide.
These are products which i have tried and tested but there are still many other gems which you can choose on the basis of your needs like if you face blackhead problem, you need to try
BHA blackhead power liquid
, for whiteheads, try
AHA 7 whitehead power liquid
, for blemishes try
Centella blemish cream
and so on. My list is based on general skin routine which includes all the essential product one needs in skin care routine for glowing glass skin like Korean actors.