Exfoliation is the process to remove dead skin from your face and you will get soft, glowing and clean skin. Exfoliated skin have more even surface which can help in the better application of makeup and skin care products sink in properly. For years we had been scrubbing our face with physical products which have large or small grains. These particles can be harsh on skin if rubbed too vigorously and for sensitive skins they are totally non use able. However there are other exfoliators available called liquid exfoliators or chemical ones.
What are liquid exfoliators?
Liquid exfoliators look similar to toners in consistency and application so also called exfoliating toners. However these exfoliators use face acids like AHAs and BHAs to work both upon skin and from with in unlike physical scrubs which only work on top of the skin. They clean pores, remove dead skin and clean impurities ultimately leaving it smooth and glowing. They are complexion booster and improves uneven skin tone and texture.
Difference between AHA and BHA.
Alpha-hydroxy acid aka AHA is a natural, plant sourced acid and is water soluble. They break dead skin easily and let the new skin surface upon which looks more healthy, bright and glowing. Lactic, citric and glycolic acid are comon examples of AHAs.
Beta-hydroxy acid aka BHA is also natural but is oil soluble. They work on pores deeply and clean the oil and debris from them, treating breakouts and acne while reducing inflammation. Salicylic acid is best example of BHA, widely used for acne or spot treatment.
How to pick right chemical exfoliator for you?
Obviously not all the products are suitable for your skin. You need to analyze your needs and pick one for them. Sensitive skins needs to be very careful while choosing acids for them as they can make their skin more irritating. Lactic acid have larger molecules and take time to penetrate into skin which can be beneficial for sensitive skin. Salicylic acid is very good option for oily skins which can clean their skin from excessive oil and dirt while also reduce inflammation. Glycolic acid have smaller molecules and penetrate into skin more quickly providing you the better exfoliation. Kojic acid is very good option for uneven skin tone and pigmentation.
If you are going to start using any acid first time, pick from the lightest version and slowly go to more concentrated version. Using the intense one at first might make your skin red or irritated. On that note, it is also better to do patch test before using it on whole skin. As these products change the pH level of your skin, it is better to use them once a week and after a month or so start using them more often like 2 to 3 times a week. Also do not ever go outside without sunscreen if you are using these acids. As they can make your skin more sensitive to UVA sun rays. You can also make your own
DIY exfoliating toner at home
according to your skin type.
Best Liquid Exfoliators
Following are the 8 liquid exfoliators loved by large number of followers. You can find mild lactic acid, potent glycolic acid or pore cleaner salicylic acid in them which you can choose according to your need.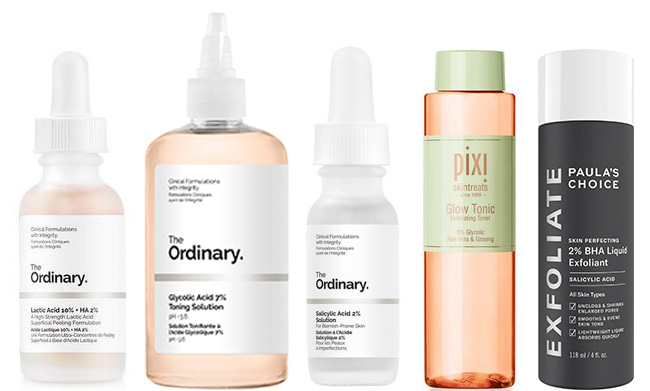 The Ordinary Lactic Acid 10% + HA 2%
The Ordinary Glycolic Acid 7% Toning Solution
The Ordinary Salicylic Acid 2% Solution
Pixi skintreats Glow Tonic
Paula's Choice SKIN PERFECTING 2% BHA Liquid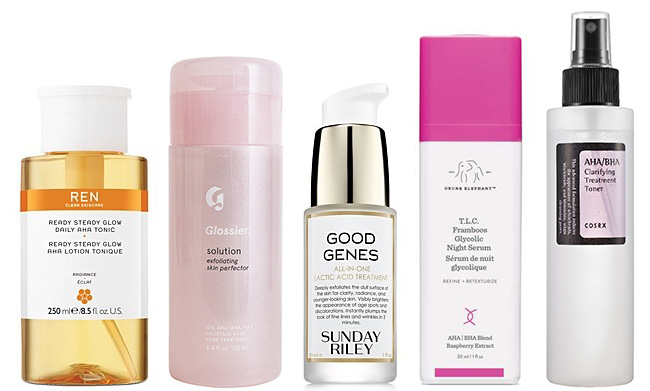 REN Ready Steady Glow Daily AHA Tonic
Glossier Solution, Exfoliating skin perfector
Sunday Riley Good Genes All-In-One Lactic Acid Treatment
Drunk Elephant T.L.C. Framboos Glycolic Night Serum
COSRX AHA/BHA Clarifying Treatment Toner