The Body Shop is famous for their high quality products which uses natural organic ingredients. I having very dry skin always look for some moisturizer which hydrates my skin longer without being oily. The body shop offers wide range of body lotions with different ingredients for different skin. I tried The body shop shea body butter some time ago and have been loving it since then. Today i am going to share my thoughts, why i love this body butter.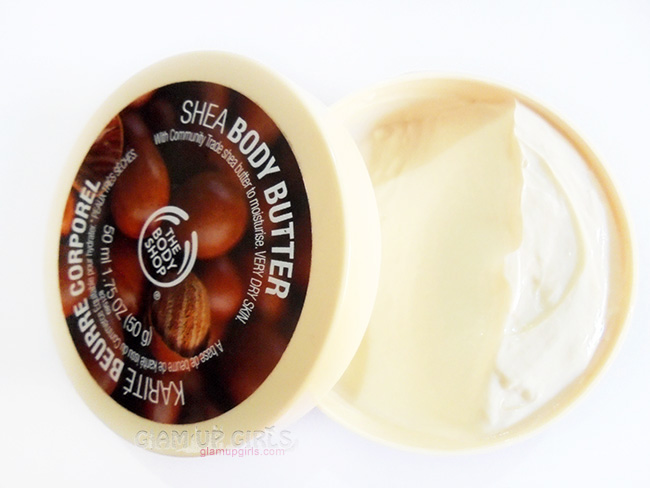 Product desciption
Described as super-rich and creamy which melts into skin making it soft and smooth.
My Thoughts
This body butter comes in plastic tub with similar tight cap which makes it travel friendly. It comes in different sizes, the one i got contains 50 ml product. The texture of this body lotion is very thick and creamy, however it spreads easily and absorbs into the skin. One of the most important thing about this body butter is its scent. You either love it or hate it. It has strong nutty smell which is over powering and instantly get picked. I however love this kind of smell and it doesn't bother me.
As i mentioned i have very dry skin and in winters i cannot skip to moisturize. When it comes to whole body i prefer to use some oil then any body lotion or butter so i have picked it in small size to only use it on hands and face which lasts in whole season of winters. It has very moisturizing formula so only little amount is needed to cover face and hands. I just pick little amount on my fingers and gently spread on skin. I do not have to put much effort to make it absorb. It sinks in the skin once applied and spread. It makes the skin very soft and hydrated without being oily which is biggest plus for me as it feels really annoying having oily hands or skin when you touch any thing.
The good thing about this butter it keeps the skin hydrated for very long and you do not have to apply it again for hours. The thick formula however will not work in summers when you tends to sweat more already but in winters it is gem for me.
Overall if you need some thing to moisturize your dry skin for longer without being oily, there is nothing better then The Body Shop Shea Body Butter.
In Favor
Thick moisturizing formula
Little amount is needed
It moisturize skin for hours
Moisturize without being oily
Scent is amazing
Not in Favor
Not good for summers
You do not like strong smell
My Rating

5/5
The Body Shop Shea Body Butter
is priced $18