L'Oreal Pure Clay Mask have been introduced last year and instantly become popular because of their unique formula and claims to purify, detoxify and glowing skin. All three masks acts differently and help with different problems of skin. However
activated charcoal
having tons of benefits the charcoal mask of L'Oreal become more popular. Today i am going to talk about these masks in detail.
L'Oreal Pure Clay Mask in Eucalyptus Purity, Charcoal Detox and Red Algae Glow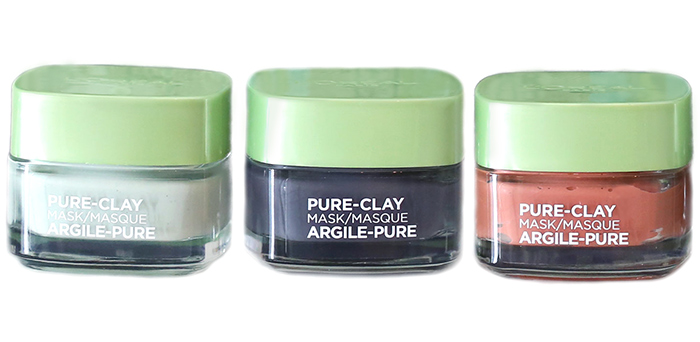 L'Oreal Pure Clay Mask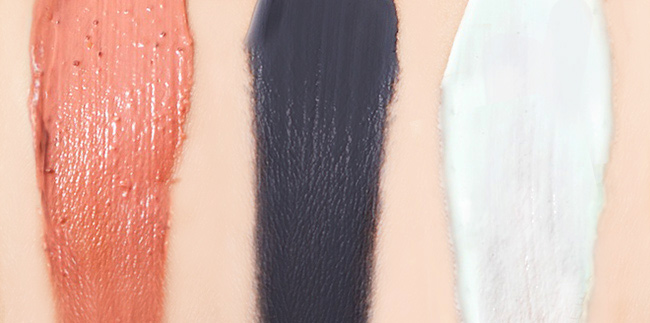 All three masks comes in heavy glass jar with green plastic screw cap. The packaging is sturdy and gives the luxurious look. All three masks have very noticeable smell but they fade after application. The common clays in all three are Koalin, Montmorillonite and Ghassoul. Then each one have one different clay targeting different skin issues. Lets talk about these masks separately.
Purify & Mattify Treatment Mask
This mask have pale green color and other then main three types of clay it has eucalyptus which is known for antiseptic, antibacterial, anti-inflammatory and other medicinal qualities. This mask is cooling on the skin and gives you the fresh feeling. It is supposed to minimize the look of large pores and get rid of the skin from extra oil. Having no large pores i am not sure it works for them but it certainly leave the skin feeling clean and soft. I would suggest it for the combination skin as it clean the skin without making it dry and in summers the cooling feel of this mask is relaxing and refreshing. The
Freeman Mint and Lemon Clay mask
have almost similar effects like this mask.
Detox & Brighten Treatment Mask
The detox mask with other clays have addition of charcoal which is known for drawing out skins impurities, cleanse it deeply and detoxify. As i have talked about
activated charcoal
in detail, this masks is as good as any other good charcoal mask. It leaves the skin deeply clean and soft and you can feel the difference in few uses. however it does leave the skin little dry after using. I would recommend it for oily and combination skin which need deep cleansing regularly to get rid of impurities causing breakouts and blemishes.
Exfoliate & Refining Treatment Mask
This mask have red algae which is to help brighten the skin. This mask have exfoliation particles which would double as scrub as well. This mask also gives cooling sensation to skin making you feel relaxed. After drying wash this mask while exfoliating the skin for a minute or two. It certainly exfoliates the dead skin and leave the skin clean, smooth and glowing. If you have dull, dry skin then this mask is perfect for you as it doesn't dry skin and leaves it smooth and glowing.
All three masks gives the skin healthy, clean and glowing look. With their fine consistency they are easy to apply and dry in 10 to 15 minutes. You can wash them with luke warm water directly or use the wash cloth to remove them. However the charcoal mask can stain the cloth. The quantity could have been better comparing to the size of jar but the price is not too high as well so you can make peace with it.
Overall all the masks having different properties worked well for combination to dry skin and they did clean skin deeply leaving it smooth and fresh.
L'Oreal Pure Clay Masks are priced
$12.99