Wet n Wild Color Icon Eyeshadow Collection had few palettes with different combinations for whole eye makeup with instructions. The idea is really good for ones who want a combination for their events on the run. I have a lot of neutral shades palette and wanted to have some bold shades. The palette i am going to share review and swatches of this combination called poster child with some bright and bold shades. Lets explore it details.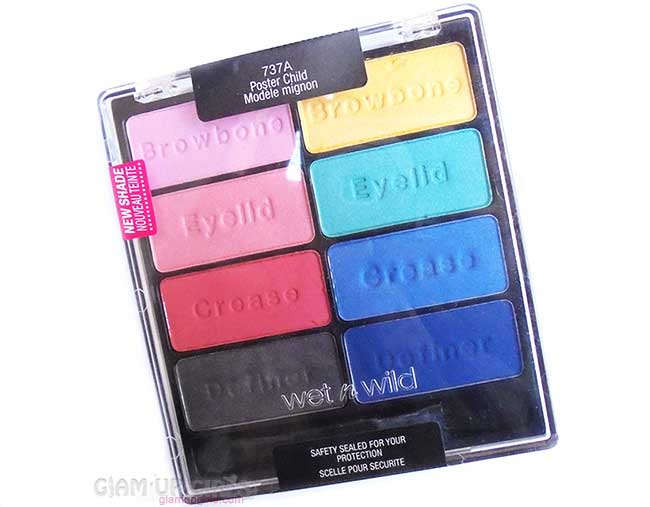 Wet n Wild Poster Child Color Icon Eyeshadow Collection
My Thoughts
This palette comes in plastic packaging with transparent lid containing 8 eye shades and one dual end brush. The brush as usual is not of my liking which comes with such palettes, it is useless. the packaging is not very flimsy but is prone to scratches. This palette provides 2 combinations, one at left side for pink/peach look and one at right for blue/green eye look. Each side contains shade for brow bone, eyelid, crease and as definer. This can be helpful for the beginners in makeup but you can have vast possibilities being creative with these shades.
Left side eyeshadow combination.
Browbone
: Pale pink matte shade with very soft and smooth texture with no fallout.
Eyelid
: Warm rosy pink shade with satin finish. The pigmentation and texture is good with minimum fallout.
Crease
: Bright coral shade with satin finish having good pigmentation and texture.
Definer
: Pure black shade with satin finish. Highly pigmented with bit hard texture causing little fallout.
Right side eyeshadow combination.
Browbone
: Little shimmering yellow shade with good pigmentation and texture.
Eyelid
: T
urquoise green shade with satin finish having smooth texture.
Crease: Ocean blue shade with satin finish having good texture and pigmentation.
Definer: Dark navy blue shade with satin finish. This shade has bit hard texture having little fallout.

The overall texture of shades are good but some have fallout specially dark shades. The pigmentation is not very intense but is good overall. It is better to use them on primer or any eyeshadow base to get most of the color. This palette is good for the ones who love wearing bold eye makeup or experiment them but at the same time one or two shade can create a soft every day look while smudging definer shades on lash line can give you the classic look. We will be posting different looks on our Instagram soon.

Wet n Wild Poster Child Color Icon Eyeshadow Collection is priced $4.99 and currently available for $2.99 at beautyjoint.com