The Body Shop Foundation Shade Adjusting Drops - Review and Swatches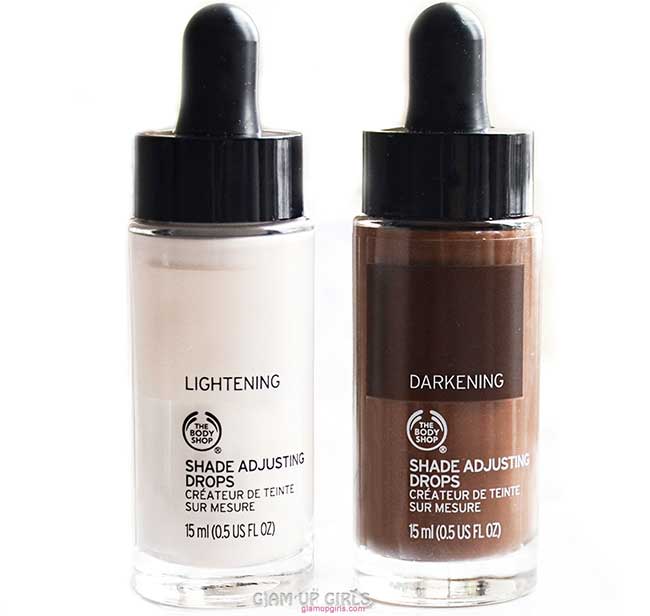 Finding perfect shade of foundation which match your skin tone is a blessing but some time buying online can cause you in getting wrong shade. You either end up buying lighter tone or shade darker which some times end up on the back of your vanity begging to be used. I have my self got few wrong shades in past when i was not so keen on researching about shades thoroughly and some time because of change in your skin tone throughout the year needs a different shade to be used. To solve this issue The Body Shop have introduced Shade Adjusting Drops in Lightening and Darkening. Lets see in detail how the turn out.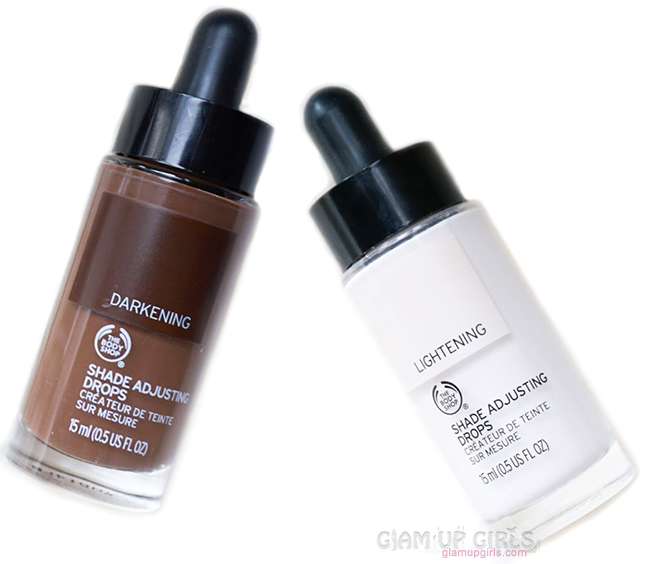 Product description

You wouldn't settle for Mr. "Almost right" so why do it with your foundation? Our Shade Adjusting Drops help turn an almost there shade into the perfect one.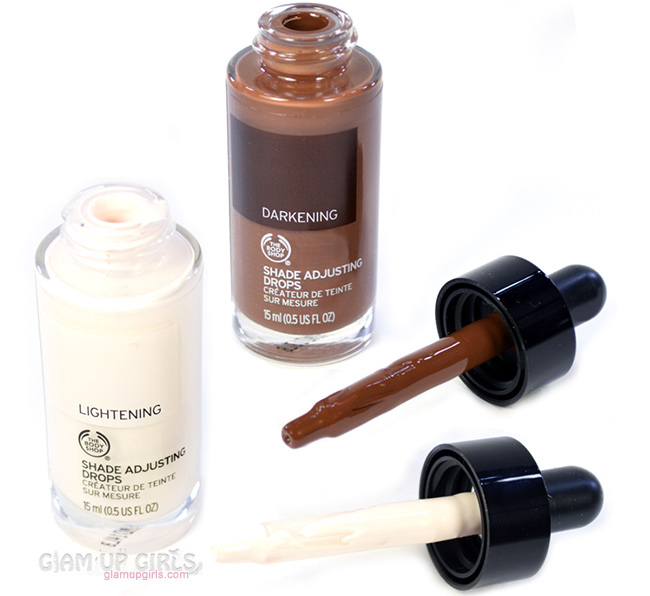 The Body Shop Foundation Shade Adjusting Drops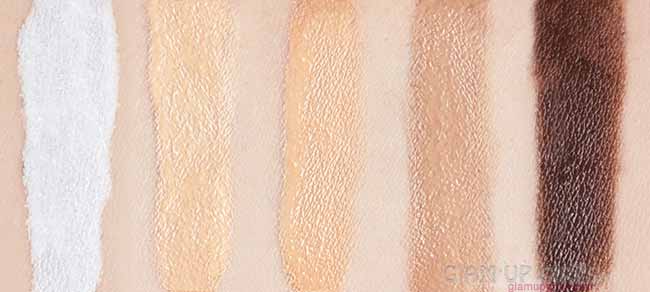 Swatches of TBS Lightening, MAC NC25 with drop of Lightening, MAC NC25, MAC NC25 with drop of Darkening, TBS Darkening

My Thoughts
These adjusting drops come in 15ml glass jar with dropper. The dropper is bit difficult to work with, may be because of consistency of formula. Shades are called Lightening and Darkening to make your foundation exactly match your skin. Single drop is supposed to make your foundation 1/2 shade difference towards light or dark. The consistency of the drops are not very thick or very thin so you can easily blend them in any liquid foundation. These drops are designed to not change formula of your foundation as they are intense pigments and only change the color of foundation.

The lightening drops defined as concentrated with white and pink pigments to neutralize yellow tones. Now it is understandable that if you have warm tone foundation by adding lightening drops you are going to add bit of cool tone. So if you are going to add them in very dark foundation and want to change the shade more then 2 shades you are going to get bit ashy tone for warm tone skin. This foundation is suitable to change the shade for light to medium skin tones. It lightens the 1/2 shade beautifully of medium shade foundation like in above swatches and if you have very fair skin your going to love lightening drops where darkening may not be suitable as much.

The darkening drops defined as concentrated in Red pigments for darker skin tone. These drops after adding in any foundation also neutralize the warm tone and leans in bit of cool tone as you can see in above swatches. If you are trying to add more then 2 drops of this formula your foundation might look little ashy on your warm tone skin. So it is all about adjusting the quantity. You can not make very dark foundation work as fair shade. However to change the shade 1/2 or 1 these drops are perfect. For the same reason you can use the ashy tone dark foundation for contouring.

These drops doesn't effect the consistency of foundation making them thin or thick and you will get same finish as your original foundation. If you have very fair skin then go for lightning drops and if you have dark skin go for darkening drops but for medium skin both can work with 1 or 1 and half drop. At the end it all depends on experimenting and finding exact shade and undertone.

Overall these drops are perfect for changing the shade of foundation for 1 or 2 shades light or dark. Both drops turns toward cool tone and neutralize the warm tone. This idea is really amazing and useful but i think the price is very high. I would suggest to get them over TBS sale time.

In Favor

Doesn't effect on formula of foundation
The consistency is very good to work with
Perfect to lighten or darken 1/2 and 1 shade
Both drops neutralize warm tone
Not in Favor
Dropper is hard to work with
Changing shade more then 2 shades might turn the shade ashy
Price is bit steep
My Rating

4/5


The Body Shop Foundation Shade Adjusting Drops are priced $20
comments powered by

Disqus