Hair styling products are must to create a nice and long lasting hair styles whether it is curls, buns or you want straight hairs. As i have straight silky hairs, my hair style do not last long and comes to its original form after half an hour without any hair product. There are many expensive hair sprays are available in market which claims to hold for long. I have spotted that most of the local stylist use Nova Gold for their customers and thought to give this super budget friendly hair spray a try. So i have been using it quite often and today i am going to share my thoughts on it with you.
Product description
This spray is defined to have firm hold and gives natural shine without being sticky and is very long lasting.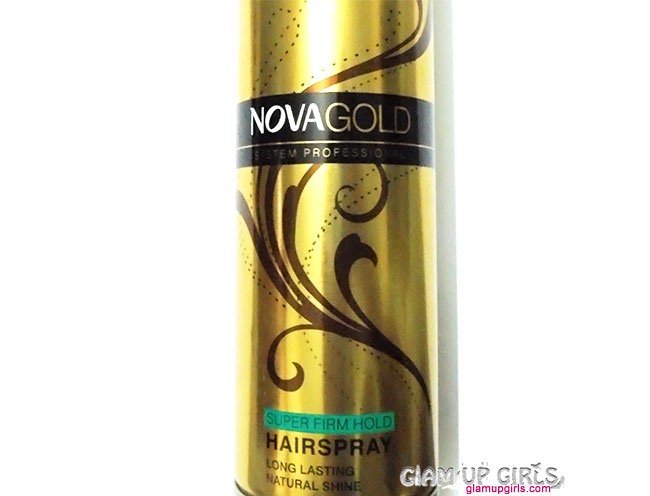 My Thoughts
This hair spray comes in nice golden bottle with nozzle to spray on hairs easily. It has very noticeable smell which is not very bad and is bearable for me but if you have sensitive nose you might find it troubling. The best way to use it to shampoo your hair first and dry them properly.
How to use hair spray
After styling your hairs or curling, spray them from at least 5 to 6 inches away. It is always suggested to not spray near roots because it can create build up in roots and can cause itching.
I have noticed that you need to apply a lot of amount of this spray on hairs at first to get firm hold but after styling it lasts for whole day and you don't have to worry about losing your hair style. For me it was quite amazing for such cheap hair spray to perform so well. It even stayed in hot and humid weather. It claims to add extra shine to hairs, as i have very shinny hairs i did not notice some extra shine. May be if you have dull hairs it will add some shine in your hairs but i am not sure. I did not notice any residue or flakes left over in my hairs once i spray it on my hairs which can cause hairs look dull and dry.
Overall i really loved this product, it is long lasting, and provides firm hold plus it is super budget friendly.
In Favor
Lasts for almost whole day
Provide firm hold
Doesn't leave any flakes
Nice fragrance
Budget friendly
Not in Favor
Need to spray a lot for firm hold at first
Doesn't add extraordinary shine
My Rating

4/5
Nova Gold Super Firm Hold Hair Spray is priced
PKR175
to
PKR450
depending on stores.