L.A. Girl Pro Coverage Long Wear Illuminating Foundation - Review and Swatches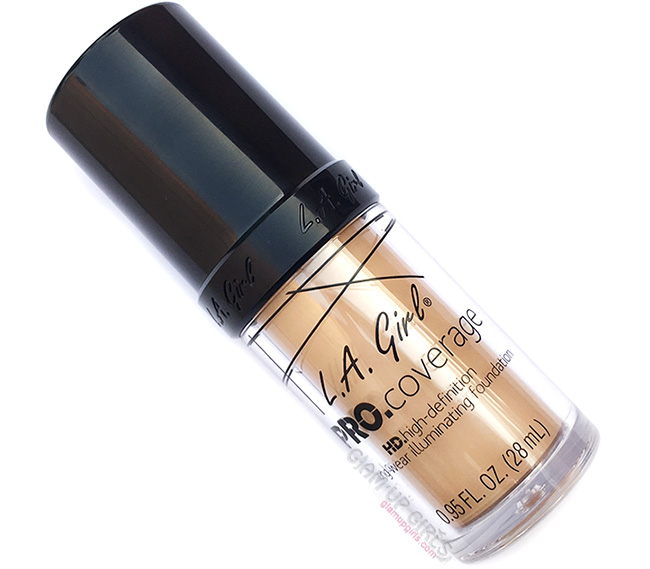 This year i had tried many drug store foundations which really impressed me including Wet n Wild Photo focus foundation, Milani conceal perfect 2 in 1 foundation and L.A. Girl Pro coverage illuminating foundation. We have used them quite often comparing to high end foundations as their performance was almost similar. I have reviewed first two ones but L.A. Girl was still in pending since i have reviewed their Pro smoothing primer and pro setting spray. All three have different formula with different finishes but overall performance was impressing. Let me tell you how L.A. Girl worked for us.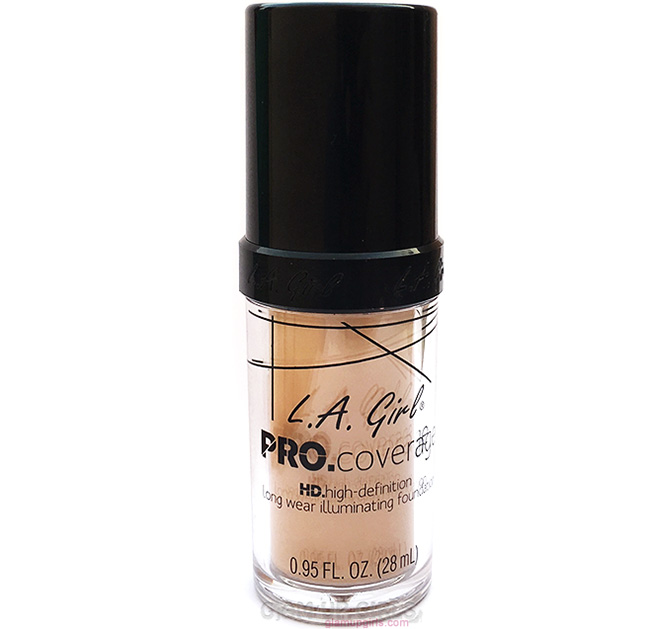 Product description

Brand defines that this long wear illuminating liquid foundation is perfect for a flawless looking while giving you full coverage.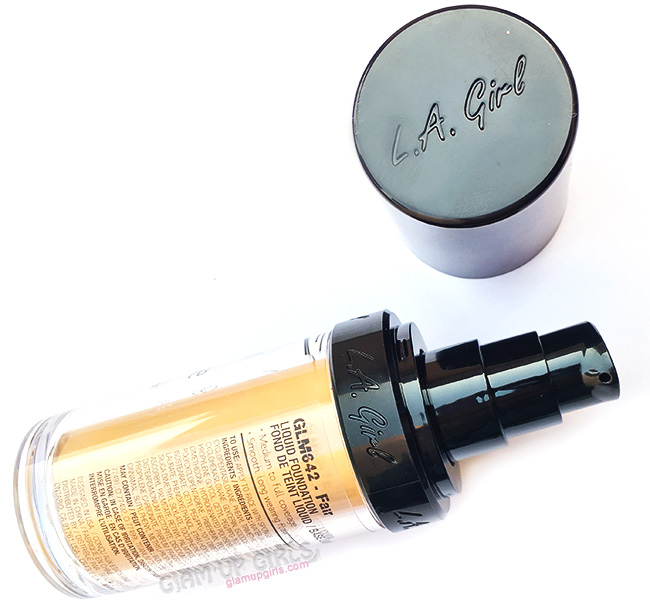 L.A. Girl Pro Coverage Illuminating Foundation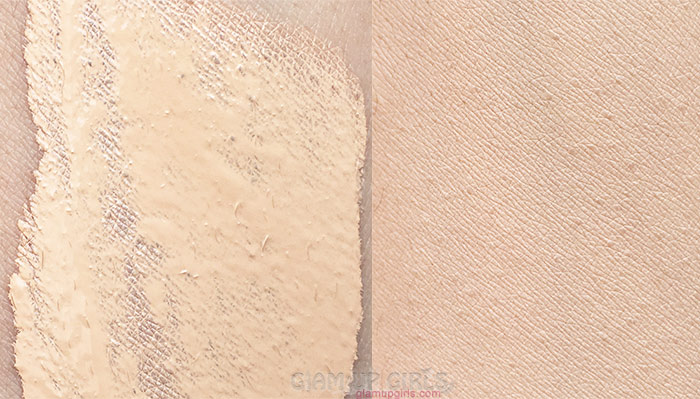 My Thoughts

This foundation comes in glass bottle with pump dispenser. The packaging is little similar to Makeup Forever HD foundation and is supposed dupe as well. The texture of this foundation is thin but not very runny and is quite similar to Wet n Wild Photo Focus foundation. It has medium to full coverage but can be sheered out with wet beauty blender. There is light smell which people tend to hate but i found it is not that bad and if you don't focus particularly on smell you can easily ignore it which will fade after application.

The formula is good enough to blend easily. With hands and sponge, the coverage can be sheer to medium but with flat brush or kabuki face brush you can layer it for full coverage. It has dewy finish but it is not moisturizing. If you have dry skin, you still need proper moisturizing as it does settle in dry patches and lines. As the pigmentation of this foundation is very good, you need very little amount for whole face. It covers the imperfections to some extent which is similar to Wet n Wild Photo Focus but for complete coverage you will need concealer and it paired beautifully with L.A. Girl Pro Conceal.

The lasting power is quite good and it can last more then 5 hours if you are comfortable with dewy sheen. However for oily and combination skin, you will need to powder in between to avoid oily look. The formula of this foundation is quite unique as it is illuminating but not moisturizing while it is stays on skin for very long, it can turn into oily patches. Depending on your skin, however you can make it work. I had got this foundation along with Wet n Wild one but making it work with for different skin was little tricky. In summers, the combination and oily skin needs good primer plus setting powder on top and touch ups after every few hours. I have reviewed L.A. Girls Pro smoothing primer and their setting spray which work with this foundation.

For dry skin, you will need good moisturizing but it looks very good and refreshing on skin. It will not look cakey, if blend properly and once it is applied properly, the skin look really good. The lasting powder is less then Wet n Wild but it is more suitable to dry skin. However in winters it will work great for all skin types. I have read that it oxidize on some skin but this was not case with me. May be it is because of light shade and dark shades can oxidize more the lighter ones. If compared it to Milani Conceal 2 in 1 foundation, that is more long lasting, have more coverage and finish is very good, plus that works great for all skin type.

Overall, it is a good budget friendly foundation which you need to learn about how it will work for you. The texture is very good and easily blend able, have medium to full coverage, lasts pretty long and dewy finish give skin a glowy touch. We loved using it in winters then summers.

In Favor

Nice packaging
Medium to full coverage
Good for dry skin
If you like dewy finish
Long wearing
Not in Favor
Oily skin need primer and touch ups
Dry skin need moisturizing
My Rating

3.5/5


L.A. Girl Pro Coverage Long Wear Illuminating Foundation is priced $7.99
comments powered by

Disqus