Keune is a famous brand for hair products which is in market for many decades. Their hair colors and bleaches i have tried before and are very popular around whole country. They have hair care products for different hair types and issues which includes different formula. Today i am going to share my thoughts on their treatment satin oil for normal hair, so lets find out how it turned out for me.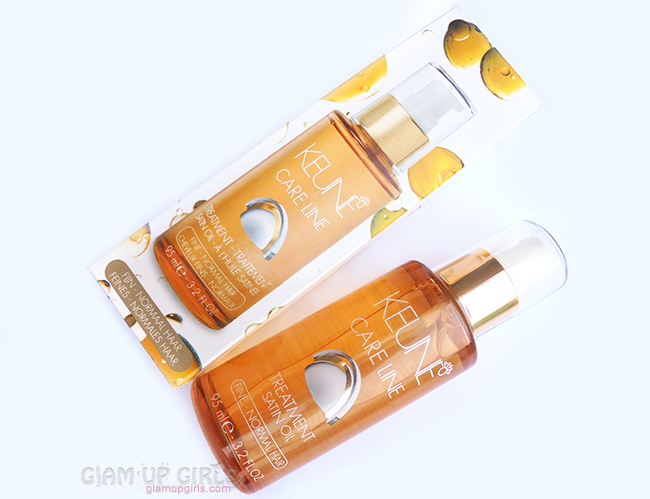 Keune Treatment Satin Oil for Normal Hair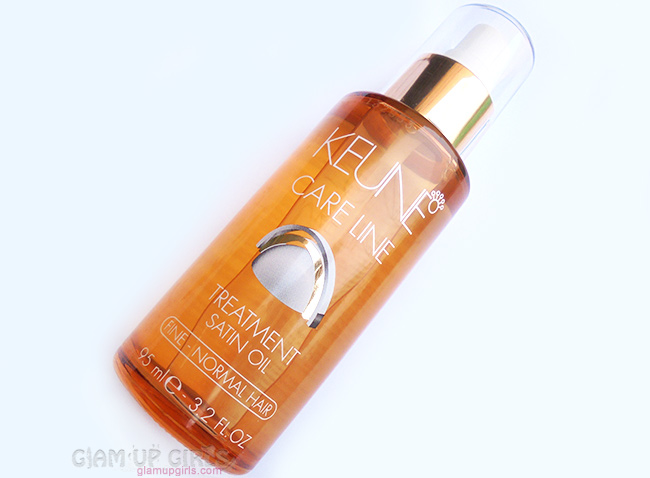 My Thoughts
Satin oil treatment comes in sturdy plastic bottle with pump to dispense the oil easily. The packaging is really good and a perfect product for vanity. The bottle is of rusty orange color but the oil itself is color less with very lovely scent which is not strong or bothering. It lingers for few minutes and then fades away.
Basically this Satin Oil Treatment is a multi-layer oil treatment including Maracuja Oil, Sweet Almond Oil and Manoi Oil, Yangu Oils. The name satin oil indicates that it promises the soft satin texture of hairs after applying it. This oil is weightless and non-greasy which instantly absorbed in the hair. One or two pumps are enough to apply on the ends of the hairs but for whole application it depends on hair length and density. This oil can be used in multiple ways which can be as follows.
Shine boost treatment:
for ultimate shine and deep nourishment, blend a few drops in Care Line Satin Oil Conditioner. Leave in for 5 - 10 minutes and rinse out.
Styling finishing:
work a few drops for everyday styling to care for split ends and let them shine.
Overnight leave-in:
apply on towel dried hair and massage lightly, leave in overnight. Wash thoroughly with Care Line Satin Oil Shampoo the next day.
Pre-conditioner:
apply on towel-dry hair, leave in for 5 - 10 minutes and wash thoroughly with Care Line Satin Oil Shampoo.
Heat protection:
a few drops on dry or towel dried hair protects against heat.
I have normal straight hairs which are bleached and colored several times in last 2 years which results a roughness if not properly took cared of. The current weather adds an extra effort for flyaways and dryness. I have been using it on damp hairs after washing and towel dry and the instant i applied it first on my hairs there was remarkable change. My hairs become easy to manage for brushing and super soft in comparison. There is no oily residues left and it doesn't weigh down my straight hairs. It is safe to say that i was extremely impressed with the result.
It is definitely the best hair oil(serum) i have tried so far. I consider it as serum because it is for after washing product and not for scalp. In one week there is remarkable difference in my hairs. The rough bleached hairs become soft which were rough and dry and overall the texture and shine have improved very noticeably.
Overall i loved this treatment, it makes hairs super soft and shiny without weighing them down and improves the texture. I would highly recommend every one to give it a try.
My rating

5/5
Have you tried this range or other products from Keune?