Shimmery and glittery eye shadows are perfect to achieve the glamorous look on special occasion. Specially on our Asian weddings and special events which occurs during the year need some glamorous touch to look different and vibrant. We have some palettes which have some shimmery eyeshadows but had only one loose glitter from Bhcosmetics. Recently Reasonablez.com sent us pack of eye dust and shimmer which contains 12 loose powders and we were very excited to try them. Today i am going to share my thoughts and some looks on these glitters.
Eye Dust and Eye Shimmer Pack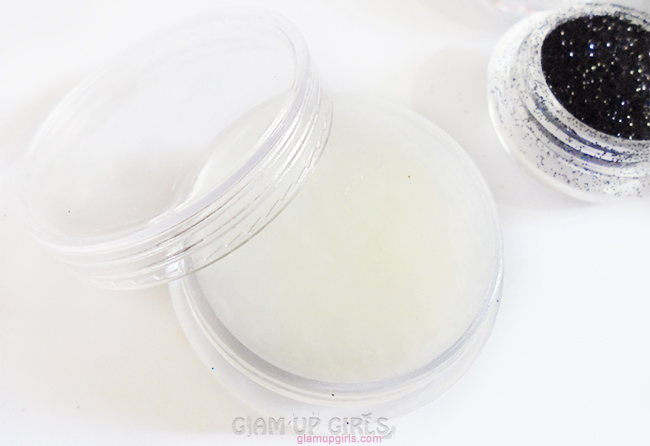 Eye Base for loose glitter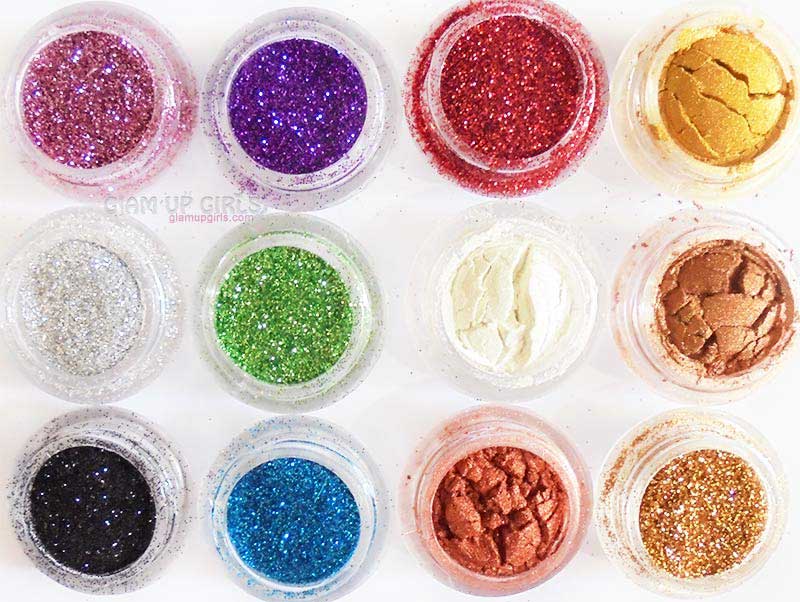 Eye Dust and Shimmer Pack by Reasonablez.com
Swatches of eye dust and glitter

My thoughts
These shimmers comes in transparent plastic container which holds 12 small round plastic pots with screw cap. The packaging look so cute but having loose glitter in it makes it messy which was what expected. The 8 eye shadows have chunky glitter and 4 have very fine extremely beautiful texture called dust. The dust eye shadows blend like a charm and the pigmentation is amazing. I liked the glitter eye shadows but would have loved few more vibrant eye dust.
This pack comes with one dual end sponge brush but i prefer using my
Sigma E60 brush
but you can use it if you like. It also have one eye base along with it which feels like a Vaseline but thicker and less oily. I would suggest that if you are going to wear a glittery eye makeup for long time then use any good glitter glue or glitter primer then this eye base as it doesn't hold the glitter for very long and it will start falling after some time because it is not tacky or sticky enough. I would recommend the e.l.f Glitter primer which is a dupe for Too faced one.
The quality of glitter is really good and it is exact similar to Bhcosmetics. The chunks are not very large and gives a sultry glamorous look to eyes. The color selection is amazing as well. It comes with 5 vibrant and 3 basic colors black, silver and golden. Vibrant shades include dusty rose pink, bright purple, pure red, aqua blue and light green shade. The longevity depends on the primer or glue you have used.
How to apply glitter eyeshadow
Apply your usual primer or base and do your makeup with powder eye shadows.
Now where you want to use the glitter, apply cream base, glitter adhesive or glitter primer.
Press glitter gently with flat brush against the lid with little pressure.
Do not blend the glitter on eyes.
The 4 eye dust is something i had never tried and they are super gorgeous. They feel so smooth on fingers and are very lightweight. The 4 shades include yellow golden, Copper with red hues, bronze gold and the most beautiful of all is duochrome white base with gold reflects shade which is similar to Makeup Geek Voltage. These shades are highly pigmented, easy to blend, very long lasting and doesn't need any base prior to it.
Overall we loved this pack and have been trying different looks with it. I would highly recommend trying it as it has great value of many and comes with so many shades and nothing can beat the quality of eye dust, it is simply remarkable.
Eye Dust and Shimmer Pack by Reasonablez.com is priced
PKR850